Jerry Stiller, 'Seinfeld's 'Frank Costanza' And Ben's Father, Dead At 92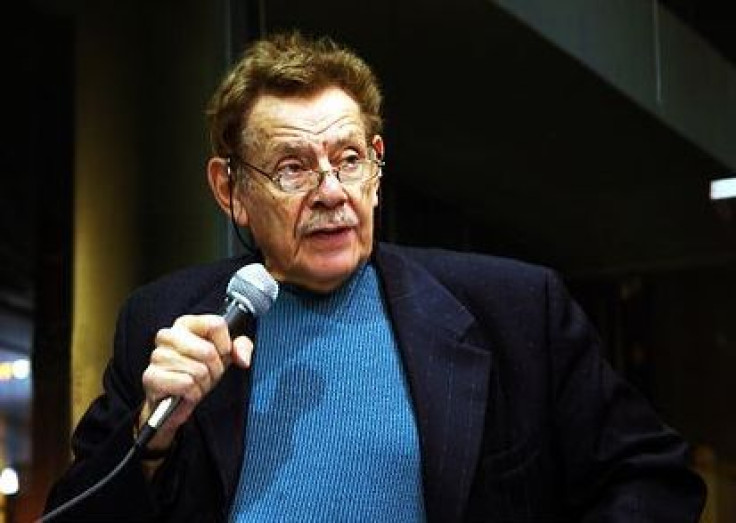 KEY POINTS
Jerry Stiller, "Seinfeld" and "The King of Queens" star, dies at 92
His son, actor and comedian, Ben Stiller, tweeted that he died of natural causes Monday (May 11)
Jerry performed with his wife Anne for most of his career and appeared with Ben on several films
Jerry Stiller, known for his roles on television as Frank Costanza in "Seinfeld" and Arthur Spooner on "The King of Queens," has died of natural causes at 92.
His son, actor and comedian Ben Stiller, announced his death on Twitter on Monday (May 11).
Jerry appeared with his son on several projects, including the "Zoolander" movie sequels. "He will be greatly missed. Love you Dad," Ben tweeted.
Jerry and his wife Anne Meara were a Hollywood comedy team. The pair met in 1953, married a year later, and enjoyed 63 years of marriage before Meara's death in 2015.
Jerry and Anne performed onstage in improv sketches and in Las Vegas night clubs, frequently appearing on other television programs in character as the squabbling husband Hershey Horowitz and wife Mary Elizabeth Doyle.
Jerry and Anne were nominated in 2001 for a Grammy for their spoken word album "Married to Laugher: A Love Story Featuring Anne Meara." The couple continued to perform together, even launching an internet chat show from their Manhattan home in 2010.
Jerry shot to global fame in 1993 at age 66 when he played the iconic Frank Costanza in the hit sitcom "Seinfeld." He went on to receive an Emmy nomination for the role in 1997.
He played Frank until the show's end in 1998. He only played Frank in 26 of "Seinfeld's" 127 episodes.
In 1998, Jerry moved on to play the equally iconic television dad Arthur Spooner in the sitcom "The King of Queens." He played the role through nine seasons until 2007.
According to his IMDB biography, Jerry was born Gerald Isaac Stiller in 1927 in New York City with deep Jewish roots; his paternal grandparents were Jewish immigrants from Galicia and his mother was a Polish Jewish immigrant from Frampol.
He graduated from Syracuse University with a major in speech and drama and debut onstage. A decade after marrying Anne in 1954, the couple individually found fame, with Jerry starring in several shows on Broadway including a role in "The Ritz" that he would later recreate on the silver screen.
He appeared with Ben several films throughout his career, including several main roles and cameo appearances in B-rated movies. His major roles on film include "The Heartbreak Kid" as Ben's father and "Zoolander" as the eccentric Maury Ballstein.
Jerry is survived by his son Ben and his daughter, actor Amy Stiller.
© Copyright IBTimes 2023. All rights reserved.