Is Jessica Lange Returning For 'American Horror Story' Season 5? Ryan Murphy Tweets Goodbye To Miniseries Star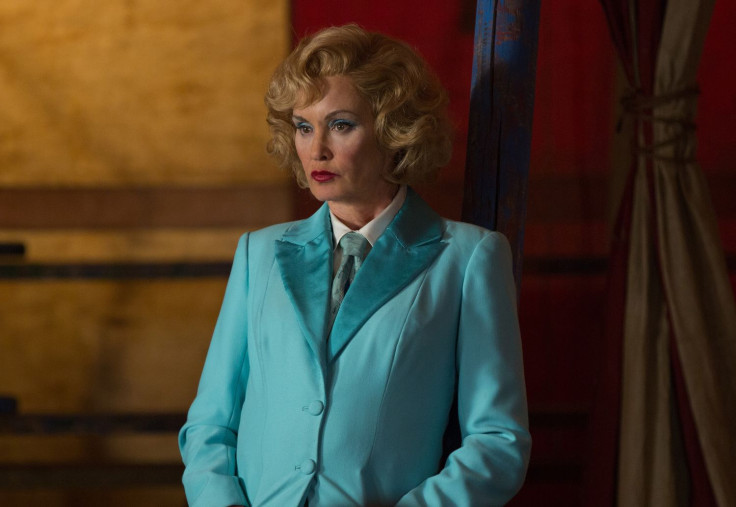 Is Jessica Lange officially hanging up her heels of horror? Following the gruesome Season 4 finale of "American Horror Story," fans of the hit FX miniseries are wondering whether or not the Oscar-winning actress will return to the chilling TV drama.
In 2013, Lange broke the hearts of "AHS" lovers across the globe when she admitted that her participation in the FX thriller was winding down. "I'm going to do the next season of this," she said during an interview with the Huffington Post, referring to "Freak Show." "And hopefully a play and then maybe one or two movies and then I think -- I feel like maybe then it's time to start something brand new in life. I just don't want to keep doing what I've been doing. Not that I don't love it because I do. It's been one of the great passions in my life, but I also feel like I want to try something I've never done before."
But in 2014, Lange seemed to have changed her tune when she revealed to E! News in November that perhaps her spooky gig wasn't quite finished. "You know, I told him (Ryan Murphy) that we would sit down and have a long conversation when this was over," Lange stated, adding that she had no idea how the showrunner could possibly create a better character for her than Elsa Mars, the beloved owner of the Florida-based freak show. "I really—in deference to Ryan, who I love dearly and who I respect beyond—I have no idea at this point."
Although Lange might not know how to top her "Freak Show" character ... Murphy might! The showrunner revealed that he would do everything in his creative power to keep Lange hooked on "AHS" – even if that meant daily bribes!
"['Freak Show'] is her favorite season without question," he said during an interview in October. "She said that to me, she has said that publicly, that she feels really reinvigorated in some regards. I really want her to keep her hand in. Does that mean 13 episodes or six or one? What does that mean? She and I will probably have a dinner date over the holidays. We always start with the character and she decides from there. Before I was met with a really quick no and now I'm hearing, 'Let's keep talking.' So that's a promising sign ... I think if I presented her with the right character, it could work. That's my hope. I'm sending bribes every day!"
But it looks as though Murphy couldn't entice Lange with his whimsical gifts. When the final episode of Season 4 aired, the creator took to Twitter to thank his star for bringing his show to life. "Thank you Jessica … for everything," he shared his gratitude through a tweet. "Always."
Could this really be the end of the road for Lange on "American Horror Story"? It sure does seem that way. But according to E! News, it's still uncertain if Lange will be a part of Season 5, which has been described as "very different," or future installments of the FX miniseries. Even if Lange opts out of appearing in the upcoming season of "AHS," it's still safe to theorize that she might make a cameo in future episodes. Each season of "American Horror Story" after all is connected, according to Murphy, which means we might not be done with Lange just yet.
Do you think Lange's stint on "American Horror Story" is over? Sound off in the comments section below with your thoughts.
© Copyright IBTimes 2023. All rights reserved.