Jill Abramson's Wake Forest Commencement Speech: 'I'm In The Same Boat As You'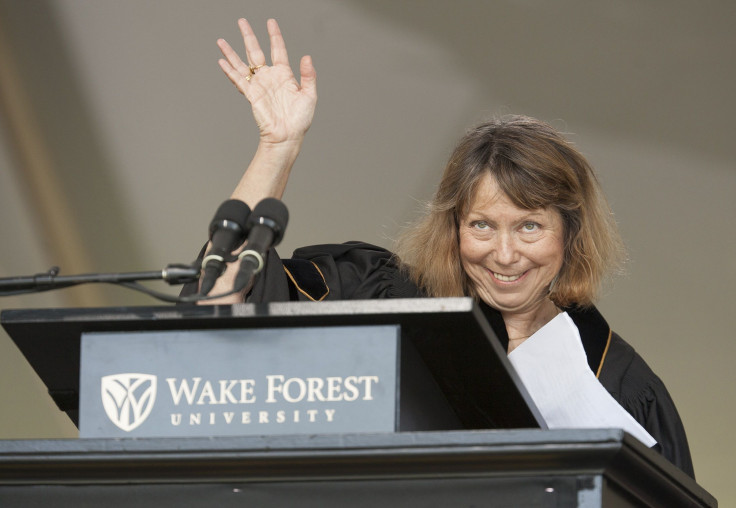 All media industry eyes were on Wake Forest University's commencement Monday, eagerly awaiting Jill Abramson's address -- delivered less than a week after her very public firing as executive editor of the New York Times. The university and multiple news outlets live-streamed the commencement ceremony, and the hashtag #WakeForest was trending on Twitter most of Monday morning.
But anyone hoping that Abramson would use the forum to trash her former employer would have been let down. Abramson appeared relaxed and cheerful as she took to the podium, pausing for enthusiastic applause. "I think the only real news here today is your graduation from this great university," she said before congratulating the students. "I'm impressed that your achievements have attracted so much media attention, as well they should," she then joked.
Abramson referenced the New York Times repeatedly throughout the address, always in a positive light. "New York Times journalists risks their lives frequently to bring you the best news reports in the world," she said. "It was the honor of my life to lead the newsroom." She never uttered the word "fired," but said "losing the job you love hurts," before declaring that she would continue to work in some capacity as a journalist.
"What's next for me? I don't know. So I'm in exactly the same boat as many of you," she said, prompting laughter among the graduates. "Like you I"m a little scared but also excited," she added. Abramson did not mention her publisher, Arthur Sulzberger, Jr., or her successor, Dean Baquet, in the speech, nor did she spend much time discussing the challenges that face women in journalism, except to say that her heroes Nan Robertson and Katharine Graham "both faced discrimination in a much tougher, more male-dominated newspaper industry."
Somewhat curiously, Abramson closed her speech with a reference to Robert Frost's 1956 Colby College commencement address, in which the poet likened the always-unfinished business of life to "pieces of knitting to go on with."
"Get on with your knitting," Abramson said in conclusion.
© Copyright IBTimes 2022. All rights reserved.
FOLLOW MORE IBT NEWS ON THE BELOW CHANNELS