Jimmy Kimmel's 5-Month-Old Son Billy Makes First Public Appearance [PHOTO]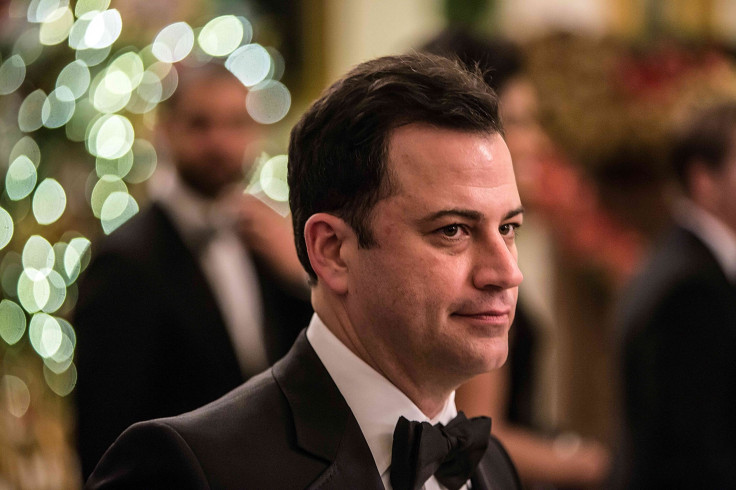 Jimmy Kimmel's 5-month-old son, Billy, went on his first outing since his open heart surgery.
On Saturday, Kimmel graced the red carpet of the L.A. Loves Alex's Lemonade charity event at UCLA with his son. They were joined by his wife, Molly McNearney, and their 3-year-old daughter, Jane, E! News reported.
The newest addition to the Kimmel family wore a cute navy and white onesie. Jane donned an all-white ensemble, which she matched with a pair of Vans sneakers. The talk show host opted for a button-down and blue jeans, while McNearney looked chic and fab in her electric blue dress.
Kimmel shared a photo on Instagram of himself posing with chef Adam Perry Lang at the event. In the photo, the "Jimmy Kimmel Live!" host is carrying his son. "Billy and I drooling over what @adamperrylang made @alexslemonade @lalovesalexs," Kimmel wrote in the caption.
The event marked Billy's first public appearance since he was born. Kimmel and McNearney welcomed their son on April 21. However, the baby was born with a heart disease and had to undergo surgery soon after his arrival. Kimmel has announced that their little one needs two more open heart surgeries before he will be out of danger.
"He has to have two more open heart surgeries. We would like to get them over with and not have to think about it all the time, but it could definitely be worse," Kimmel said three months after Billy's first surgery.
The host added that they initially didn't tell his wife about their son's condition for the first few weeks as she had just given birth and was still recovering. McNearney thought he was just taking their son for a routine checkup at the hospital. However, the doctor was compelled to eventually tell his wife about their son's heart condition.
"It became a very serious situation very quickly," Kimmel added. "I didn't have my cellphone to tell my wife what was going on. She started to worry about an hour after I left and the doctor had to go in and tell her what was going on."
Fortunately, Billy is doing much better now. Kimmel told E! News after the event that their family is healthy and happy. "He's doing well. This is really his first public outing. It's not exciting for him, he's a baby!" the comedian said. "But everyone is doing well!"
© Copyright IBTimes 2023. All rights reserved.