J.J. Abrams Gives Harrison Ford Update At 'Star Wars' Celebration; 'Force Awakens' Director Says Actor Doing 'Great' After Plane Crash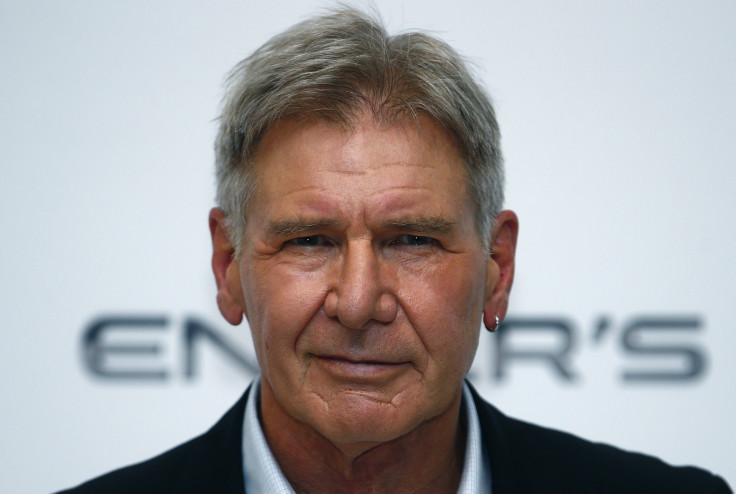 It's been over a month since Harrison Ford was injured in a plane crash, but the "Star Wars" actor is healing nicely. Director J.J. Abrams and Lucasfilm President Kathleen Kennedy gave fans an update on the 72-year-old actor while speaking at the Disney "Star Wars" Celebration event in Anaheim, California, on Thursday.
"He's the only person that could make an emergency landing on a golf course in front of two doctors," Kennedy told the audience of Ford's March accident.
"He sends his best," Abrams chimed in. "He's doing great and working hard. I had respect for him all my life, but I've never had more respect for the guy until I saw how he landed that plane. That was amazing what he did. He was more of a hero in that moment than anything he's ever been in."
TMZ reported on March 5 that the actor "crash-landed" his vintage World War II plane at a Los Angeles golf course. Ford reportedly lost engine power and was forced to make an emergency landing. Although he crashed the plane, he was hailed as a hero for avoiding the suburban area that surrounds the Penmar Golf Course. Two doctors who were golfing aided the actor before an ambulance arrived. He was admitted to the hospital where he was treated for lacerations, as well as a broken pelvis and ankle.
Harrison Ford was released from the hospital at the end of March. He'll reprise his role as Han Solo in "Star Wars: The Force Awakens." The film will hit theaters on Dec. 18. Click HERE for information on how to watch J.J. Abrams and Kathleen Kennedy speak at the "Star Wars" Celebration event.
© Copyright IBTimes 2023. All rights reserved.