Joan Rivers Calls Chelsea Handler 'Drunk,' 'Whore'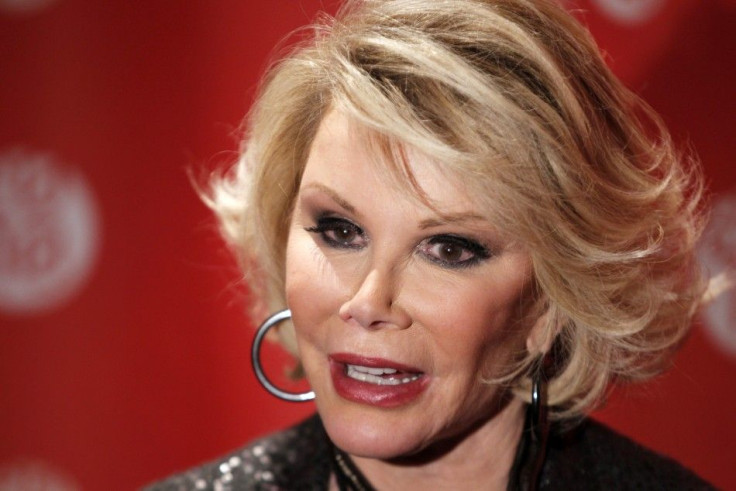 Joan Rivers and Chelsea Handler let the insults fly at one another over the last couple of days.
The two E! Network stars are not holding back in their intergenerational war of words, which both comediennes said began with a spat at a network event, according to the New York Daily News.
Joan Rivers, 78, had the harshest words in the ongoing feud with Chelsea Handler, 36, Tuesday, on Howard Stern's radio show on Sirius XM:
She's an ordinary girl that was f--king somebody high up in the industry and they gave her a break and she's doing okay, the Fashion Police host said on Stern's show. Number one, the girl made it on her back f--king the president - we all know that - of the network. Number two, she's fine, she's ordinary. She's not a genius.
She went a step further, breaking out the dreaded W word:
I don't think she's particularly funny, she said. But don't you come after me, you whore!
Chelsea Handler did in fact date Ted Harbert, the 56-year-old CEO of Comcast Entertainment Group, for four years, but the power couple broke up in 2010.
Chelsea Handler, who has her own late-night show on E!, hit Joan Rivers with her own insults first on Stern's show on Monday:
Joan Rivers? What the f--k do I care about Joan Rivers? she said, explaining how Rivers had angered her at the previously mentioned network event. She alleged the following went down: Joan Rivers gets up and she's like, 'I'd like to thank Chelsea Handler for giving me a career in comedy, and congratulations on your stage, Chelsea, because I don't even have a dressing room.' And I'm like, f--k off!
But Rivers said she only attacked Chelsea Handler thusly because Handler had ignored her earlier on at the event.
Whatever she is, she's a drunk, Rivers said. I don't wish her good luck, I don't wish her bad luck.
© Copyright IBTimes 2023. All rights reserved.