Joan Rivers' Daughter, Melissa, To File Multimillion-Dollar Wrongful Death Lawsuit Against Yorkville Clinic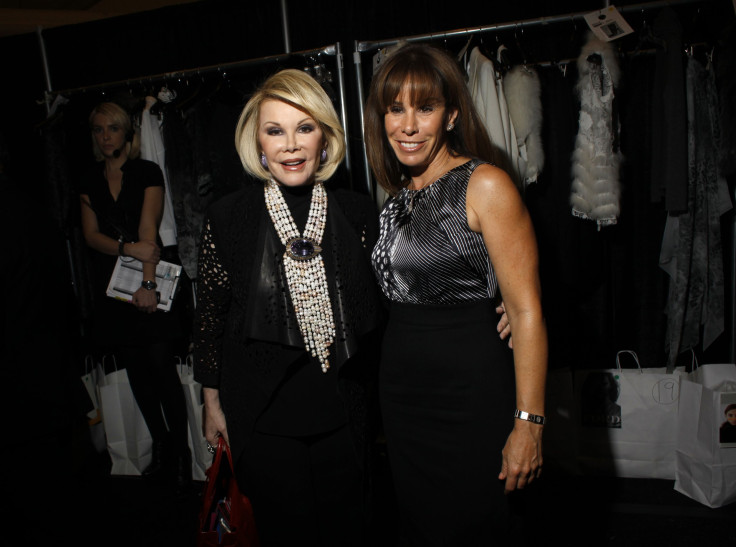 Melissa Rivers, the daughter of comedian Joan Rivers, will file a multimillion-dollar lawsuit against Yorkville Endoscopy clinic, where her mother suffered a cardiac arrest in late August, media reports said Tuesday. Rivers died at the age of 81 on Sept. 4 after spending nearly a week on life support at Mount Sinai Hospital.
Melissa has reportedly hired a New York law firm to investigate the circumstances surrounding the death of her mother. A representative for Melissa confirmed to E! News, that she will be filing a medical malpractice and wrongful death lawsuit against the Manhattan clinic where the late comedian underwent a throat procedure on Aug. 28. Rivers stopped breathing during the procedure, following which she was rushed to Mount Sinai.
"In order to fully determine the facts and circumstances surrounding the death of Joan Rivers, we confirm that our firm has been engaged by Melissa Rivers and her family," Ben Rubinowitz, a managing partner at Gair, Gair, Conason, Steigman, Mackauf, Bloom & Rubinowitz, reportedly said, in a statement.
According to reports, the firm will need access to the late actress' medical reports before filing the lawsuit in Manhattan Supreme Court. TMZ reported that the suit will only be filed about a month from now.
On Oct. 16, the New York City medical examiner said in a report that the "Fashion Police" star died from brain damage due to lack of oxygen. Rivers' death was classified as a "therapeutic complication," by the medical examiner, meaning her death was the result of a predictable complication of a medical procedure.
An investigation was launched into the clinic's operations by the state's health department following Rivers' death. In September, New York Daily News had reported that Rivers' personal physician had performed an unplanned biopsy of the comedian at the Yorkville clinic, which later denied the allegation.
© Copyright IBTimes 2023. All rights reserved.