John Legend Shares First Photo Of Daughter Luna Simone Stephens On Instagram [PHOTO]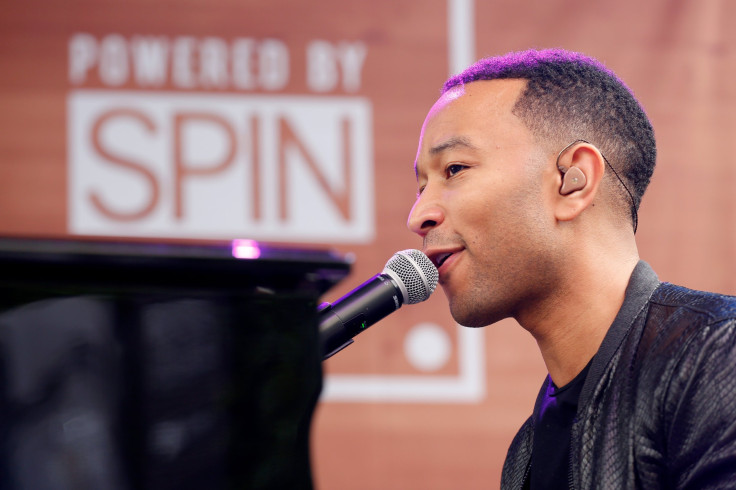 Chrissy Teigen and John Legend's family just got a whole lot cuter. The couple welcomed their first child together — a daughter named Luna Simone Stephens — one week ago. Rather than go the route of many celebrities before them by putting their children's first photos on magazine covers, the Sports Illustrated model and her Grammy-winning husband have already started showing off their adorable baby girl on Instagram.
Legend, 37, — whose real name is John Stephens — posted the first official photo of Luna on her personal page on Wednesday. In the photo, the newborn is shown resting on an elephant-print pillow in Teigen's lap. The new mom lovingly brushes at her one hand while Luna, who is sporting a full head of hair at just a few days old, joyfully looks around at her new surroundings.
Teigen gave fans a glimpse into motherhood Tuesday, though the photo did not feature Luna's face. The 30-year-old "Cravings" author shared a photo of herself looking down as she held Luna in her arms. The pair were seen soaking up a little sun on what appears to be a deck while one of Teigen and her hubby's dogs looks on. In the caption she revealed Luna's adorable nickname — Lulu — to followers.
The couple announced Sunday that their daughter was born April 14. The new mom posted a photo of a screen showing Luna's stats at birth, telling her 6.3 million followers, "She's here!" Teigen added that she and the "All Of Me" singer were "so in love."
The couple announced in October 2015 that they were expecting a child together after months of trying to conceive. They were very open with fans about the fact that they'd done so through in vitro fertilization.
© Copyright IBTimes 2023. All rights reserved.