John Legere Net Worth: T-Mobile CEO Salary Was $66M In 2018
T-Mobile CEO John Legere's net worth is in the spotlight in the context of news that he is stepping down on May 1 and a regulatory filing that showed him as one of the highest-paid executives in the United States.
According to a regulatory filing, in terms of compensation, T-Mobile US paid John Legere a $66.5 million in 2018 as a package on the condition that he will clinch the acquisition of Sprint.
The package's core was a stock award which was granted the day the Sprint deal was announced in April 2018. The payout linked T-Mobile's stock surge and Legere's stewardship until the acquisition is completed, per Bloomberg news.
Celebrity Net Worth suggests John Legere commands a net worth of $80 million. The rewards look justified from the transformation under Legeres's leadership.
When Legere took over T-Mobile in 2012, the company's stock was worth just $12 a share. On Monday's trading in the stock market, the share price was in the region of $80.
Under Legere, T-Mobile became more valuable as he initiated the merger with Sprint putting entrenched competitors under pressure that also include Verizon wireless.
Legere is entitled to get roughly 600,000 T-Mobile shares if the company's stock zooms 50 percent of other telecom and tech firms in the next few years.
The filing reveals that Legere's estimated payout as $44 million. In case, T-Mobile outperforms half or all competitors during the period he can grab as many shares he wanted.
In terms of salary and bonuses, T-Mobile paid Legere $8 million and additional equity awards worth $14.4 million, the filing said.
The announcement comes as T-Mobile is trying to close the pending merger with Sprint, which is expected to happen in "early 2020", per Legare.
The Massachusetts born, 61 years old Legere has worked for many top companies in the past including AT&T, Global Crossing, and Dell.
John became the T-Mobile CEO in 2012 and is hailed for the brand's un-carrier approach that shunned contracts for wireless networks.
Legere is credited with connecting to the hot millennial market and pursuing a bold approach of having no contracts for wireless customers. The strategies helped T-Mobile to add 8.3 million total wireless customers in 2014.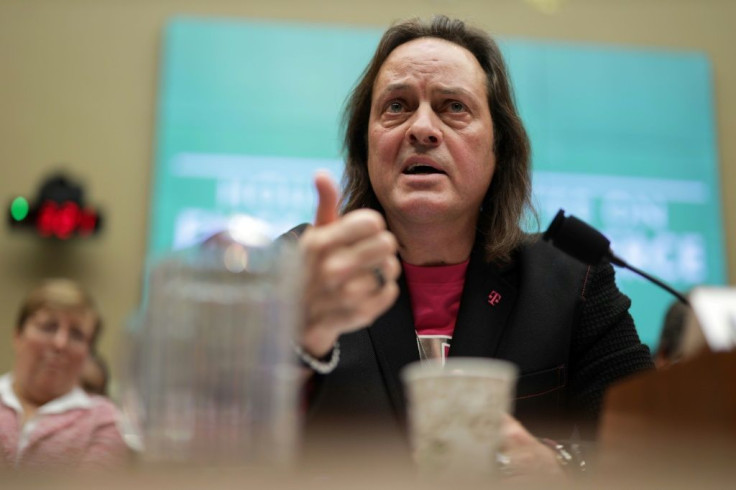 Legere is M.S. from the MIT Sloan School of Management and took M.B.A. from Fairleigh Dickinson University. During college days, he was a nationally acclaimed sprint runner and completed the Boston marathon in 2004.
John Legere is also famous for his Facebook cookery shows where he shares the favorite recipes. His famous cookbook "Slow cooker Sunday Cook Book" has 52 recipes that are his all-time favorites.
Chief Operating Officer Mike Sievert is likely to take over the T-Mobile CEO role from Legere after he steps down.
© Copyright IBTimes 2023. All rights reserved.