Jonathan Pryce Was 'Nervous' While Working With Anhtony Hopkins In 'The Two Popes'
KEY POINTS
Jonathan Pryce has revealed that he was quite nervous while sharing screen with Anthony Hopkins
He said he is a bit in "awe" of Hopkins's acting career
"The Two Popes" has been nominated for four Golden Globes
Jonathan Pryce has revealed that he was quite nervous to share the screen with actor Anthony Hopkins in the movie "The Two Popes."
Speaking in an interview with Los Angeles Times, the 72-year-actor noted that he has been a fan of the Academy Award-winning actor since the beginning and was a bit in "awe" of him and his illustrious career. The "Game Of Thrones" star further noted that traditionally they are not supposed to "get on" with each other.
"He [Hopkins] is from South Wales, and I am from North Wales. We are traditionally not supposed to get on. Even the accent, it is like they are taking their last breath at any minute," Pryce said.
But both stars became good friends on the set and Pryce admitted that the more he got to know Hopkins, the more he started to respect him even more.
The movie chronicles the journey of Cardinal Bergoglio (Pryce), who asked permission to retire in 2012 from Pope Benedict (Hopkins). Facing scandal and self-doubt, the introspective Pope Benedict summons his harshest critic and the future successor to Rome to reveal a secret that would shake the foundations of the Catholic Church.
The movie has been nominated for four Golden Globes, including Best Motion Picture (Drama). Meanwhile, Pryce is on the list of actors nominated for Best Actor (Drama) and the "Silence Of The Lambs" actor is nominated for Best Supporting Actor.
The film currently has a score of 89 percent on review site Rotten Tomatoes.
In 2017, Pryce was part of a movie named "The Wife" which starred Glenn Close in the lead. A lot of things were said about the movie and a lot of male actors said no to the movie. When asked why their agents said no to the film, Pryce said that those actors should change their agents for stopping them from doing such a powerful film.
The esteemed actor noted that he did that movie because the character of Joe Castleman was really good. But then the "Me Too" movement started and his character was being called the Harvey Weinstein in the relationship between him and Close.
"Any time I tried to protest it, it was like I was holding on to nothing. But I couldn't not do the film. Glenn and I had a very good working relationship," Pryce said.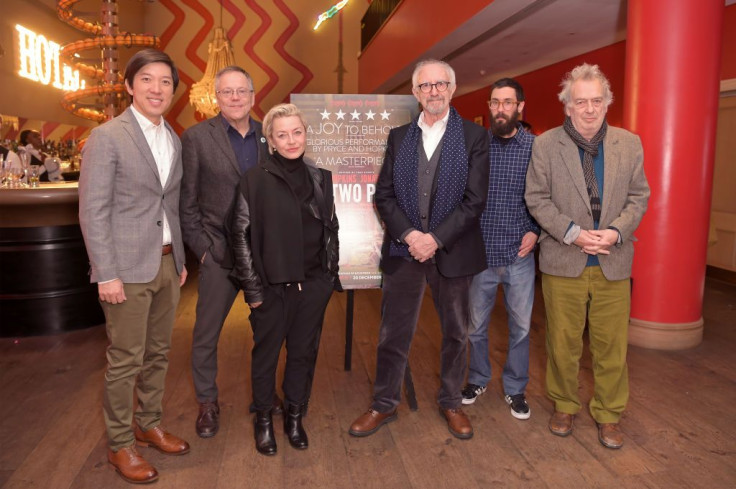 © Copyright IBTimes 2023. All rights reserved.