Josh Duggar Asks To See Wife Anna, Kids During Bail Request
KEY POINTS
Josh Duggar asked the judge to release him on bail a day before attending a scheduled hearing
The former TLC star also wanted to see his wife and six children amid his child pornography charges
Duggar's legal counsel said he has no criminal convictions and has voluntarily surrendered
Josh Duggar has requested the judge to permit him to reunite with his family amid his child pornography charges.
Duggar has been detained at an Arkansas detention center following his arrest Thursday. He was charged with receipt and possession of child pornography during an indictment Friday.
"The 19 Kids and Counting" alum is scheduled to appear at a hearing Wednesday. But a day prior to his appearance in court, he "respectfully" opposed his detention and asked the judge to release him on bail through his attorneys.
"Duggar … has no criminal convictions and has known about this federal criminal investigation since November 2019 when Homeland Security Investigations ('HSI') executed a search of Duggar's prior workplace," Duggar's lawyers wrote in court documents obtained by Us Weekly.
"Duggar has maintained an open dialogue with the U.S. Attorney's Office in connection with this investigation," his legal counsel asserted and added that he "complied precisely as directed" when asked to "voluntarily self-surrender."
"Duggar is neither a risk of flight nor a danger to the community," the lawyers added.
According to the outlet, Duggar wanted to see his wife, Anna, and their six children. Anna and Josh are expecting their seventh baby — a girl.
The former TLC reality star made the request after U.S. Chief Magistrate Judge Erin L. Wiedemann said that he won't be allowed to return home to his family if released on bond. The judge said he has to be "in a residence where there's no minor in the home."
Duggar and Anna share six children together and all of them are minors — Mackynzie, 11, Michael, 9, Marcus, 7, Meredith, 5, Mason, 3, and Maryella, 1.
Meanwhile, ex-porn star Danica Dillon, whose real name is Ashley Johnston, reacted to his latest charges. Dillon wasn't shocked because she considered Duggar a "disgusting man his entire young adult life." She also hoped that he would be jailed "for the rest of his life."
Dillon alleged that Duggar raped her in 2015. She claimed that he choked her and ignored her pleas to stop.
Dillon was also disgusted with Anna for sticking by her husband's side after he admitted in 2015 that he inappropriately touched five girls, four of whom were his sisters. Several netizens shared Dillon's sentiment about Anna and many of them were urging Duggar's wife to leave him and distance herself from the whole Duggar family.
The online users blamed Duggar's parents, Jim Bob and Michelle, for allegedly enabling him because they defended him from the molestation scandal six years ago.
"Looking back, we did the best we could under the circumstances," Jim Bob was quoted by The New York Times as saying at the time. "He was still a kid. He was still a juvenile. He wasn't an adult. This was not rape or anything like that. This was touching someone over their clothes."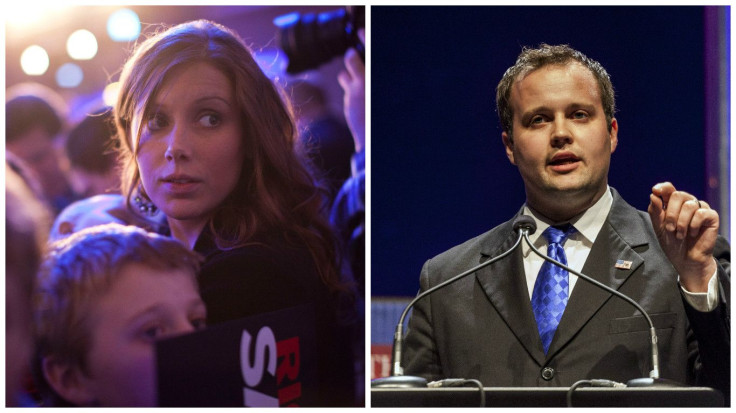 © Copyright IBTimes 2023. All rights reserved.