Journey To Mars: Virtual Tour Of The Red Planet With A Buzz Aldrin Hologram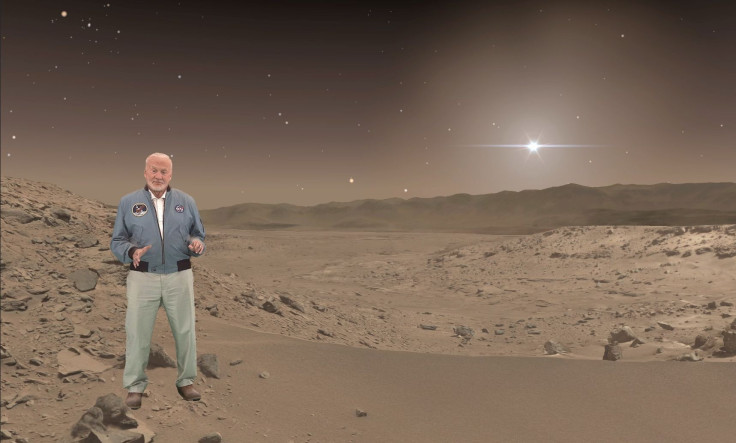 "Destination: Mars" — a new exhibition at the Kennedy Space Center that lets people get a feel of what it is like to gambol about on the surface of the red planet — opens to the public Monday. The interactive exhibit, developed jointly by Microsoft and NASA's Jet Propulsion Laboratory (JPL), was inaugurated Sunday in Florida by Apollo 11 astronaut Buzz Aldrin, who has been an outspoken advocate of Mars' colonization.
"The opportunity to get up close and personal with 'a walk on Mars' is so exciting, and we can't wait for our guests to experience the thrill of it," Therrin Protze, chief operating officer of the Kennedy Space Center Visitor Complex, told USA Today. "And we're particularly honored to offer 'Destination: Mars,' as it is exclusive to Kennedy Space Center Visitor Complex, offering our guests an experience they can't have anywhere else: a real look into NASA's work on Mars."
The "mixed reality" project merges virtual elements with the actual environment to create an interactive experience. According to NASA, it will let visitors use Microsoft's HoloLens headset to "visit" several sites on Mars, reconstructed using over 1,000 real images gathered by the Curiosity rover, which has been trundling around on the planet since 2012.
The project utilizes the same technology used by the OnSight software — also developed jointly by NASA and Microsoft — which allows scientists to plan operations on Mars and to decide where Curiosity should head next.
"This experience lets the public explore Mars in an entirely new way. To walk through the exact landscape that Curiosity is roving across puts its achievements and discoveries into beautiful context," Doug Ellison, a visualization producer at NASA's JPL, said in a statement released in March.
A holographic image of Aldrin — the second human to walk on the moon — will guide visitors during their virtual stroll across the surface of Mars.
"It's my hope that experiences like 'Destination Mars' will inspire us all to do more and go further," Aldrin said.
Earlier this year, SpaceX announced an ambitious plan to send its first uncrewed Dragon capsule to Mars as early as 2018 — a mission that CEO Elon Musk hopes would lay the groundwork for future human colonies on the red planet. If the unmanned Red Dragon test is successful, it will also pave the way for NASA to use the spacecraft for its manned missions to Mars — which it aims to undertake sometime in the 2030s.
© Copyright IBTimes 2023. All rights reserved.
FOLLOW MORE IBT NEWS ON THE BELOW CHANNELS