'Jujutsu Kaisen' Chapter 181 Delayed: New Release Date, Preview And Spoilers
KEY POINTS
"Jujutsu Kaisen" Chapter 181 is postponed to April 17
Gege Akutami is the creator of the manga
The chapter will be out on Manga Plus and Viz
Yuta Okkutsu has destroyed Ryu Ishigori in the fight inside Sendai Colony. It remains to be seen if Okkutsu will add new rules. Fans will have to wait for the next chapter as the manga remains on a one-week break.
"Jujutsu Kaisen" Chapter 181 is not releasing this Sunday and is postponed to April 17. Twitter user Ducky has shared a preview of the upcoming chapter.
"Okkotsu crushed Ishigori Ryuu! Points amassed, an addition to the rules...?" read the preview of "Jujutsu Kaisen" Chapter 181.
In the last chapter, Okkutsu and Ishigori continued their one-on-one battle. Okkutsu could only release a directed high-output blast of Cursed Energy while Rika was manifested fully.
Even at its peak, Okkutsu's blast was weaker than Ishigori's blast. Okkutsu needed to generate Cursed Energy before his opponent could reach his maximum potential.
Both Okkutsu and Ishigori fired at each other and the latter was excited to see a worthy opponent in Okkutsu.
He challenged Okkutsu to go again and this time Okkutsu jumped at the same moment the blast struck.
Ishigori realized Rika was capable of firing her own blasts. Ishigori managed to block the blast and announced that he can do whatever his opponent was capable of.
Moreover, Ishogori ridiculed Rika's attack and called it weak. He noted Okkutsu had used all his energy will summoning the Domain Expansion and this fight.
He added that Okkutsu cannot replenish fast and it was time for him to end this battle. He unleashed the Granite Blast but was shocked when he witnessed Okkutsu's Cursed Technique was already replenished.
And that's when he realized that Okkutsu was using Uro's Cursed Technique. Moreover, he also found out Okkutsu's real Cursed Technique was Copy.
Okkutsu unleashed Thin Ice Breaker and targeted his opponent's core. Rika too joined the battle because the connection between Rika and Okkutsu would end in five minutes.
Toward the end of the chapter, Okkutsu gave his all and punched Ishigori in the chest, and to top it all off, Ishigori's Granite Blast appeared and demolished him.
Okkutsu used Uro's technique to redirect the blast at Ishigori.
"Jujutsu Kaisen" chapters release weekly on Viz and Manga Plus. The manga is based on the original story by Gege Akutami.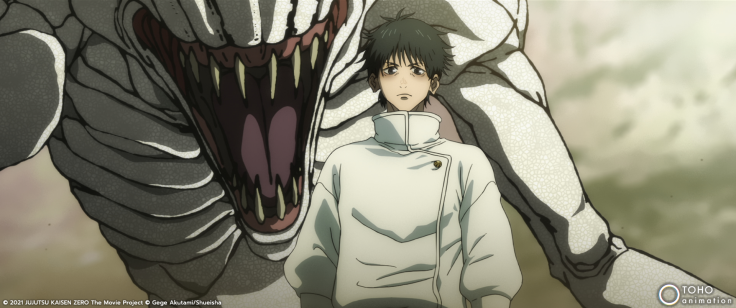 © Copyright IBTimes 2023. All rights reserved.