'Jujutsu Kaisen' Chapter 180 Spoilers: Ryu Ishigori And Yuta Okkutsu's Dessert Battle
KEY POINTS
"Jujutsu Kaisen" Chapter 180 is coming out Sunday
The chapter will be up on Manga Plus and Viz
Gege Akutami is the creator of "Jujutsu Kaisen" manga
Ryu Ishigori has termed his duel against Yuta Okkutsu as the dessert after the meal. The latest leaks of "Jujutsu Kaisen" Chapter 180 confirm the battle continues between the two players in Sendai Colony.
A Twitter user named Ducky has shared the spoilers for "Jujutsu Kaisen" Chapter 180.
The chapter opens with Ryu and Yuta engaging in a battle of blasts that resembled Yuta's duel against Geto in Vol. 0 of the manga.
Yuuta tells Ryu that he can only fire one blast, but when he fires his second, Ryu notes Rika can fire blasts on her own. Meanwhile, Yuta is getting closer to him and is taking the fight to close-hand combat level.
Later, in "Jujutsu Kaisen" Chapter 180, Yuta tries to hit his opponent but the latter fires a granite blast. Ryu states he can do anything that Yuta is capable of and better. However, Ryu still doesn't understand Yuta's Cursed Technique.
Soon, Rika reaches her limit, but Yuta and Ryu continue their hand-to-hand combat. Ryu says that this is the first time he has used all his power and calls it the "dessert."
Toward the end of "Jujutsu Kaisen" Chapter 180, Yuta takes Ryu and holds him to the ground. Suddenly, a blast hits Ryu from the sky and he loses the match. The spoilers reveal the blast was Ryu's granite blast that Yuta diverted using Uro's technique.
In the previous chapter, Ryu, Yuta and Uro released their Domain Expansions at the same time.
Inside the overlapping domains, all powerful attacks canceled each other out. Uro and Ishigori knew they needed to keep Rika out of the barrier because if Rika teams up with Yuta inside the barrier, then it will be nearly impossible to beat him.
Uro was aware that despite their efforts Rika will try her hardest to intrude and Ishigori noted they need to keep the fight short and sweet.
"Jujutsu Kaisen" Chapter 180 is set to release Sunday. Fans can grab the digital copy of the chapter on Viz and Manga Plus.
"Jujutsu Kaisen" manga is based on the characters created by Gege Akutami.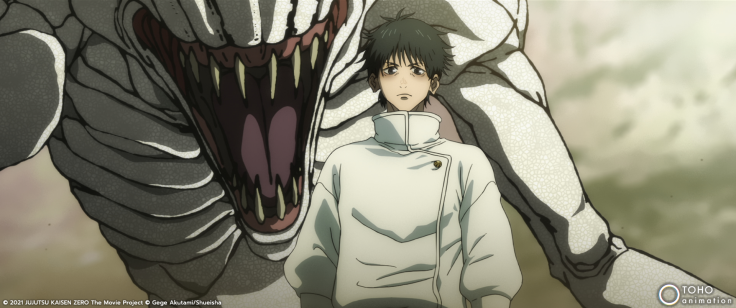 © Copyright IBTimes 2023. All rights reserved.