Julian Edelman Tinder, Snapchat Photo Raises Questions About Revenge Porn, Online Dating Safety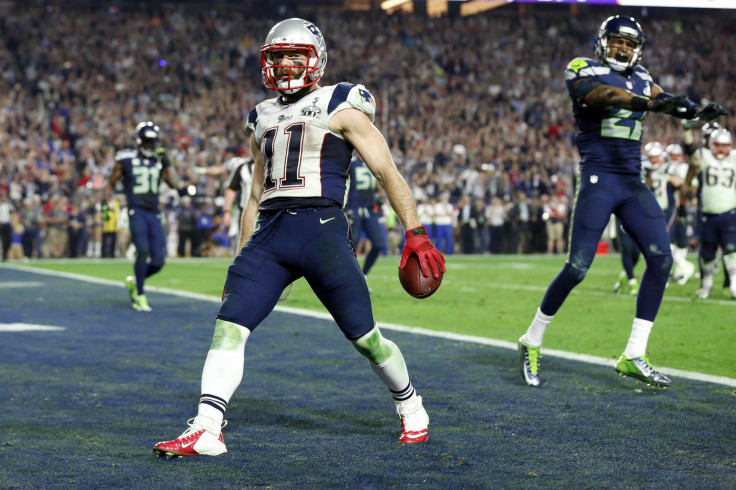 It's a worst-case scenario of dating. You meet someone who seems nice, invite them into your bed and the next day intimate photos of your romantic interaction have spread across the Internet for everyone to gawk at and download. The growing practice of former lovers uploading so-called revenge porn online has increasingly raised questions about cyberprivacy, online dating safety and whether tech companies should be held accountable for not doing more to stop the nonconsensual posting of sexually explicit material.
Lawmakers at the state and federal level across the nation have advocated in recent years for legislation outlawing the practice, while cyber activists have called on social media and tech leaders to adopt policies that would make it harder to circulate such personal images. Everyone is a potential victim, proponents of revenge porn laws say, a notion underscored this week when New England Patriots wide receiver Julian Edelman's intimate moment went viral Wednesday after a presumed lover posted a photo of him in bed -- not out of revenge, it seems, but rather to brag. The culprit, Sabrina Dudish, posted the picture to the mobile dating app Tinder and the photo-sharing site Snapchat. "Just f***ed Edelman no lie," read the caption.
Revenge porn involves posting sexually explicit material online without the permission of the person in the images. Web entrepreneurs have launched sites dedicated to the practice, while others simply post the images on social media sites such as Twitter and Instagram.
Nearly 20 states have passed laws criminalizing revenge porn, including Alaska, Arizona, California, Colorado, Georgia, Illinois, Maryland, New Jersey, Idaho, Pennsylvania, Utah, Virginia and Wisconsin. Last month, a Wisconsin man was charged with four felony counts of making threats to injure or accuse of a crime after he threatened to post nude pictures of women he met on a dating app, according to the Wisconsin State Journal. In California, a man was found guilty Monday on identity theft and extortion charges for posting intimate pictures of mostly women submitted anonymously by their exes. He faces up to 20 years in prison, according to the Los Angeles Times. Last week, the Federal Trade Commission banned a revenge-porn website operator from publicly sharing any more nude videos or photographs of people without their consent.
"The logic of, 'Just be careful, don't do this with people, don't share these type of images' doesn't make sense, because you can be as careful as possible and it could still happen to you," said Mary Anne Franks, an associate law professor at the University of Miami in Florida. "The problem is with people who want to engage in nonconsensual activity."
Franks, the legislative and tech policy director for the Cyber Civil Rights Initiative, which advocates for legislation against revenge porn and also provides resources for victims, has worked with 26 states to introduce legislation against revenge porn in the past two years. "It's never a trivial matter," she said. "If all of us can imagine that there is some intimate behavior that we participate in, whether it's sexual or not, that we would all be horrified if it turned up online."
Social media companies and tech companies need to be better at protecting users' safety and take the lead on revenge porn online by making it easier for users to report nonconsensual images, among other measures, Franks said. "They are starting to take it seriously now as opposed to a couple of years ago when we were fighting to get any of these companies to listen to us because they are starting to realize just how serious this is," she said.
Facebook's community standards include a long list of prohibited behaviors, including self-harm, bullying, hate speech and graphic content. "Facebook has a strict policy against the sharing of pornographic content and any explicitly sexual content where a minor is involved. We also impose limitations on the display of nudity," it reads.
Instagram's guidelines also urge members to remain civil. "We ask that everyone be polite and respectful in their interactions with other members," they read. Its section on nudity is much lengthier: "Don't share photos or videos that show nudity or mature content," the site warns. "If you wouldn't show the photo or video you are thinking about uploading to a child, or your boss, or your parents, you probably shouldn't share it on Instagram. The same rule applies to your profile photo. Accounts found sharing nudity or mature content will be disabled and your access to Instagram may be discontinued."
Tinder is the leader in the growing market of mobile dating apps. Other smartphone-based dating options include Hinge, Clover, the League and How About We. On Tinder, users can agree to a match and exchange messages or meet in person. The site claims more than 1 billion swipes a day. A spokesman for Tinder didn't immediately return a request for comment Thursday about what the company was doing to stop revenge porn after Edelman's picture was shared this week.
As Americans increasingly turn to online sites and mobile apps to find their one true love, or someone to get frisky with without having to put in much effort, paying attention to online dating safety best practices has become more important, said Julie Spira, an online dating guru who runs Cyber-Dating Expert.
"The World Wide Web has become the wild, wild West. Whether it's a woman who has been scorned by a date who either treated her badly or dumped her after they had sex or whatever, or a guy who wants to get revenge on an ex-girlfriend who has taken sexy pictures, it's very sad and it's very difficult to prevent this from happening," she said. "What we can do is talk about ways to be safe about your identity and ration information until you get close to someone."
People who date online shouldn't tell their date where they live, where they work or their last name, she said. They should meet in a public place, inform friends beforehand of where they are going, and share details about their date that could later be presented to law enforcement in case of an emergency. While waiting until the third date for sex is a common practice among more cautious daters, Spira instead recommends waiting until you feel completely safe, no matter how many dates that takes. And if you really can't wait to get intimate, "then make sure the cell phone stays out of the bedroom," she said.
As for Dudish, she later regretted posting Edelman's picture. "I made a mistake. I feel really bad about it," she told TMZ Sports. "He passed out and I was bored I guess."
FOR FREE to continue reading
✔️ Unlock the full content of International Business Times UK for free
offer available for a limited time only
✔️ Easily manage your Newsletters subscriptions and save your favourite articles
✔️ No payment method required
Already have an account?
Log in
© Copyright IBTimes 2023. All rights reserved.