July 4th Parade Shooting: 26 Victims Brought To Hospital, Child Was 'Critically Injured'
KEY POINTS
A man opened fire at a Fourth of July Parade in Highland Park, Illinois, Monday, killing at least six and wounding at least 26
It appeared as if the shooter specifically targeted spectators and participants of the event, a police official says
A person of interest has been taken into police custody
Highland Park, Illinois -- A man opened fire in downtown Highland Park, Illinois, during a Fourth of July parade, killing at least six people and wounding dozens of others, according to officials.
The shooter was on the rooftop of a building when he opened fire at the Independence Day parade Monday, CNN reported. It appeared as if he specifically targeted spectators and participants of the event, said Sgt. Christopher Covelli, from the Lake County major crime task force.
At least six people were killed in the incident. Five of them died at the scene, and one died while they were being transported to a local hospital, according to Lake County coroner Jennifer Banek.
A total of 26 injured people, ranging in age from 8 to 85, were brought to Highland Park Hospital, according to Dr. Brigham Temple, of NorthShore University Health System.
Among the patients, 25 sustained gunshot wound injuries. About 19 out of the 25 were treated and sent back home, while two patients were transported to Evanston hospital, Temple said.
Four or five of the patients were children, according to the doctor.
At least one "critically injured" child was transported to a hospital, Highland Park Fire Chief Joe Schrage said. It was unclear if the child was part of the group that was received at Highland Park Hospital.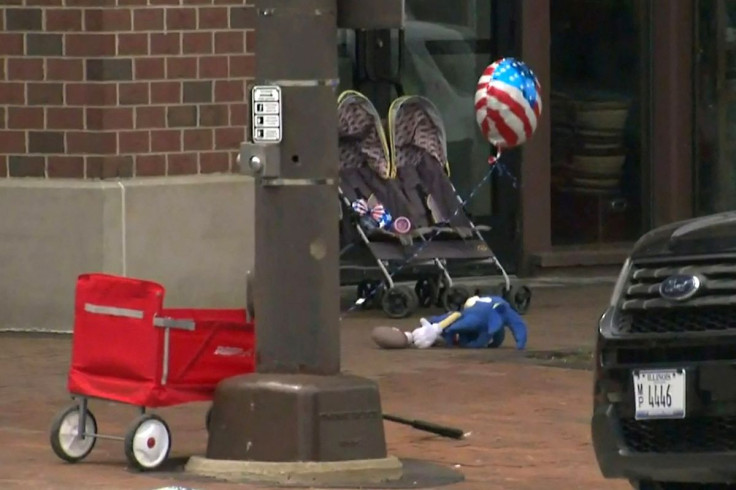 Police recovered a "high-powered rifle" from the rooftop of a business, according to Covelli. Officials have not disclosed where the building is located.
A firearm was also recovered in Highland Park after the shooting, which is being traced to determine its buyer and origin, said Kim Nerheim, a spokesperson with the Bureau of Alcohol, Tobacco, Firearms and Explosives.
Robert E. Crimo III, a person of interest in the shooting, has been taken into custody, according to police.
The 22-year-old gave himself up to authorities following a "brief chase" in north Chicago hours after the attack, Highland Park Police Chief Lou Jogmen said.
Investigators will question Crimo "to make sure or see if, in fact, he is connected to this incident," Jogmen was quoted as saying by NPR.
The police chief declined to call Crimo a suspect at this stage of the investigation.
However, Crimo is "believed to have been responsible for what happened," according to Covelli.
"[Law enforcement officials have] processed a significant amount of digital evidence today which helped lead investigators in this direction. So, calling somebody a suspect or person of interest, it's really synonymous," he said.
Charges have not been approved yet, according to Covelli. "[W]e are a long way from that," the official said.
Police described the shooter as a white male between 18 to 20 years old with a small build and long black hair who wore a white or blue T-shirt.
Highland Park Police is leading the investigation, and the Lake County Major Crime Task Force is working directly with the FBI, Covelli said.
Crimo reportedly performed as a rapper who went by the name "Awake." His recent music videos included depictions of mass murder, according to NBC News.
Crimo's most recent video, which was posted on YouTube, showed him in the aftermath of a school shooting. The YouTube account that hosted Crimo's videos can no longer be accessed as of Monday night.
Monday's shooting in Highland Park marked the 308th mass shooting in the U.S. this year, according to data collected by the Gun Violence Archive, a nonprofit that tracks such incidents.
President Joe Biden has spoken to Illinois Governor J. B. Pritzker and Highland Park Mayor Nancy Rotering in the wake of the incident, according to a White House statement.
"[T]here is much more work to do, and I'm not going to give up fighting the epidemic of gun violence," Biden said in the release after mentioning he had signed a gun reform law in late June that imposes stricter checks on young buyers and encourages states to remove guns from people who are considered a threat.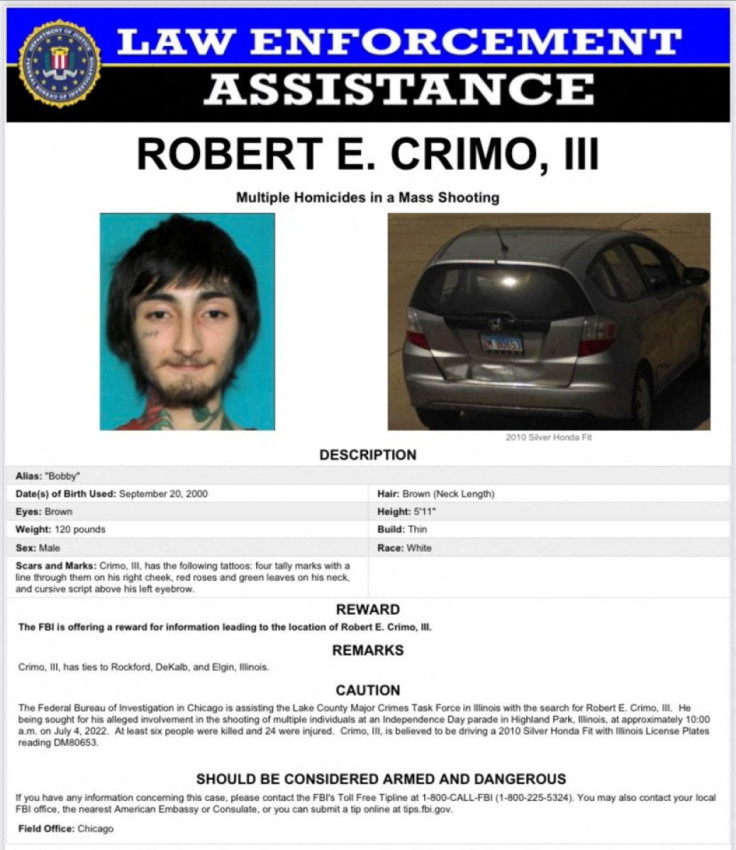 © Copyright IBTimes 2022. All rights reserved.
FOLLOW MORE IBT NEWS ON THE BELOW CHANNELS