Kanye West Wants 'Family Back Together' As Kim Kardashian Dates Pete Davidson
KEY POINTS
Kanye West posted a Thanksgiving prayer on Instagram, saying that one thing he is "so thankful" for this year is "family"
The "Gold Digger" rapper said he thinks about getting his family back together every day
West admitted that his political activity became a source of conflict between him and estranged wife Kim Kardashian
Kanye West is continuing his plea to get his family back together and reconcile with estranged wife Kim Kardashian in a Thanksgiving prayer he posted on social media.
West, who legally changed his name to Ye last month, shared on Instagram Thursday a five-minute video showing a choir singing in a dimly lit room as the rapper spoke in voice-over.
In the clip, the Yeezy founder said one thing he is "so thankful" for this year is "family."
He talked about what makes him most happy, such as the "God's dream" of watching his "mini-me" son Saint play catch with Tom Brady, as well as what he regrets, like running for president last year "without proper preparation and no allies on either side."
While describing his second child with Kardashian, West noted at the top of the video: "My mini-me is a mix of two of my favorite things: me and my wife's face."
"All I think about every day is how I get my family back together and how I heal the pain that I've caused," the "Gold Digger" rapper continued. "I take accountability for my actions. New word alert: misactions. The one thing that all my successes and failures have in common is me."
West acknowledged his "misactions," including how his "hair-trigger temper" was "heightened" by alcohol. The musician, who was diagnosed with bipolar disorder, also recalled being placed under heavy medication following a manic episode in 2016 and said his wife and family had to "endure" other episodes after he went on and off medication.
He also admitted that his political activity became a source of conflict between him and Kardashian.
"I embarrassed my wife in the way that I presented information about our family during the one and, thank God, only press conference," West said, referring to him publicly discussing how he and his wife considered an abortion when they found out she was pregnant with their first child, North.
According to West, his dad advised him to "write your speech next time" after the incident.
West's prayer seemed to be a continuation of his appeal at the Los Angeles Mission's Annual Thanksgiving event Wednesday where he claimed that God wants him to reunite with his wife.
"The narrative God wants is to see that we can be redeemed in all these relationships," West said during the charity event to help those living near Los Angeles' Skid Row. "We've made mistakes. I've made mistakes. I've publicly done things that were not acceptable as a husband, but right now today, for whatever reason — I didn't know I was going to be in front of this mic — but I'm here to change the narrative."
West is pushing for a reconciliation months after Kardashian filed for divorce in February. The rapper continues to refer to Kardashian as his "wife," previously claiming on Revolt TV's "Drink Champs" that he hasn't seen the divorce papers and that their four children — North, 8, Saint, 5, Chicago, 3, and Psalm, 2 — want them to stay together.
However, the 41-year-old reality star has already moved on from West and has started seeing "Saturday Night Live" star Pete Davidson.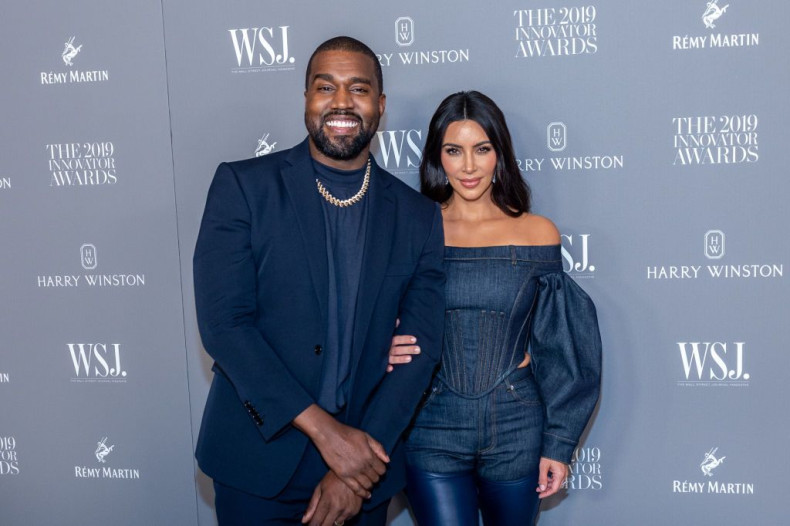 © Copyright IBTimes 2022. All rights reserved.