Karl Lagerfeld yawns at race for French presidency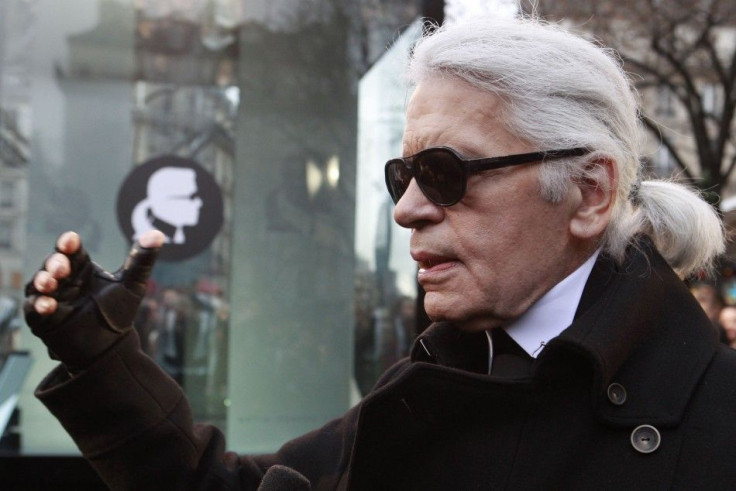 Chanel star designer Karl Lagerfeld is already bored with the French presidential election and believes the country would be better-run if its leaders took inspiration from successful businesses like French luxury goods firm LVMH.
Taking over the Paris newsroom of free daily Metro for the day as its guest editor, the snow white-haired designer offered up opinions on topics ranging from his dislike of cinemas to suicide and having sheep trim the lawns.
Lagerfeld, dressed in his eternal black suit and Gladstone collar, took a seat at the head of a conference table during the paper's daily news meeting and commented as reporters read out story ideas from their notebooks.
One suggested writing about a firm that had replaced lawn mowers with sheep. I like sheep, said Lagerfeld. They are a funny animal, but not quite as funny as little pigs.
Another pitched a story about a historic French movie theatre which had won a reprieve from bankruptcy. I love the movies, but I very rarely go to the theatre because I have a problem with cell phones, he said. People cannot stop fiddling with them, it's unbearable.
A third said the paper should take a look at Suicide Prevention Day in France. It's an awful thing, but it's better if it doesn't happen on the street where they make a mess and spread themselves out like marmalade.
The German-born Lagerfeld, known for his prolific creativity as head designer at Parisian fashion house Chanel, was enlisted to provide illustrations of the day's major news stories in the free paper, which relies entirely on advertising for revenue and is sold in more than two dozen cities around the world.
Without missing a beat he produced a series of pithy drawings, including a stylishly attired snowman to accompany a story about winter, and one of Russian Prime Minister Vladimir Putin, currently seeking election as president, wearing a crown under the words Putin's dream.
He also proved himself a keen observer of French politics, despite not having the right to vote in France.
Asked about his impression of the brewing face-off between President Nicolas Sarkozy and Socialist front-runner Francois Hollande, less than 80 days from the election's first round, Lagerfeld declared himself already bored.
For the moment it's not really inspiring... First we had the (Socialist) primary, now there is the back-and-forth, it's like Ravel's 'Bolero', he said, referring to the lengthy and languorous music by French composer Maurice Ravel.
On the euro zone crisis, Lagerfeld defended the Franco-German cooperation of which he is a prime example and said the French were wrong to criticize Sarkozy for supposedly caving in to the demands of German Chancellor Angela Merkel, as Germany had chosen to enact tough labor reforms that paid off.
His remark came as Merkel appeared at Sarkozy's side in Paris to support his as yet unofficial bid for re-election, saying it was normal for one centre-right head of state to back the candidacy of another.
Ultimately, however, politicians were not up to the task. Chief executives like Bernard Arnault, who runs the LVMH luxury goods empire, would be more efficient at shoring up the struggling French economy, according to Lagerfeld.
Today I don't believe in politics. I think countries have to be run like big companies... If France were run more like LVMH there would be more good numbers like the ones Bernard Arnault announced, he said.
Last week LVMH, which owns luxury luggage-maker Louis Vuitton and champagne-makers Moet & Chandon, said its outlook for 2012 was excellent and raised its dividend after rapid growth in Asia and at Louis Vuitton helped it post a forecast-beating rise in full-year operating profit.
The world's biggest luxury goods group, which last year bought Italian jeweler Bulgari, shrugged off concerns about the global economy with a 22 percent rise in profit from recurring operations to 5.26 billion euros ($6.9 billion) on sales up 16 percent at 23.66 billion.
Quizzed about fashion, Lagerfeld, who has been at the helm of Chanel for more than two decades, said the era of star designers with larger-than-life personalities was not over, despite the fact that no successor had yet been found to replace John Galliano at rival Christian Dior.
Today, in the world we have, with the media, it's easier to have a star designer, I'm afraid, he said.
Away from the limelight and cameras Lagerfeld said Dior might be having trouble finding a designer to succeed Galliano because of the pressure involved in the job and the fact that Dior management kept a close watch over creative output. This was not the case at Chanel, where Lagerfeld said he enjoyed a free hand.
© Copyright Thomson Reuters 2023. All rights reserved.