Kate Middleton Borrows Queen Elizabeth's Diamond Bracelet For AFNCCF Gala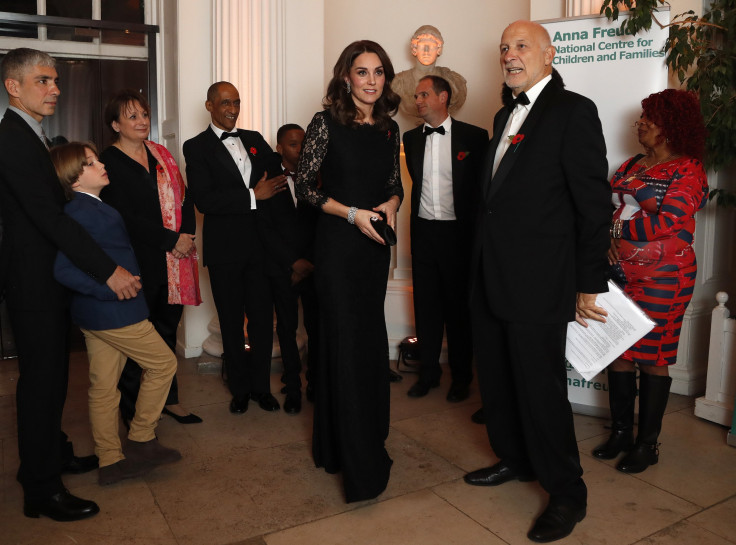 Kate Middleton attended the Anna Freud National Centre for Children and Families (AFNCCF) gala on Tuesday with a sparkly diamond bracelet from Queen Elizabeth II's jewelry collection.
According to People, the diamond Quatrefoil bracelet was among the accessories in the queen's vast collection of jewelry and was likely handed down to the monarch after her mother's death in 2002. Not much is known about the piece, but the queen mother was spotted wearing it back in 1958. Queen Elizabeth was also seen wearing it over her signature white gloves at the State Opening of Parliament in 2010.
As for Middleton, she used the diamond bracelet to complement her floor-length black lace dress from Diane von Furstenberg that she first wore in 2014. Meghan Markle wore a similar dress in 2016, but the "Suits" star's version was a navy color and shorter, showing off her legs.
Middleton also paired her luxurious bracelet with a Prada clutch bag, jeweled poppy brooch to mark Remembrance Day and a pair of diamond pendant earrings, which was another loan from the queen. The earrings are believed to be the Duchess of Cambridge's favorite, especially when it comes to important gathering.
This is not the first time that Queen Elizabeth II has allowed Middleton to borrow an accessory from her collection. In 2015, the monarch lent Prince William's wife two bracelets for the state banquet, one of which was a wedding gift from Prince Philip.
"I think it certainly shows the high esteem that the duchess is held in," Elizabeth Galton, jeweler Mappin and Webb's creative director, told People about the monarch's habit of lending Middleton her personal jewelry.
Middleton is a patron of AFNCCF and has been active in supporting the organization. In September, she made an effort to be involved in its animation, titled "Talking Mental Health," for children despite her pregnancy. Middleton was on a strict bed rest weeks after the palace announced that she was expecting her third child due to hyperemesis gravidarum or severe morning sickness.
"Hello, mental health is how we feel and think things that can't really be seen but that affect us every day and talking about them can feel difficult," Middleton said in the clip to introduce the animation. "A charity called the Anna Freud National Center for Children and Families have made this animation with children just like you."
What can you say about Queen Elizabeth lending her jewelry to Middleton? Drop a comment below.
© Copyright IBTimes 2023. All rights reserved.