Kate Middleton, Prince William Reportedly Threatened At Meghan Markle's Intelligence, Twitter Reacts
KEY POINTS
Kate Middleton and Prince William are reportedly threatened by Meghan Markle's intelligence
Kate Middleton allegedly snubbed Meghan Markle in her New Year's plan
Kate Middleton and Prince William extended an olive brance to Prince Harry and Meghan Markle
Kate Middleton and Prince William were reportedly threatened by Meghan Markle's intelligence.
For months, there have been rumors that the Duke and Duchess of Cambridge are feuding with the Duke and Duchess of Sussex. The future king and queen never spoke up to defend Markle from her critics. This prompted the Sussexes' supporters to attack the Cambridges, with some claiming that the latter are threatened by Markle.
"I think William and Kate feel threatened at how smart and forward thinking Meghan Markle is. Regarding Kate Middleton; the lights are on but no one is at home...." one user wrote on Twitter.
"So true. It's quite obvious how threatened the Cambtidges are since Meghan arrived on the scene. Those two barely cared about their royal engagements but now it's already PR overload from their desperate camp," another added.
However, some online users defended the Cambridges, with one describing it the "most ridiculous tweet." There are also few social media users who disagreed that Markle is forward-thinking.
E.M. Kelly pointed out the fact that Middleton will be Queen one day while Markle is just making the talk show circuit similar to Sarah Ferguson who refused to adhere to the royal traditions and protocol. "She's going backwards not forward," the user wrote.
Aside from accusing the Cambridges of being threatened by Markle, some said that they didn't defend Markle because they were profiting from the hatred the Duchess of Sussex receives. One critic said that every criticism targeted to Markle made the Cambridges look better, so they didn't care how Markle was unfairly treated.
Meanwhile, some also attacked Prince William because he didn't do what Prince Harry did for his wife. When Middleton was still expecting Prince George, the Duke of Sussex spoke for his sister-in-law and and said that he hoped she would get the necessary protection to allow her as a mother-to-be to enjoy the privacy that comes with it.
While fans of the Cambridges and Sussexes were attacking each other, Prince William and Middleton extended an olive branch to Prince Harry and Markle. The Cambridges included the Sussexes in their annual year video highlights which warmed the hearts of many royal fans.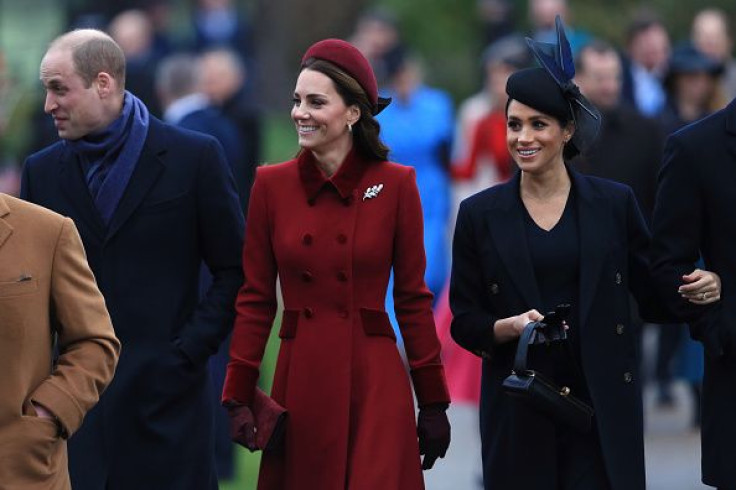 © Copyright IBTimes 2023. All rights reserved.