Kate Middleton Says Prince Louis Is Bad At Social Distancing, Wants To 'Cuddle Everything'
KEY POINTS
Kate Middleton said Prince Louis finds it difficult to practice social distancing
The Duke and Duchess of Cambridge's youngest son loves to cuddle everything
Middleton confessed there was a time when she felt mean to her kids
Kate Middleton has shared that Prince Louis is struggling to cope with the new normal because he just loves to "cuddle everything."
On Tuesday, Middleton appeared on "BBC Breakfast" and shared some details about her son's struggles with maintaining social distancing. Physical or social distancing is one among the strict regulations put in place by the government to curb the spread of COVID-19.The royal mom revealed that her 2-year-old apparently wants to give free hugs to babies.
"I was just saying, Louis doesn't understand social distancing," Middleton was quoted as saying by Town & Country magazine. "So he goes out wanting to cuddle everything, particularly any babies younger than him."
This isn't the first time Prince Louis' parents talked about his playful side. Back in April, when the U.K. was in strict lockdown, the little royal made video calls extra challenging for his parents because he would press the red button, causing them to hang up.
"For some reason, he sees the red button and he always wants to press the red button," Prince William shared.
"It gets a bit hectic, I am not going to lie, with a 2-year-old."
Middleton loves talking about her youngest son. When she visited The Nook, one of the East Anglia's Children's Hospices facilities in Norfolk, back in June, she also opened up about Prince Louis.
At the time, the Duchess of Cambridge helped plant a garden. She mentioned that her kids Prince George, 6, Princess Charlotte, 5, and Prince Louis love to take part in outdoor activities.
The three young royals have sunflowers. The duchess shared a funny story how the activity seemed to have sown a few seeds of dispute and competition between her two sons.
"The children are really enjoying growing their sunflowers," Middleton was qouted as saying by People. "Louis' is winning, so George is a little grumpy about that!"
Meanwhile, in another interview with the BBC, Middleton admitted that there was a time when she felt mean to her kids. The mom of three shared that she continued to homeschool them even during the Easter break.
"We didn't tell the children we've actually kept going through the holidays," Middleton said. "I feel very mean."
Middleton also shared the usual activities they do to keep her kids busy during the lockdown.
"You sort of pitch a tent, take the tent down again, cooked, baked, you get to the end of the day, they have had a lovely time. It's amazing how much you can cram into one day, that's for sure."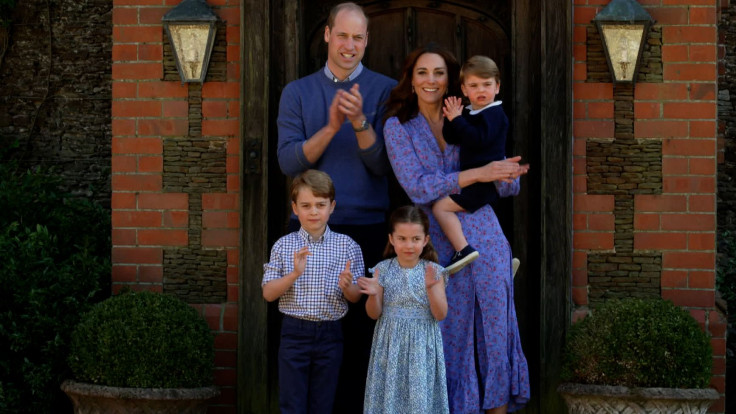 © Copyright IBTimes 2023. All rights reserved.