Kate Middleton Shares Children's Reaction To Her Engagement Photos With Prince William [Watch]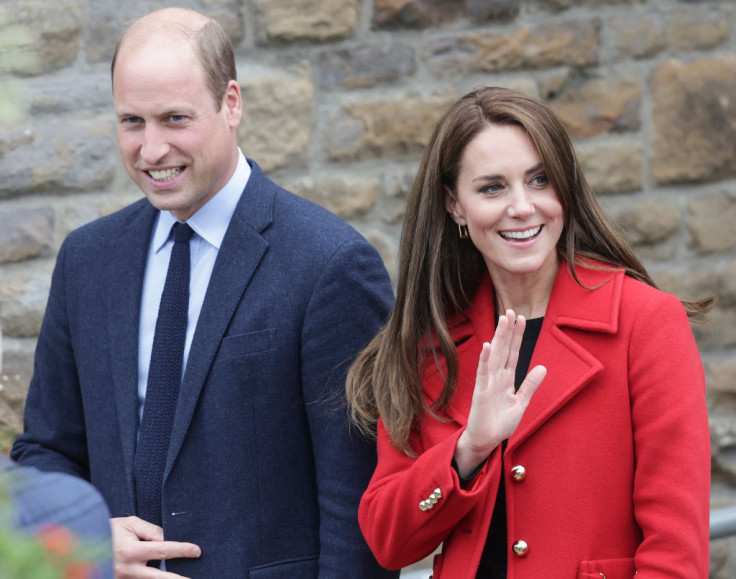 KEY POINTS
Kate Middleton and Prince William visited Wales this week for the first time since becoming the Prince and Princess of Wales
Middleton stopped to chat with a well-wisher who was holding a flag featuring the couple's engagement photo from 2010
The royal shared that her and William's kids commented on how young she looked in the photos
Kate Middleton has revealed that her three children with Prince William have been looking at the couple's old photos.
Middleton made the revelation while meeting well-wishers in Wales, which she and her husband visited Tuesday for the first time since becoming the Prince and Princess of Wales following the death of Queen Elizabeth II.
During their outing, the princess stopped to chat with a royal fan who was holding a flag featuring her and Prince William's engagement photo from 2010.
"Oh my goodness, is that from our engagement?" Middleton said in a video uploaded by the fan on TikTok. "We always laugh about this. Although we've been married for 11 years, we've been together for double that, so it's extraordinary."
Middleton then shared the reactions of their three children — Prince George, 9, Princess Charlotte, 7, and Prince Louis, 4 — to seeing the engagement pictures.
"The children look back at the photos and say, 'Mummy, you look so young!'" the royal said.
Many royal fans left comments on the video saying that Middleton, 40, still looks so young for her age. They also praised the royal for taking the time to chat with the well-wisher.
"She seems so kind! She could have easily just walked by and not said a word, but she took a moment to chat and share a story. She still looks young!" one person commented.
Another wrote, "Cheeky! She looks just as beautiful now."
"She is lovely. Thank you for sharing," a third person added.
Middleton and Prince William, also 40, met as students at the University of St. Andrews in Scotland. They publicly announced their engagement in November 2010, a few weeks after William popped the question while they were vacationing in Kenya.
The couple's visit to Wales this week was special because it was a return to where they lived as newlyweds and first-time parents. They lived in Anglesey while Prince William worked as a helicopter pilot with the Royal Air Force's Search and Rescue Force.
"It's nice coming back to Wales because it was where we lived before we had our family and everything, so it's been a really special day," the Princess of Wales told well-wishers.
Prince William and Princess Kate's office said the couple has a deep affection for Wales and is looking forward to spending more time in the country over the coming years.
Locals told People that the couple is immersing themselves in their new roles. The new Prince of Wales is even learning to use the ancient national language.
"He talked about learning Welsh and shared some Welsh phrases he's trying to do," Rev. Steven Bunting told the outlet, sharing that Prince William practiced the phrases "paned" (a cup, such as of tea) and "bara brith" (traditional Welsh tea bread).
"He is throwing himself into the new role. The fact that they've come straight here on day one says it all," the reverend added.
One famous Welsh personality also recently expressed her excitement over Prince William and Middleton becoming the new Prince and Princess of Wales.
Catherine Zeta-Jones shared on Instagram a snap of the princess holding a baby wearing the Welsh national costume during their recent visit. "I love our Princess of Wales [red heart emoji]. I love our Welsh National Costume [red heart emoji]," the actress wrote in the caption.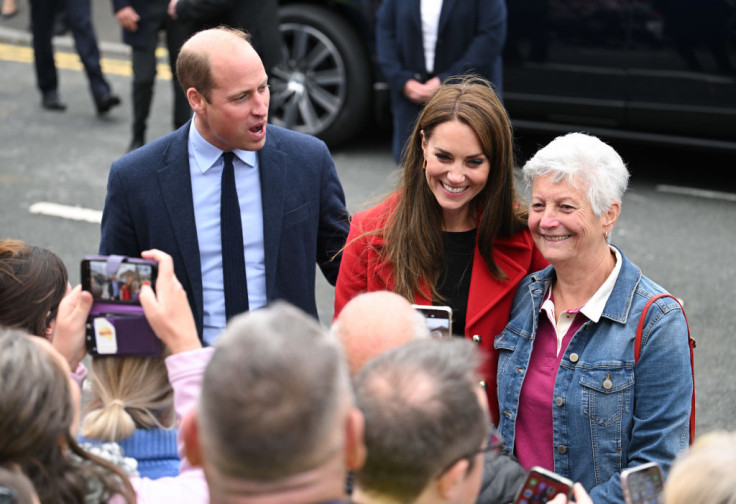 © Copyright IBTimes 2022. All rights reserved.
FOLLOW MORE IBT NEWS ON THE BELOW CHANNELS