Kate Moss Attends Johnny Depp's London Performance After Testifying In Amber Heard Trial
KEY POINTS
Johnny Depp performed with rock guitarist and collaborator Jeff Beck at the Royal Albert Hall in London Tuesday
The pair performed covers of John Lennon's "Isolation," Dennis Wilson's "Time" and Marvin Gaye's "What's Going On," among others
Kate Moss was spotted leaving the venue after spending some time backstage, a report says
Kate Moss continues to show her support for ex Johnny Depp after testifying for him last month in his defamation trial against ex-wife Amber Heard.
On Tuesday, the 48-year-old British supermodel was spotted at the Royal Albert Hall in London, England, where Depp, 58, took the stage and performed with rock guitarist and collaborator Jeff Beck, 77, for the third night in a row.
Photos obtained by Daily Mail showed Moss rocking a black blazer, high-waist slacks and matching boots for the outing. Depp's ex-girlfriend left the venue alone after spending some time backstage, People reported.
Moss watched Depp and Beck perform covers of John Lennon's "Isolation," Dennis Wilson's "Time," Killing Joke's "The Death and Resurrection Show," the Jimi Hendrix Experience's "Little Wing" and Marvin Gaye's "What's Going On." The pair also performed Depp's unreleased song, "Hedy Lamarr," which he dedicated to the 1940s Hollywood actress and inventor of the same name.
A video of the show posted by the Associated Press showed Depp being welcomed to the stage by Beck to the sound of the crowd's cheers and receiving a standing ovation after his performance.
"I met this bloke in Japan. He knocked on the door, and we burst out laughing straight away. You may recognize him. He's been through some s--t," Beck said as the crowd screamed Depp's name and "We love you, Johnny."
Depp took to the stage Tuesday evening wearing a waistcoat, a white and red checkered short-sleeve shirt, a patterned cravat and a "Peaky Blinders"-style cap.
The "Pirates of the Caribbean" star first joined Beck Sunday night during his show at Sheffield City Hall. The pair also appeared together at Royal Albert Hall Monday.
Moss' presence at the concert had some fans speculating about the former couple's relationship.
"Kate Moss delivered a powerful testimony in defense of Johnny Depp. Now that the verdict is out, Kate and Johnny should get back together," one tweeted.
"People talking about Johnny Depp and Kate Moss dating... After an abusive relationship with a narcissist, I found the only people I was able to be around/open up to were people I knew from 'before.' Comfort in the familiar. It makes sense to me," another person claimed. "I'm NOT saying they are dating!! Just that being drawn to people you knew before makes total sense to me."
Last month, Moss, who dated Depp for over three years before they split in 1998, took the stand virtually from England to testify as a witness for the actor.
The model was called in as a rebuttal witness in response to testimony from Heard, who said on the stand that she thought about a rumor Depp had pushed Moss when the "Aquaman" star and her sister Whitney Heard Henriquez were in an alleged altercation with Depp near a set of stairs.
Moss denied the rumors that Depp pushed her down a set of stairs during their relationship. She said that during a vacation in Jamaica with Depp, she accidentally slid down the stairs and injured her back following a rainstorm.
"I screamed because I didn't know what happened to me and I was in pain, and he came running back to help me and carried me to my room and got me medical attention," Moss said. "He never pushed me, kicked me or threw me down any stairs."
Depp won his case against Heard after a Virginia jury decided Wednesday that the "Aquaman" star defamed him when she claimed she was a survivor of sexual violence in a 2018 Washington Post op-ed.
Depp was awarded $10 million in compensatory damages and $5 million in punitive damages. The judge reduced the punitive damages to Virginia's statutory cap of $350,000.
Heard, for her part, was awarded $2 million by the jury in compensatory damages for her counterclaim but nothing in punitive damages. The jury found Depp liable after his attorney referred to Heard's claims as a "hoax."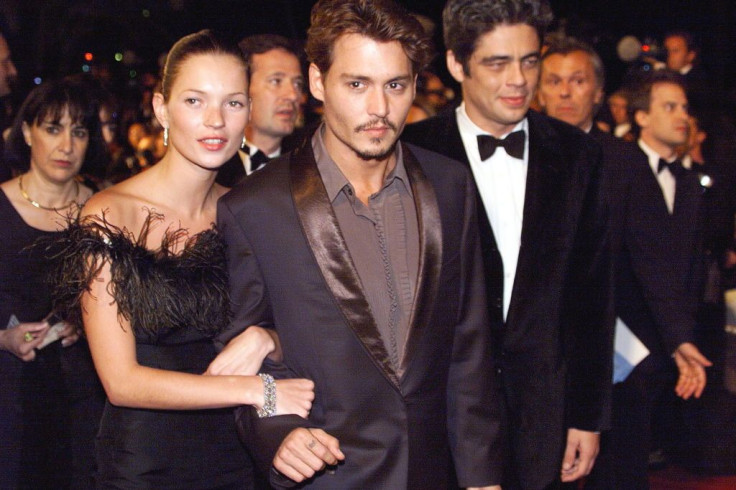 © Copyright IBTimes 2022. All rights reserved.
FOLLOW MORE IBT NEWS ON THE BELOW CHANNELS