Kate Moss, Johnny Depp Relationship History: Columnist Claims He Introduced Model To Actor
KEY POINTS
Former Vanity Fair columnist George Wayne claimed he introduced Kate Moss to Johnny Depp in New York City in 1994
Wayne said he took Moss to Depp's table at Cafe Tabac in the East Village
Moss testified in Depp's defamation trial against Amber Heard, dispelling rumors he pushed her down the stairs
Johnny Depp and Kate Moss were introduced to each other by former Vanity Fair columnist George Wayne nearly 30 years ago.
Before the 48-year-old British supermodel gave her testimony virtually Wednesday in Depp's $50 million defamation lawsuit against his ex-wife Amber Heard, Wayne staked his claim as the person who introduced the "Pirates of the Caribbean" actor to Moss in 1994 in New York City. At the time, Depp was 31, while Moss was 20.
"So Kate is set to testify Johnny vs. Amber. Which now means that GW finds himself - six degrees of separation from this drama," the 70-year-old New York writer wrote on Instagram Tuesday, alongside a photo of him and Moss from a British GQ photoshoot in 1992. "Why?!! Because it was I who introduced Kate to Johnny in 1994 at Cafe Tabac in the East Village."
Wayne remembered Moss walking into then-hot spot Cafe Tabac, which he described as a "second home," with fellow supermodel Naomi Campbell one day. He shared that he and Moss had become friends following their British GQ shoot, and when the model walked in, he claimed he "took her hand and immediately took her to Johnny's table in the middle of the restaurant."
"[I said], 'Johnny this is Kate – Kate meet Johnny.' I didn't expect when I did that they would go on to trash five-star hotel rooms across the globe," Wayne continued, referencing "the famous incident at The Mark Hotel in Sep [sic] of 1994."
Wayne shared more details about the two stars' first encounter in an interview with Page Six.
"I remember it like yesterday! We were there every night. Cafe Tabac was like our high school cafeteria," he told the outlet, adding that Depp was having dinner there for the first time the day Wayne introduced Moss to the actor.
"I had a chat with him and about an hour later, [Moss and Campbell] walked up the stairs," Wayne told the outlet. "The minute I saw her, I grabbed her hand and marched her over to where Johnny was sitting… the rest is history. They never left each other for four years after that."
Moss took the stand virtually from England to testify Wednesday as a witness for Depp, telling the jury he never pushed her down a set of stairs. She was called in as a rebuttal witness in response to testimony from Heard, who said on the stand that she thought about a rumor Depp had pushed Moss when the "Aquaman" star and her sister Whitney Heard Henriquez were in an alleged altercation with Depp near a set of stairs.
"[Whitney's] back was to the staircase, and Johnny swings at her," Heard testified. "I don't hesitate, I don't wait — I just, in my head, instantly think of Kate Moss and stairs. And I swung at him."
However, Moss testified under oath that the rumor was untrue. She said that she and Depp went to Jamaica during their relationship and that at one point on the trip, there was a rainstorm, and Moss fell down a set of stairs and injured her back.
"We were leaving the room, and Johnny left the room before I did, and there had been a rainstorm. As I left the room, I slipped down the stairs and I hurt my back," Moss said. "I screamed because I didn't know what happened to me and I was in pain, and he came running back to help me and carried me to my room and got me medical attention."
She added, "He never pushed me, kicked me or threw me down any stairs."
Moss and Depp dated for over three years before they split in 1998. He moved on with French actress Vanessa Paradis, with whom he shares two children.
Meanwhile, Moss has been in a relationship with photographer Nikolai von Bismarck, 35, since 2015.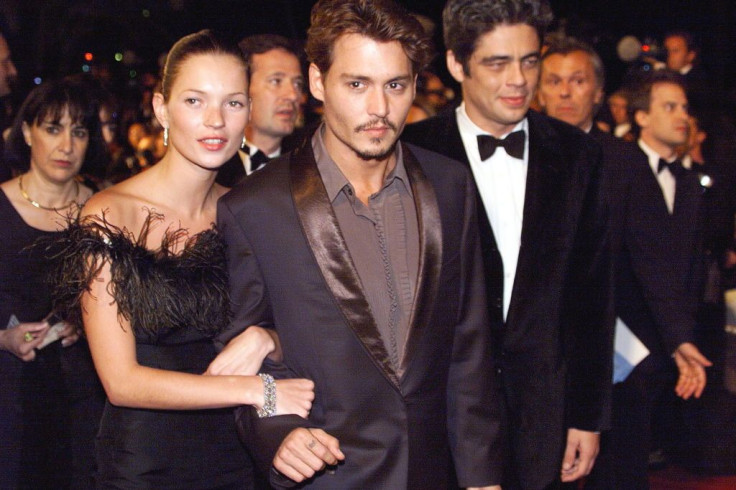 © Copyright IBTimes 2023. All rights reserved.