Kate Moss On Testifying Against Amber Heard In Johnny Depp Trial: 'Had To Say The Truth'
KEY POINTS
Amber Heard claimed Johnny Depp pushed Kate Moss down the stairs during their relationship
Moss denied the claim in her court testimony in May
The British supermodel said she testified because she had to say the truth
Kate Moss has spoken out about her decision to testify on behalf of Johnny Depp during his highly publicized defamation trial against ex-wife Amber Heard. Moss testified as a rebuttal witness for her ex-boyfriend back in May to deny Heard's claim that Depp had abused her during their relationship.
In a recent interview with BBC Radio 4's "Desert Island Discs," the British supermodel said she had decided to participate in the trial because she wanted to speak her truth. "I know the truth about Johnny," she said. "I know he never kicked me down the stairs. I had to say the truth."
Moss also referenced former Dior fashion designer John Galliano, who was found guilty of anti-Semitic abuse in 2011 after creating a commotion at a bar in Paris. "I believe in the truth, and I believe in fairness and justice. I know that John Galliano is not a bad person. He had an alcohol problem and people turn," she explained, adding that people are "not themselves when they drink and say things they would never say if they were sober."
During the U.S. trial of Depp and Heard's defamation trial, the "Aquaman" actress accused Depp of assaulting her physically, verbally and sexually during their marriage, claiming that the actor would often turn volatile after taking alcohol or drugs. While recounting the first time she hit the "Pirates of the Caribbean" star in self-defense, she also mentioned Depp's history of abusing his exes, indicating that he even pushed Moss down a flight of stairs during their relationship.
"I just instantly think of Kate Moss and the stairs, and I swung at him," she said. "In all my relationships to date, I hadn't delivered a blow. For the first time, I hit him square in the face."
The mention of her name in the trial paved the way for Moss to appear virtually in court as a witness. During her appearance, she denied that Depp had ever pushed her down a flight of stairs, saying the only time she fell down the stairs during their relationship was an accident.
"I slid down the stairs and I hurt my back," she said under oath. "He never pushed me, kicked me or threw me down any stairs."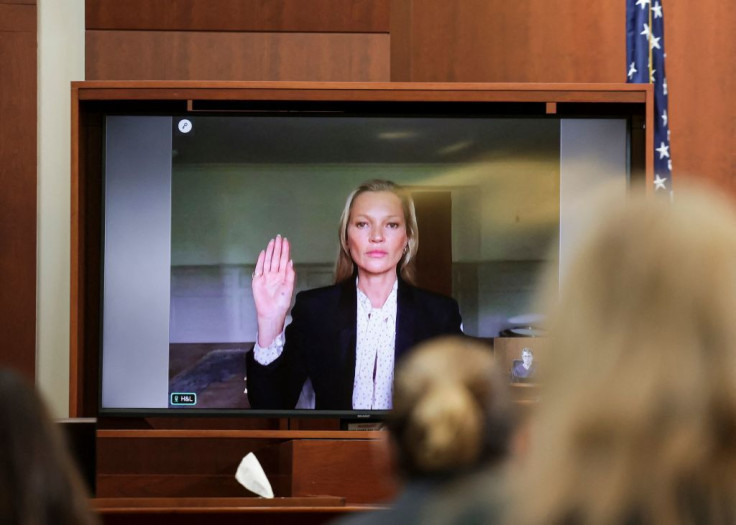 © Copyright IBTimes 2023. All rights reserved.