Katherine Heigl On Joining Meghan Markle's 'Suits': 'This Show Turns Actresses Into Princesses'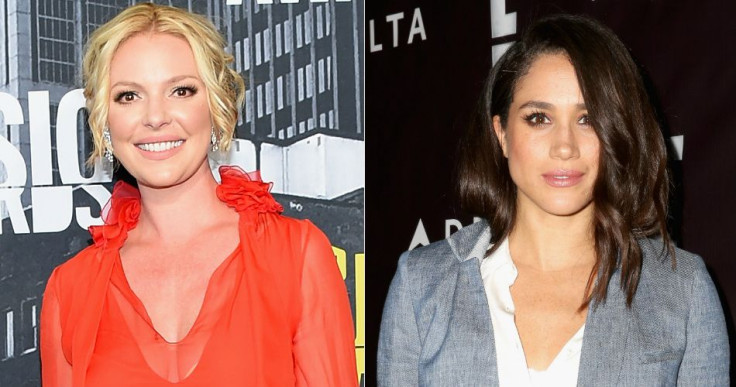 A slew of "Suits" news broke on Wednesday, including the fact that leads Patrick J. Adams ("Mike") and Meghan Markle ("Rachel") would be leaving the series after Season 7. The show has also been renewed for Season 8 and "Grey's Anatomy" alum Katherine Heigl is joining for the new season.
It took the show's new addition a bit of time to gather up her thoughts about the role and, by the length of her Thursday Instagram post, she had plenty to round up.
"I JUST GOT LITT UP," Heigl captioned a photo of herself holding up a Louis Litt (Rick Hoffman) "Suits" prop. "For anyone who doesn't know what that means... start binging #Suits ASAP!"
One of the reasons she "could not be more excited to be joining the cast and crew of" of this show, which is one of her favorites, is because it "turns actresses into princesses." She is, of course, referencing soon-to-be alum Markle, who's about to marry Prince Harry in May.
Markle starred as Rachel on the hit USA series for seven seasons, but she's now leaving to focus on her new royal life in the United Kingdom. It's been said for months now that she was to leave acting behind, but the official news of her "Suits" departure is still a bad blow to fans of the series, especially when it's paired with the news that headliner Adams is leaving, too.
Heigl, though, found the positive in it all and thinks it's so "neat" how Markle's joining the royal family soon and joked that fans should be looking out for her own "royal wedding announcement next year."
"Just kidding," she continued. "I already married my prince @joshbkelley."
While she might not be a real-life royal anytime soon, at least Heigl will always have her role as Princess Ilene in 1997's "Prince Valiant" to look back on. Royal news aside, Heigl will be playing the role of Samantha Wheeler, a new partner at Pearson Specter Litt who will be shaking things up at the firm. The actress is excited to work with Dule Hill again, who's been bumped up to series regular for Season 8, after the two starred on the short-lived CBS series "Doubt" last year.
"I get to team back up with one of my all time favorite actors and people Mr. @dulehill," she wrote. "I mean could life get any better?"
"Suits" returns on USA with new Season 7 episodes on March 28.
© Copyright IBTimes 2023. All rights reserved.