Katie Hill Scandal Heats Up As Bong Usage, Polygamy And House Rule Violations Emerge
Rookie California Congresswoman Katie Hill is causing a huge stir on Capitol Hill. The growing sex scandal and allegations of inappropriateness are becoming a public ordeal that includes leaked nude photots, alleged bong use and more questionable emerging details about the Congreswoman.
Due to the seriousness of the allegations, Hill is now under an ethics investigation that can possibly end her political career. She faces allegations that center around her possible engagement in sexual relations with not one but two staff members, both male and female.
Last year the 32-year-old Democrat successfully landed on Capitol Hill, starting her political journey with the support of peers as an openly bisexual progressive. Hill was able to challenge and change the longstanding red district —and transition into vice chair of the House Oversight Committee.
"It could have put our nation at risk due to her heightened potential to be blackmailed," tweeted Angela Underwood Jacobs, a Republican rival for Hill's 25th District seat in suburban LA. Due to the nature of the scandal, all of Hill's triumphs are threatened of being swept away. So far, at least two political figures are asking that she resign.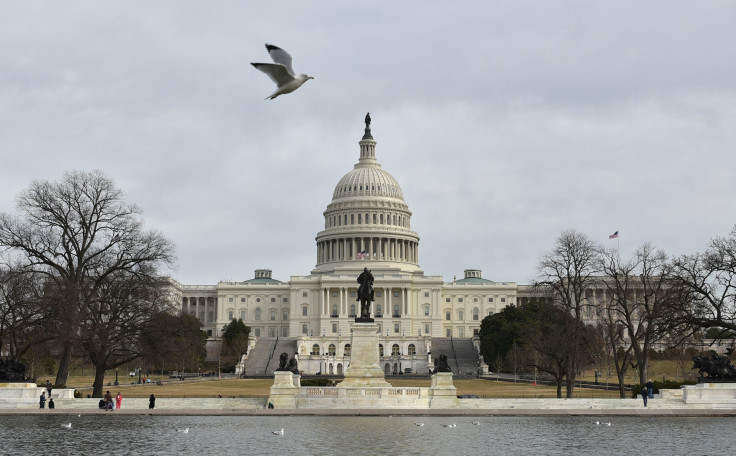 The scandal began last Friday, when the conservative blog RedState announced accusations that Hill was a two-time offender in violating the House rules against sex with subordinates.
RedState reported that Hill's estranged husband Kenny Heslep posted that she has been "sleeping with her male finance director for the past year at least." Although, Heslep's Facebook account is now deleted, it was referring to the Congresswoman's legislative staffer Graham Kelly. Other posts from Hill's estranged husband hint at that specific infidelity as a main contribution to his filing of divorce. Hill still denies such claims.
"Allegations that I have been involved in a relationship with Mr. Kelly are absolutely false," Hill stated in a press statement. She also made reference to her divorce. "I am saddened that the deeply personal matter of my divorce has been brought into public view and the vindictive claims of my ex have now involved the lives and reputations of unrelated parties."
According to RedState, Heslep, Hill and Desjardins are speculated to have been in a committed polyamorous "throuple." The allegations were based on a series of leaked photographs and text messages between the three.
On Thursday the Daily Mail identified 24-year-old campaign worker Morgan Desjardins of Santa Clarita, California, as the female staffer who had relations with Rep. Hill. The media outlet based its finding of photos of a nude Hill brushing Desjardins' hair.
Hill has had no choice, but to admit to the evidence. She has stated that the relationship that began when Desjardins was hired in 2017 were inappropriate.
"I know that even a consensual relationship with a subordinate is inappropriate, but I still allowed it to happen despite my better judgment," Hill said in a statement. "For that, I apologize. I wish nothing but the best for her and hope everyone respects her privacy in this difficult time."
But new photos were published by the Daily Mail showing Hill holding a smoking bong and wearing nothing -- showcasing a tattoo that looked like an Iron Cross on her bikini area. Hill ignored questions relating to the photo and did not explain the tattoo.
The tattoo is controversial as iron crosses are sometimes used as symbols by neo-Nazis. However, such crosses can mean vastly different things.
After Daily Mail splashing the photos and details, Hill's lawyers sent a cease-and-desist letter late Thursday to the publication demanding that it remove the scandalous images as their publication was an "invasion of privacy." Hill also denied that the tattoo was linked to prejudice.
© Copyright IBTimes 2023. All rights reserved.