Katy Perry Denies Sending Rude Text To Fan's Ex-Boyfriend; Says She 'Would Never Use The C-Word'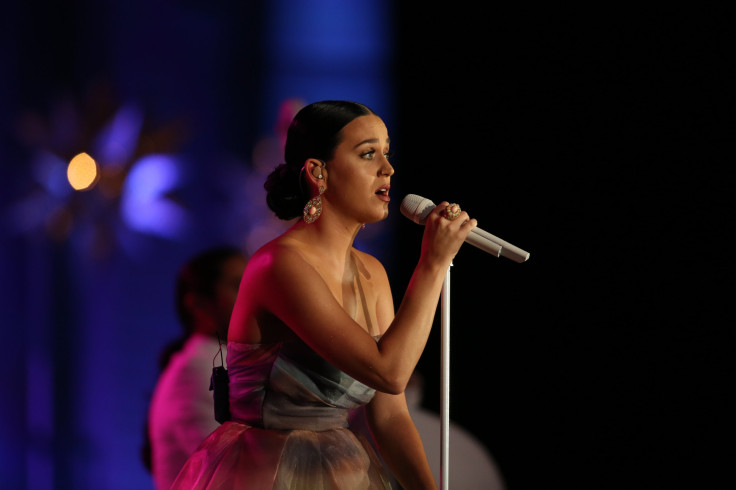 Katy Perry is speaking out amid reports that she sent a nasty text to the ex-boyfriend of a fan. The rumors stemmed from a photoshopped image of what looked to be a screenshot from a conversation between the fan's former boyfriend and Perry, 30. The "Dark Horse" singer is now speaking out about the photo, claiming it's a hoax.
According to E! Online, Perry took to Twitter Tuesday to clear up rumors she had actually sent the text. She shared with her 74.8 million followers that she did not draft the profanity-laden message in the viral screenshot, adding that she "would NEVER use the C word." According to her tweet, the screen grab was edited from it's original format.
The profanity-filled photo stemmed from an actual incident that occurred during a December concert on the Australian leg of Perry's "Prism" tour. While performing onstage the California native grabbed a fan's phone, reading a text from her ex-boyfriend out loud. The text read, "LOL I heard she can't sing live at all," just as it did in the screen shot in question. Perry responded by snapping the selfie that was also featured in the image, but did not send a message with it. Fans were able to capture the hilarious moment on video, later uploading it to YouTube.
A Twitter user has since come forward, claiming ownership of the doctored image. He wrote that he created it with "no bad intentions," and apologized profusely to the award-winning songstress. Perry retweeted the apology and later thanked him for speaking out.
Perry is currently gearing up for the South American leg of her world tour. She will kick of several weeks of performances with a Sept. 22 stop in Lima, Peru.
© Copyright IBTimes 2023. All rights reserved.