Kentucky Derby Party Ideas: Drinking Games, Recipes To Celebrate Saturday's Horse Race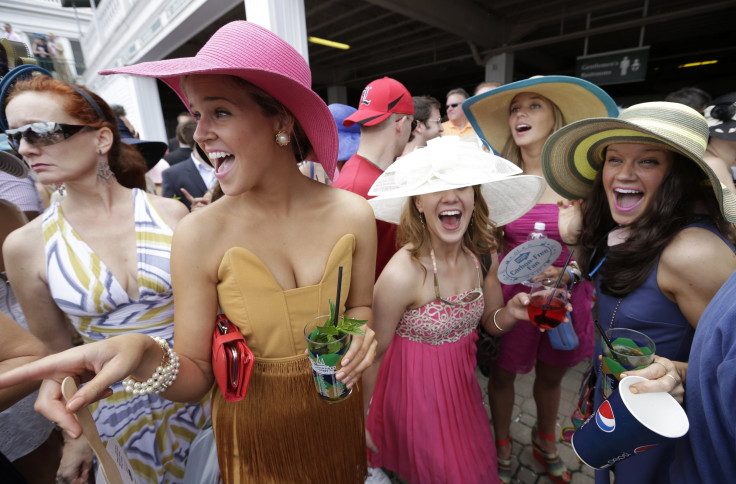 The actual race at the heart of Saturday's Kentucky Derby will only last about two minutes, but if done right, your party for the sporting event can be an all-day affair. Join the more than 15 million Americans in watching the first leg of the Triple Crown by inviting over a few friends, getting dressed up and fawning over fawns.
All puns aside, below are few ideas for decorations, food and games for your Kentucky Derby party.
DECORATIONS
Put the race on. First things first, get the Kentucky Derby playing. The NBC Sports Network is showing it all afternoon, but if you don't have TV check the live stream here. The race itself starts at 5:30 p.m. EDT. Still no access? Try playing live audio from Churchill Downs -- find your local station here.
Red roses everywhere. The Kentucky Derby is also called "the Run for the Roses," as the winning horse is draped with the flowers after crossing the finish line. You can borrow this theme for your party. Scatter rose petals on your tablecloths and use bouquets for centerpieces.
Make "trophies" for your guests to take home. These party favors double as decor. Hostess with the Mostess Blog recommends painting the insides of mason jars with bright colors, then capping with gold lids. Once dry, glue on glittery numbers, and top with gold-painted horse figurines.
FOOD
Serve mint juleps. This refreshing beverage is the traditional drink of the Kentucky Derby, but it takes a little work to make. Since you're fixing the drink for a crowd, use The Invitation Shop's cheater recipe. Just stir 2 cups of sugar and 2 teaspoons of pure mint extract into a gallon of water. Once it's all dissolved, ready cups with cracked ice. Pour in 2 ounces of your mint liquid with 2 ounces of bourbon. Garnish with mint.
Offer Benedictine spread as an appetizer. This dip/sandwich filling is a favorite of Kentucky residents, and it will be perfect for your party guests to munch on. Peel and grate a cucumber, then blend with 12 ounces of softened cream cheese, 2 tablespoons of grated onion, 1 tablespoon of mayonnaise, a pinch of salt and a dash of tabasco sauce. Mix in sour cream, pour into a bowl and serve with club crackers, pretzels or carrot sticks.
Bake Derby Pie for dessert. This is another delicious dish to come out of Kentucky, but its name is heavily trademarked. Be careful by using the Washington Post's recipe for "not Derby pie." Sprinkle a cup of chocolate chips into the bottom of a pie shell, then set aside. Combine 2 eggs, 1 cup of sugar, 1/2 cup of flour in a separate bowl, then add 1 stick of melted butter, 1 teaspoon vanilla and 1 cup of walnuts. Pour into the pie shell and bake for 1 hour 350 degrees.
GAMES
Have a "best hat" contest. It's good luck to wear a hat to the Kentucky Derby, according to its website, so encourage your guests to go crazy. Ask them to show up wearing Southern belle bonnets, or provide supplies like silk flowers and hot glue at a craft station so they can make their own.
Pin the tail on the horse. It doesn't get any easier than this twist on "pin the tail on the donkey." Simply print or draw a horse on a large piece of paper and hang on your wall. Distribute paper tails with tape on the ends. Blindfold guests, spin them and set them in the direction of the horse. Give prizes to the players who place their tails in the most accurate -- or most ridiculous -- locations.
Play a Kentucky Derby drinking game. Put those mint juleps to good use. Gather your friends around the TV for this BroBible game. Take one gulp every time an announcer says "horse," two gulps every time a celebrity is shown and three gulps every time someone uses the phrase "from the rail to the jail." Enjoy responsibly.
© Copyright IBTimes 2023. All rights reserved.
FOLLOW MORE IBT NEWS ON THE BELOW CHANNELS