Kim Jong Il Retweet: Young South Korean Jailed For Photoshop 'Joke'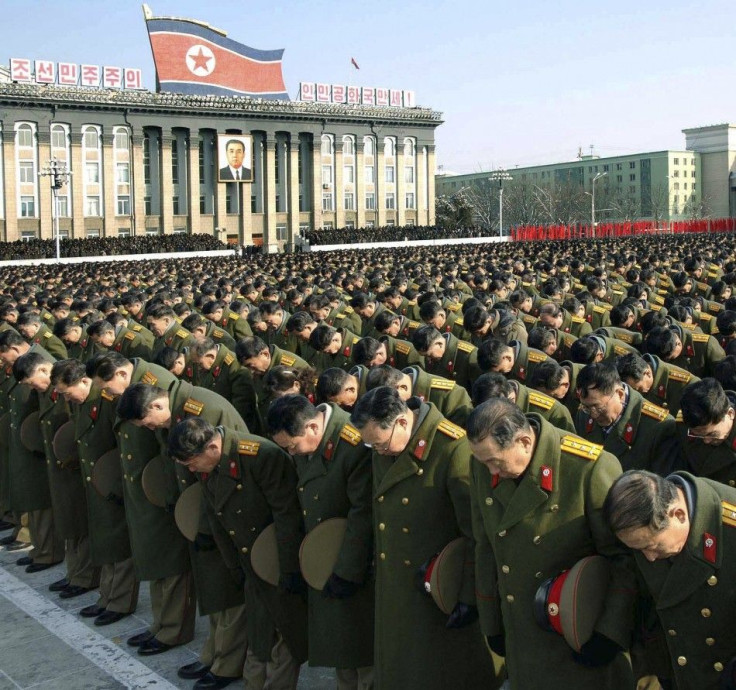 South Korean authorities have arrested and detained a young man for retweeting a message about Kim Jong Il, the late North Korean dictator. He now faces up to seven years in prison.
Park Jeonggeun, a 24-year-old photographer, had retweeted a message from the North Korean government's Twitter account, which read, Long live Kim Jong-Il. The South Korean government, which still harbors animosity for its North Korean neighbors, called Park's retweet a violation of the country's 64-year-old National Security Law (NSL), which makes any acts benefitting the enemy illegal.
Making matters worse, Park altered a photo of a North Korean soldier holding a weapon, Photoshopping his frowning face over the soldier's head and planting a bottle of whisky in his hand over the gun. Park, who admits to being a socialist and political activists, said he retweeted the message to ridicule the North Korean government.
My intention was to lampoon North Korea's leaders for a joke; I did it for fun, Park told Amnesty International. I also uploaded and changed North Korean propaganda posters on Twitter - I replaced a smiling North Korean soldier's face with a downcast version of my own face and the soldier's weapon with a bottle of whisky. Even though I disagree with North Korean communism, I'm interested in North Korean culture and have a right to know about it.
Amnesty International is taking Park's side, arguing that retweets on Twitter aren't necessarily endorsements.
This is not a national security case, it's a sad case of the South Korean authorities' complete failure to understand sarcasm, said Sam Zarifi, the director of Amnesty International's Asia-Pacific division. Imprisoning anyone for peaceful expression of their opinions violates international law but in this case, the charges against Park Jeonggeun are simply ludicrous and should be dropped immediately.
Park is a member of a party which openly criticizes North Korea but the absurd case against him is not an isolated one. For too long South Korean authorities have been using the National Security Law (NSL) to restrict basic freedoms and gag civil society in the name of national security.
The National Security Law, which has been the centerpiece of freedom of speech cases in Korea since 1948, says that citizens may not join an organization with aims to overthrow the government, or create, distribute, or possess materials that promote anti-government ideas. Citizens are also in violation of the NSL if they neglect to report others who violate this law. In other words, it's McCarthyism.
When the South Korean military ruled the country in the mid-1970s and 80s, citizens were regularly imprisoned and tortured to confess to crimes they may or may not have committed. Reports from that time also say that unfair trials were commonplace within the country's justice system. Even after military rule ended in 1987 when a Seoul National University student was tortured to death, the policy continues to suppress and jail any critics of the government's stance towards North Korea.
The NSL has a chilling effect on freedom of expression in South Korea, Zarifi said. It is used not to address threats to national security, but instead to intimidate people and limit their rights to free speech. It should be reformed in line with human rights law, and if the government cannot do this, it must be abolished.
The South Korean government denies that the NSL is being abused in any way, but there are several recent instances that point to the contrary.
In 2002, a newly-minted South Korean army recruit, was given two years in prison for saying, I think Korean separation is not North Korean but American fault, to a group of other soldiers. Even though the military couldn't charge the soldier for what he said at the time, they searched his home and found several books that must have been deemed anti-government.
In 2011, three students from Seoul were arrested for creating an academic club that critically analyzed the capitalism system. Two of the three students were released two days later. That year, two researchers were independently arrested for running pro-North Korean Internet groups for refugees.
The number of National Security Law cases continues to increase. From 2005 to 2009, the prosecutor's office investigated an average of 58 cases a year; in 2010, the office investigated 97 cases. Officials from the Korean Alliance of Progressive Movements believe prosecutors had investigated 150 in the first eight months of 2011.
Before 2008, the law wasn't used against people talking about North Korean issues, said Yoon Ji-Hye, a spokesperson for the Korean Alliance of Progressive Movements. But afterwards many more people were investigated, and not just left-wingers, but also ordinary people talking about North Korea online. I think the government is using the National Security Law to restrict progressive political thought.
The North Korean government set up its Twitter and YouTube accounts in 2010, announcing that anyone who forwarded Twitter posts from North Korea or retweeted or replied to such a message could face punishment. The South Korean Justice Ministry explained that the rule was made as a response to North Korea's 2010 attacks on Cheonan, a South Korean navy ship, and on Yeonpyeong, a cluster of islands off the southern coast of South Korea.
South Korea is among the world's leading censors of the Internet. Police filed 1,793 requests to block pro-North Korean websites in 2008; in 2010, police filed 80,449 such requests.
For any country that is divided like Korea, I'm sure that those people in such countries will understand the necessity of having such a law, said South Korean president Lee Myung-bak. You have to always remember the very special and unique circumstances in which Korea is in today. We have been facing for the last 60-plus years one of the world's most well-armed and most belligerent countries. And if you consider that fact, and if you are someone living in such a country every day, then you will understand the need to have such laws that will allow us to maintain our way of life. Of course, in the future, when our relationship between the two Koreas begins to improve fundamentally, then accordingly we will look into these laws and determine whether they are still needed or not.
© Copyright IBTimes 2023. All rights reserved.
FOLLOW MORE IBT NEWS ON THE BELOW CHANNELS