Kirstjen Nielsen Leaving Trump Administration: Who Could Be New Homeland Security Secretary?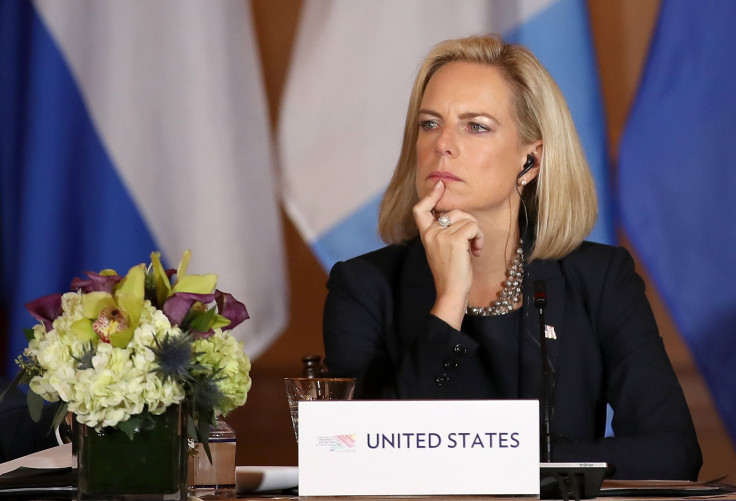 President Donald Trump had decided to remove Kirstjen Nielsen from her position as Homeland Security Secretary, the Washington Post reported Monday, citing five current and former White House officials. Trump has reportedly revealed his plans to his advisers and said he has begun contemplating replacements for Nielsen.
According to the sources, Nielsen's departure from the administration was likely to occur in the coming weeks and until another official is named to lead the Department of Homeland Security (DHS) in an acting capacity, the workings could likely be handled by Claire M. Grady, the undersecretary for management. Grady is the third-in-command of the department and oversees a budget of $60 billion and a workforce of 240,000 dedicated homeland security professionals, her bio on the DHS website reads.
White House officials told the Post that Trump told aides over the weekend about his plans to let go off Nielsen, just days after he canceled a planned trip with her this week to visit United States troops at the border in South Texas. The president reportedly was not satisfied with Nielsen's performance on immigration enforcement, the sources said, adding Trump wanted someone who will implement his policy ideas in a better way.
Three of the officials claimed the announcement of Nielsen's removal could come as soon as this week, the Post reported.
Nielsen was sworn-in as the sixth secretary of Homeland Security on Dec. 6, but, according to colleagues, she has been unhappy in the job for several months. There have been several instances in the past when Nielsen was berated by Trump during Cabinet meetings. The president also tagged her "Bushie" months ago, in reference to her previous service under former president George W. Bush, casting suspicion on her loyalty.
The deputy secretary job at DHS has been vacant since February, but no nomination has been made for the post to Congress so far. Meanwhile, after Nielsen's removal, Trump could name one of the agency's other Senate-confirmed principals, such as Kevin McAleenan, the commissioner of Customs and Border Protection, or David P. Pekoske, administrator of the Transportation Security Administration and a former vice commandant of the Coast Guard, the Post reported.
"If I were advising the White House I'd encourage them to nominate someone with executive branch experience," one senior DHS official who spoke on the condition of anonymity told the Post. "This will be our fourth secretary in two years. The last thing we want is someone who needs hand-holding."
There was also speculation after Kris Kobach's loss in the Kansas governor's race, Trump could attempt to nominate him as a replacement for Nielsen. However, Kobach's hardline views, especially on immigration, could likely make it difficult for his name to be confirmed by the Senate. The Kansas secretary of state made illegal immigration a key issue in his campaign after more than a decade of advocating action by states and local communities.
Many people, who have worked closely with Nielsen, defend her performance at DHS, saying working for Trump on immigration issues was miserable. The colleagues claimed the president's unrealistic view of border security and little patience for the intricacies of U.S. immigration law were hard to manage.
© Copyright IBTimes 2023. All rights reserved.