Kodak's Retro Super 8 Film Camera Has A Skateboard Grip To Capture The Tricks You're Not Landing [VIDEO]
LAS VEGAS — Few American tech brands are as iconic — or seemingly as doomed to history — as Kodak. And yet the venerable Rochester, N.Y., company managed to create some of the biggest buzz at the Consumer Electronics Show with a retro product with some really famous fans: a new Super 8 motion picture camera that will shoot old-school film.
That's right, Kodak is planning its first film camera since 1982, a modern interpretation of the one that brought filmmaking to the masses when it was introduced at the World's Fair in 1962, as well as a generation of filmmakers who rule Hollywood today: Steven Spielberg, Quentin Tarantino, J.J. Abrams and Christopher Nolan.
Kodak paraded into CES with big testimonials from all four directors on the importance of preserving film as a medium and not yielding to video. "I want our century-plus medium to keep its filmic look ... to me, it's just more alive and it imbues an image with mystery, so its never literal," Spielberg wrote. Abrams, of course, directed the 2011 film "Super 8," an homage to teen 8 mm filmmaking. Tarantino shot his latest Western, "Hateful Eight," in 70 mm film, reviving a big format that hasn't been widely used for decades.
Kodak emerged from bankruptcy in 2013 and while it is known for its film and cameras, it's only 10 percent of the company's business; the bulk of Kodak's sales are printer cartridges and chemicals for making images. But CEO Jeff Clarke said preserving film in all its forms — 8, 16, 35 and now 70 millimeter — is part of Kodak's mission.
"We think it's really important that we do sell a lot of them because saving film is really important," he said. "Most of Kodak's film revenue is around blockbusters. "Mission Impossible," "Star Wars" and "Jurassic Park" were shot on film, but we need the next generation of filmmakers if we want to have film in the future."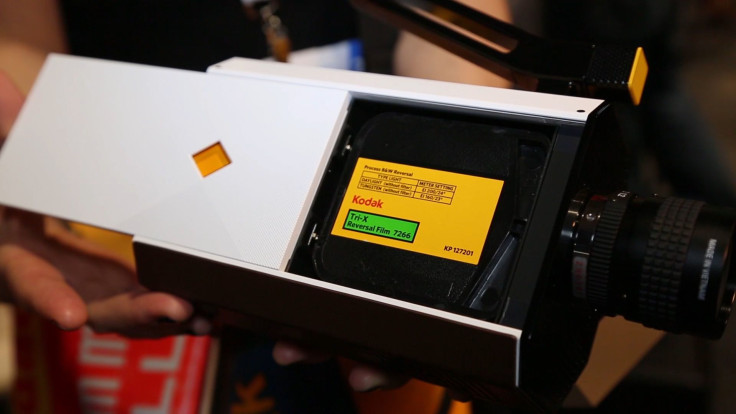 Kodak's new Super 8 camera certainly looks the part, and it shoots 8 mm film in five speeds through a Ricoh lens. Users will send those cartridges to Kodak for developing (in the mail!). The moment Kodak processes the film, it will send a digital copy that can be shared in social media or uploaded to YouTube. But it also has some digital elements: a digital view finder and digital audio saved into an SD card.
Critically, the camera features a skateboard grip, in addition to the traditional pistol handle, so skaters can capture every moment of the tricks they're not landing.
The new Super 8 has not been priced but it will not be cheap: $400 to $700, Clarke reckons. Then there are the issue of projectors: Kodak has no plans to start making those again, but they're widely available on the web, and Clarke foresees an accessories market growing up around it.
He's making it clear this isn't just a CES stunt or a branding exercise: He wants to sell some cameras.
So who's the target user? "It's not taking video on your iPhone; this is a rich, artistic medium so we expect film students, professional photographers who want to provide a unique product, specialists."
And of course, skateboarders.
© Copyright IBTimes 2023. All rights reserved.