Korean Pop Music out to Conquer the World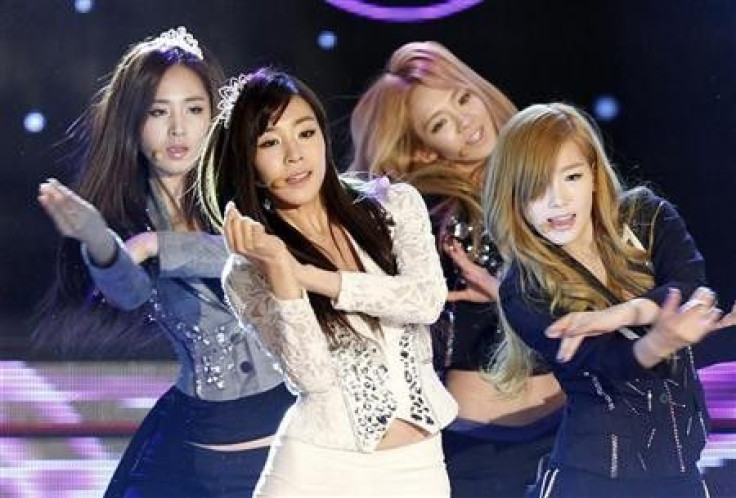 (Reuters) - A host of young Korean stars are taking to the stage in London, New York and beyond in a bid to crack one of the final global frontiers for Asian culture -- pop music.
K-pop, as Korean pop is called, has made major inroads into Japan, the world's second largest music market.
But breaking into key countries further afield like Britain, Germany, France and, most crucially, the United States, has so far eluded acts who may be household names at home but remain virtual unknowns outside Asia.
Korean bands are not the only ones trying to be the next Britney Spears, Lady Gaga or Justin Bieber.
Japanese artists, some of them J-pop superstars, have also looked overseas for new audiences, although the size of their own market, only just behind the United States in the world rankings, means they have less incentive.
It is a pain for a lot of these Japanese bands to make the effort to try and penetrate overseas markets, said Steve McClure, executive editor of McClure's Asia Music News and an authority on the region's music scene.
Time spent doing that is time not spent here and it's a really fast-paced market and you have to work at it, he told Reuters, speaking from Japan.
Foreign music accounts for around a quarter of Japanese record sales, and the top 10 albums on record are all by local artists. Hikaru Utada holds the record with First Love from 1999, while Mariah Carey is the biggest international artist.
K-POP VS. J-POP
McClure, like many others, believes that K-pop stands a better chance at success globally than J-pop, although even that is far from certain.
The structure of Korea's relatively small music market is such that telecom companies control a large proportion of revenues, he said, meaning bands have an economic incentive to look abroad.
And K-pop acts, often created and nurtured by savvy record companies like S.M. Entertainment, are being groomed for specific markets -- learning Japanese, for example, and fitting in with Japan's musical mores.
One recent success story has been the nine-member South Korean girl band Girls' Generation, whose first full-length Japanese album sold over 500,000 copies in Japan.
McClure also argued that Korean pop acts, though often manufactured, were generally more professional than their Japanese rivals and produced a better sound.
The most obvious, and biggest barrier to Asian acts breaking regions like Europe and North America is language.
Since music is about communicating ideas and feelings, common language helps. And the prevalence of English makes it easier for a singer from Toronto, for example, than one from Tokyo.
The language barrier is probably the biggest thing that sets us apart from the global (arena), said G.NA, a 24-year-old Canadian-Korean singer whose first language is English but who has found success in Korea.
She, along with two other K-pop acts, will be appearing at London's 02 Academy Brixton on December 5 as part of what the PR company handling the gig called The Invasion of K-Pop.
It follows a K-pop concert at New York's Madison Square Garden in October. Those and other similar gigs outside Asia underline the ambition of K-pop acts and management companies to conquer the West and beyond.
It may be less invasion and more a small-scale foray, but promoters say there are encouraging signs for K-pop.
We can't spend too much money if there is no market for us, said Ronnie Yang, head of CABA Entertainment who is organizing the London gig featuring artists from Cube Entertainment.
But we feel this is the right stage for developing a new market -- there is demand and it is higher than before.
G.NA, for one, is not getting lost in the hype. Chance, she says, is as important as anything else.
This industry is kind of like gambling, she told Reuters by telephone from Seoul. You lose something, and you may lose everything. You may win and win more than expected. I think there's a lot of luck.
It does depend on how much we try, but no matter how hard we try, if the circumstances don't work out, then things may not work out the way we planned. This concert is huge -- if people don't like it that could be the end of that.
GENRE-SPECIFIC
The wide pop genre may be the hardest market to crack abroad, but there has been success in the United States and elsewhere within narrower categories of music like classical, dance, rock and heavy metal.
Japanese heavy metal band X Japan staged a North American tour in 2010 catching the attention of major news outlets, and have visited Europe, Latin America and Asia this year.
L'Arc-en-Ciel, a Japanese rock group, has flirted with the United States and Europe, and plans a 2012 world tour.
The event is limited in scale so far, however, with seven dates showing on the website including indigO2 in London with a capacity of around 2,500.
The band's guitarist Ken alluded to a cultural barrier which has proven tough to break down.
In Japan I am always listening to music from the U.S. and the UK, he told Reuters by telephone, speaking through a translator.
But I never really got the impression people in the UK were listening to music from other parts of the world. So I'm really looking forward to getting a sense of how those people in Britain will perceive our music.
McClure added: Music is meant to be the universal language...well, yes and no.
There does seem to be this inability to accept an Asian face in the world pop music market place. I don't know why that is, as there are Asians who have done well in other spheres.
© Copyright Thomson Reuters 2023. All rights reserved.