Kristen Stewart Photographed On Way To Toronto International Film Festival Wearing Robert Pattinson's Shirt, What Does It Mean?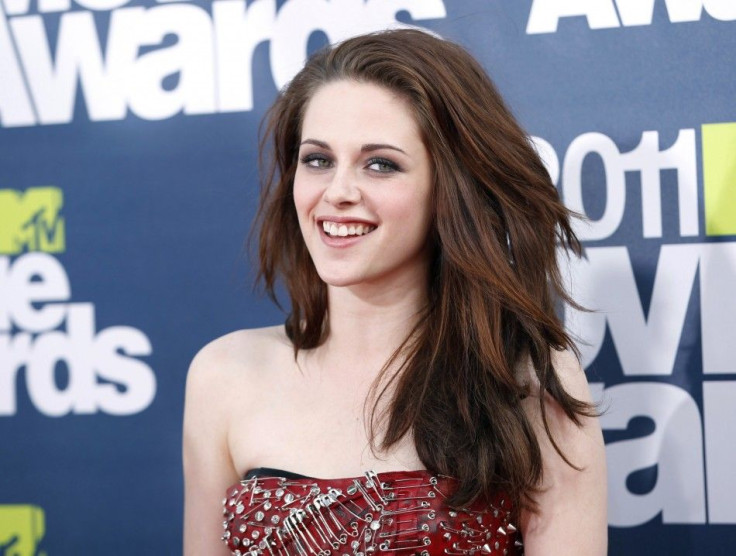 Kristen Stewart may have broke Robert Pattinson's heart when her affair with married "Snow White and the Huntsman" director Rupert Sanders leaked, but the "Twilight" actress is still carrying a torch for her co-star. Despite keeping a low profile since the photos of her affair were published, Stewart was photographed at LAX on Wednesday. While her appearance in general was noteworthy, it was her attire that really made headlines.
Heading to catch her flight for the Toronto International Film Festival for a special screening of her new movie "On The Road," Stewart was spotted wearing black boots, skinny jeans, glasses and...Robert Pattinson's t-shirt!
The shirt in question is a white v-neck that reads "IRIE Jamaica." A Jamaican word meaning good or great, Stewart seems to be making her own statement in the tee...although we're really not sure what.
[CLICK HERE to see Robert Pattinson and Kristen Stewart wearing the same IRIE Jamaica shirt.]
Stewart could possibly be telling the heavily curious world that things between her and Pattinson are "good" and on the mend, or the shirt could be her way of trying to reach out to Pattinson and remind him of the "great" times they had together.
Whatever the case may be, this isn't the first time that Stewart has chosen Pattinson's attire over her own. The July 17 affair photos show Stewart driving around director Rupert Sanders wearing her boyfriend's beloved LA Dodgers hat. According to Us Weekly, Stewart was attempting to go incognito to scope out "secluded places to make out."
If they currently are secretly back together or quietly working their way through their problems, Stewart and Pattinson have a long road to recovery. On top of angry fans and reportedly angry friends, Stewart has Robert Pattinson's protective sisters to worry about now as well.
According to RadarOnline, Pattinson's sisters, Lizzy and Victoria, believe the phrase "once a cheater, always a cheater." The stars siblings reportedly even told him, "Don't even think about getting back together with Kristen Stewart!" Instead, Lizzy and Victoria are giving their brother the advice of embracing the single life and concentrating on his booming career. "They will kill him if he gets back with Kristen," a source revealed to RadarOnline.
Pattinson and Stewart will continue to have some time apart as Pattinson is set to be in L.A. Thursday night for the MTV Video Music Awards and Stewart is off in Toronto for the Toronto International Film Festival. Thursday's screening of "On The Road," will be Kristen Stewart's first red carpet outing since news broke of her affair with Rupert Sanders. Robert Pattinson will continue his on-screen media comeback by premiering a clip of "Twilight: Breaking Dawn Part 2" at the MTV Video Music Awards with his other cast mates.
© Copyright IBTimes 2023. All rights reserved.