LeAnn Rimes 'Depressed:' Singer Says She Was 'Disgusted' By Affair With Eddie Cibrian During Brandi Glanville Marriage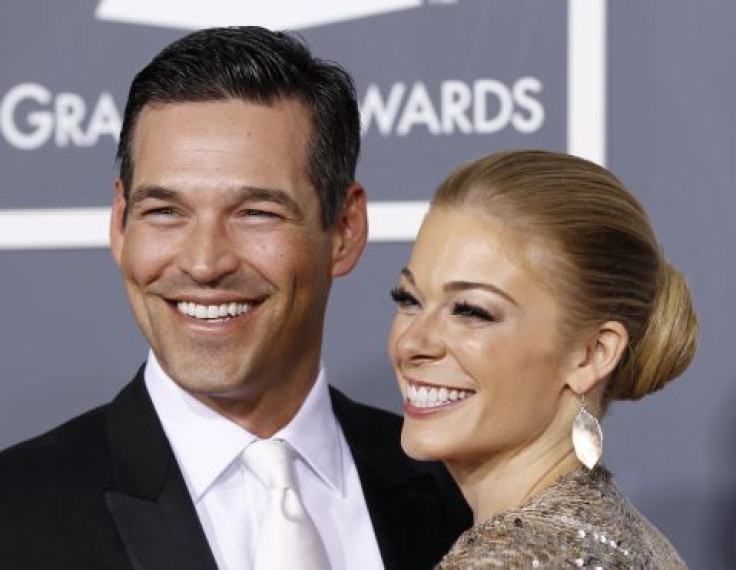 LeAnn Rimes might sound unapologetic about her infamous affair with Eddie Cibrian on the tracks of her most recent album "Spitfire," but according to a new interview, it took the country crooner years to recover from the guilt and resultant feelings of worthlessness from what she says were poor choices.
In a new interview with Us Weekly, Rimes opened up about her month-long stint last year at an inpatient rehab facility and the rocky aftermath of her affair with Cibrian, whom she met on the set of the Lifetime original movie "Northern Lights." Both Rimes and Cibrian were married to other people at the time, and Rimes has since had an ongoing feud with Cibrian's ex-wife Brandi Glanville, who appears on the Bravo reality TV show "The Real Housewives of Beverly Hills."
"I went in and took care of myself because I was stressed, I was depressed and anxious, and I didn't know how to process everything," Rimes said of her stay at the facility in August of 2012. "Going away was something I really needed to do."
Rimes added that having grown up in the celebrity spotlight -- she was discovered by country songwriter Bill Mack at the age of 11 -- her "whole life has been out there for everyone to judge." That was certainly the case when Rimes chose to enter rehab last year, prompting rampant speculation that she was worried Cibrian was cheating on her, a claim she later denied, according to the Daily Mail.
Rimes said that writing "Spitfire" helped her come to grips with some of the emotions that she hadn't been able to identify. "I think I opened up the can of worms for myself by writing this record," Rimes said. "There were a lot of things I didn't even realize I was feeling ... I needed to go somewhere and really process all of that stuff."
The album's subject matter includes likely references to Rimes and Cibrians' affair, and also to what critics have interpreted as her tense relationship with Glanville. The song "Borrowed" chronicles loving a man who "belongs" to someone else, and features lyrics like "Do you tell her that you love her like you do me?/ Do you make love to her the way you make love to me?"
"Always loved her music in the past, listened to some of this on YouTube, just could not get into it, maybe because the subject matter is so distasteful," one Amazon reviewer wrote.
Another Amazon customer added, "Leann Rimes may have a beautiful voice but even the most beautiful voice in the world could not make lyrics glorifying adultery and the subsequent hungry destruction of a family remotely appealing. I will not financially contribute to this couple."
Glanville also slammed the album, telling InTouch magazine, "LeAnn has a great voice, but she needs to work on her songwriting … She's not going to win any fans by writing a song about breaking up a family. It's old news- no one wants to hear you cry over getting everything you wanted."
Of the period following news of her affair with Cibrian, Rimes said she hit a low point. "I was feeling all these crazy emotions and feeling terrible about myself and was disgusted by myself and thought I was pathetic," she said.
But Rimes maintains that she's now the happiest and most secure she's ever felt. "Sometimes it takes walking through those tough times to come out the other side stronger and wiser," she said. "I'm gonna make mistakes as I move on in life, but that's who we are, and I'm fortunate that I've grown a lot and I'm proud of who I am now ... it's a good place to be."
"I'm the strongest I've ever been," she adds. "I'm the most honest with myself that I've ever been, I'm the most secure I've ever been about myself and my family, and I'm the most confident I've been in a really long time."
© Copyright IBTimes 2023. All rights reserved.