At Least 150 Dead In Gaza; Rockets Fly Over Tel Aviv On 5th Day Of 'Operation Protective Edge'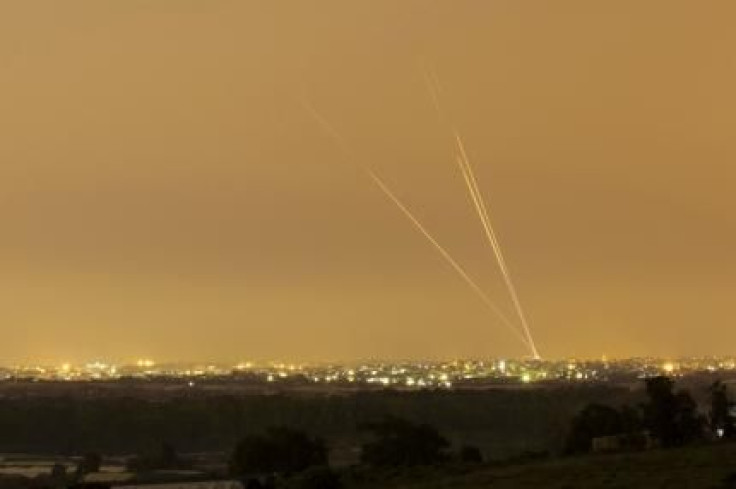 The Israeli military said navy commandos attacked a facility in Gaza from which Hamas launched long-range rockets early Sunday, local time, the sixth day of Israel's "Operation Protective Edge". The raid left four commandos injured by Hamas gunfire and followed barrages fired against Tel Aviv.
1/2 BREAKING: IDF forces raided a site used to fire long-range rockets at Israel. The mission was accomplished

- IDF (@IDFSpokesperson) July 13, 2014

2/2 During the mission, there was an exchange of fire. 4 soldiers were lightly injured & all returned home safely

— IDF (@IDFSpokesperson) July 13, 2014
Israel News Feed reported the military conducted at least 1,220 strikes against Gaza, targeting 632 rocket launch sites, 130 military bases, 220 terror tunnels and other sites.
The Jerusalem Post reported Iron Dome intercepted three rockets over the Tel Aviv metropolitan area. Since Monday night, militants have fired some 800 rockets at Israel.
Late Saturday, Hamas's military wing, the al-Qassam Brigade, issued a televised statement in both Arabic and Hebrew, warning Israel a barrage of J-80 rockets would be fired toward Tel Aviv within an hour.
A few minutes after 9 p.m. air raid sirens rang in Tel Aviv, Herzliya and the Sharon Plain. Meanwhile, the IDF said it targeted the rocket launcher in northern Gaza responsible for the Tel Aviv attack.
In retaliation for the Tel Aviv attack, the IDF commenced another series of strikes across Gaza using both warplanes and, according to reports from journalists on the ground, ships. According to Palestinian officials, the death toll has now surpassed 150 and most of the victims are civilians. More than 1,000 people have been injured.
Earlier Saturday the U.N. Security Council issued a statement calling "for de-escalation of the situation, restoration of calm and reinstitution of the November 2012 cease-fire." While the statement did not condemn either side, it highlighted the destruction taking place in Gaza.
Despite the U.N.'s call for a truce, Israeli airstrikes will only increase, a senior Israeli officer told Haaretz. The officer said the IDF is preparing to ask those living in northern Gaza to evacuate their homes, yet another sign pointing to a possible ground invasion. Those close to the border have already been asked to leave, the IDF said.
"This is a highly moral measure," the officer told Haaretz. "The evacuation allows greater freedom of operation in the area. We, as an orderly country, issue warnings before striking those who want to kill our citizens."
To be fair, so did Hamas this time.
© Copyright IBTimes 2023. All rights reserved.