Legendary NASA Astronaut And Moonwalker John Young Dies Of Pneumonia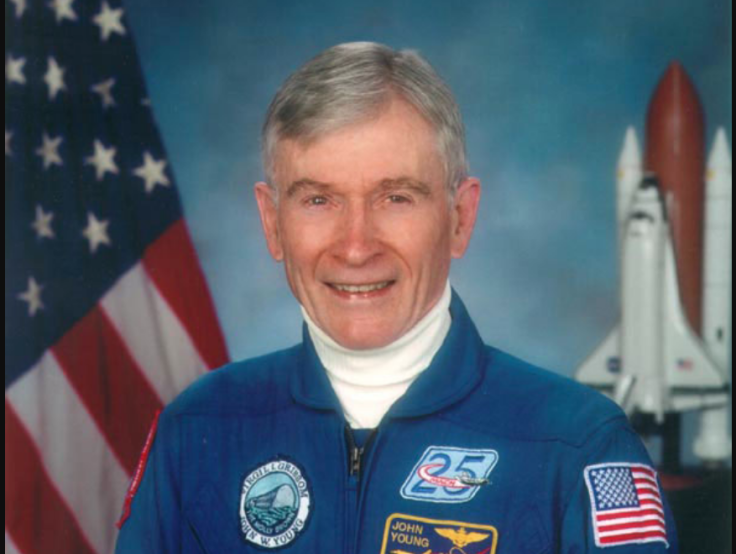 Legendary astronaut John Young died on Friday from complications with pneumonia, NASA announced on Saturday. He was 87.
Young had an extensive career with the agency and was one of the early space pioneers. He walked on the moon during the Apollo 16 mission and piloted the first space shuttle mission years later. Young was NASA's most experienced astronaut and was the first to go to space six times while participating in the Gemini, Apollo and Space Shuttle programs. The seventh time can be added if counting his liftoff from the moon during the Apollo 16 mission.
"Today, NASA and the world have lost a pioneer," said acting NASA Administrator Robert Lightfoot in a statement. "Astronaut John Young's storied career spanned three generations of spaceflight; we will stand on his shoulders as we look toward the next human frontier."
Lightfoot added: "John Young was at the forefront of human space exploration with his poise, talent, and tenacity. He was in every way the 'astronaut's astronaut.' We will miss him."
Astronaut John Young's Career In U.S. Navy And NASA
Young, who was born in San Francisco, California in 1930, got an aeronautical engineering degree from Georgia Tech in 1952. He then went on to serve in the Navy.
Young joined NASA in 1962, a year after President John F. Kennedy proposed that Americans land a man on the moon. Young then went on to stand on the moon, drive 16 miles in a lunar rover and spent three nights on the lunar surface. Young retired from NASA in 2004.
"Between his service in the U.S. Navy, where he retired at the rank of captain, and his later work as a civilian at NASA, John spent his entire life in service to our country," Lightfoot said. "His career included the test pilot's dream of two 'first flights' in a new spacecraft -- with Gus Grissom on Gemini 3, and as Commander of STS-1, the first space shuttle mission, which some have called 'the boldest test flight in history.' He flew as Commander on Gemini 10, the first mission to rendezvous with two separate spacecraft the course of a single flight. He orbited the Moon in Apollo 10, and landed there as Commander of the Apollo 16 mission. On STS-9, his final spaceflight, and in an iconic display of test pilot 'cool,' he landed the space shuttle with a fire in the back end."
Fellow Astronauts React To John Young's Death
Astronauts and others shared their condolences on Twitter.
"Saddened for the loss of former astronaut colleague John Young - the astronauts' astronaut, a true legend," said retired NASA astronaut Scott Kelly on Twitter.
Others also expressed their sadness on Young's passing:
© Copyright IBTimes 2023. All rights reserved.