Lenovo Continues To Lead Worldwide PC Market, Surpasses Apple In US Shipments In Q2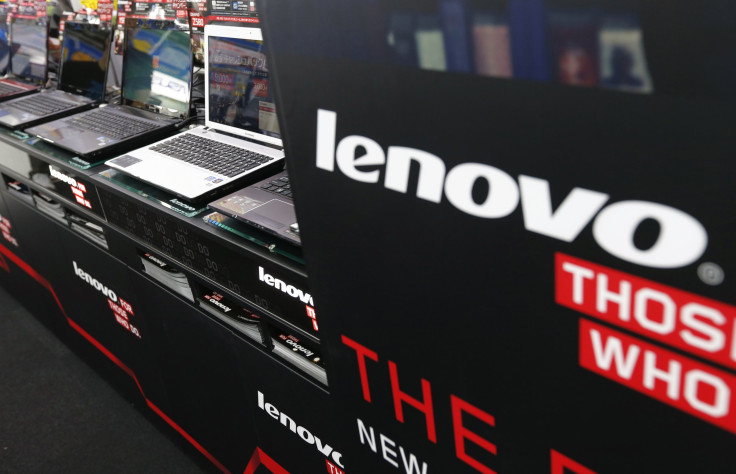 Lenovo Group Limited (HKG:0992) extended its lead as the world's top vendor of personal computers, or PCs, in the second quarter of 2014, while also surpassing Apple Inc. (NASDAQ:AAPL) to secure third place among leading PC vendors in the U.S. in the same period, a new report released by Gartner Inc (NYSE:IT) said on Wednesday.
According to Gartner, Lenovo's worldwide PC market share increased to 19.2 percent in the second quarter with an annual growth rate of 15.1 percent, which was significantly higher than those of all other PC vendors. Hewlett-Packard Company (NYSE:HPQ) came in second with a 17.7 percent share of the market, followed by Dell Inc. (NASDAQ:DELL), Acer (TPE:2353) and ASUS (TPE:2357), who rounded off the top five on the list.
"HP achieved its fastest global PC shipment increase in the last four years (since 2Q10)," Gartner said, in the report. "The company has put a lot of effort into restoring its PC business, including the review of the product family and stock keeping units (SKUs), as well as revitalizing the channel partner program."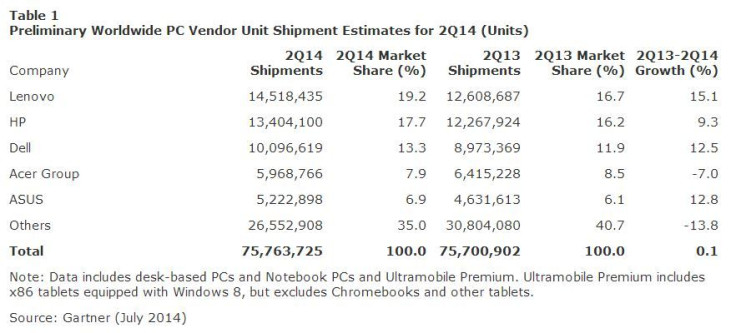 The Gartner report also highlighted the fact that worldwide PC shipments experienced flat growth in the second quarter after eight quarters of declining shipments. According to the report, overall PC shipments totaled 75.8 million units during the three-month period ending in June -- a 0.1 percent increase from the same period last year.
"While the worldwide PC market stopped two years of declining shipments in the second quarter, there were mixed results, as stabilization in developed markets was offset by a decline in emerging markets," Mikako Kitagawa, principal analyst at Gartner, said in a statement. "The PC industry in emerging markets has been impacted by the allure of low-cost tablets."
Lenovo Shines In The U.S.
Lenovo also performed well in the U.S. PC market in the second quarter, displacing Apple from third place for the first time in years. The Beijing-based company grew at an impressive rate of 20.3 percent while Apple was the only company among the country's top five PC makers to suffer a decline in growth in the quarter.
HP and Dell secured the top two positions with a 27.7 percent and 26 percent share of the market, respectively, while Toshiba Corp (TYO:6502) was at fifth position, accounting for 6.4 percent of the market.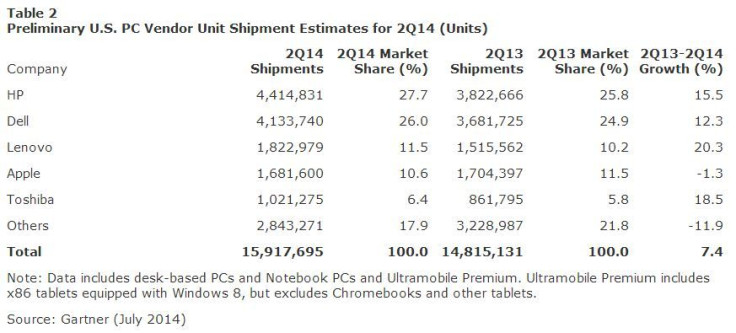 Overall, PC shipments in the U.S. totaled 15.9 million units in the second quarter, up 7.4 percent over the same period last year, Gartner said, adding that it was the second consecutive quarter of annual shipment growth in the country.
© Copyright IBTimes 2023. All rights reserved.