LGBT Rights: Obama Executive Order Is Likely To Change How Contractors Do Business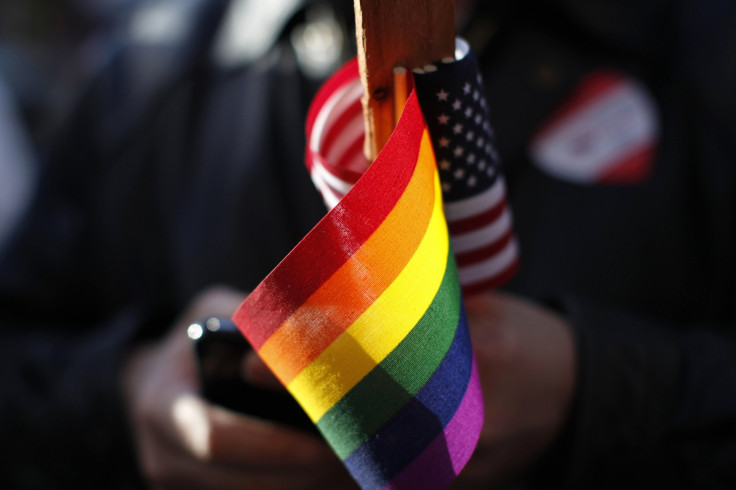 EDITOR'S NOTE: Sierra Nevada Corporation, a defense electronics engineering company, was initially identified by the William Institute at UCLA Law as lacking sexual orientation or gender identity non-discrimination policies. The company, one of the top 50 largest U.S. federal contractors, says that its anti-discrimination policy does cover people based on sexual orientation. The story has been updated to include this.
President Obama's executive order banning LGBT discrimination by businesses that win federal contracts will be celebrated by millions of working Americans and their supporters even as it underscores the White House's belief that Congress isn't likely to move forward in extending these protections across the private sector.
It's not yet clear how this executive order will specifically affect the thousands of businesses, from major defense contractors to small shops that operate cafeterias inside federal buildings. The president announced Monday that he's instructed his staff to "prepare for his signature an Executive Order that prohibits federal contractors from discriminating on the basis of sexual orientation or gender identity," the White House said in a statement.
"Any details will come when that process is done," said Christy Mallory, senior counsel at the Williams Institute at the University of California, Los Angeles, School of Law. "Based on other non-discrimination orders that exist, companies will have to comply by either writing it into their existing anti-discrimination policies or signing affidavits to pledge not to discriminate on the basis of sexual orientation and gender identity."
Whatever comes out of the White House will likely affect the wording of existing anti-discrimination rules at the Department of Labor, outlined here, which prohibit contractors with more than $10,000 worth of federal-government business from "discriminating in employment decisions on the basis of race, color, religion, sex, or national origin." In the future, that will include discrimination based on sexual orientation and gender identity.
One of the more immediate results of the president's order may already be taking place in the legal departments of big companies that don't want to risk losing lucrative federal contracts. In April Exxon Mobil Corp. (NYSE:XOM) blocked attempts by some shareholders to implement equal employment opportunity policies.
Though the company claims to have a zero-tolerance policy against such discrimination, it hold less legal weight than the proposed protections. Now, because Exxon is a beneficiary of taxpayer-funded business through the federal government, the company will have to comply or risk losing access to government contracts.
According to Williams, six of the top 50 federal contractors have resisted adding sexual orientation to the list of conditions that cannot be used to discriminate against employees or potential hires. The six companies are:
* Exelis Inc. (NYSE:XLS), a Mclean, Virginia-based defense contractor that makes night vision equipment and other surveillance and reconnaissance products for the Department of Defense.
* Veritas Capital, a New York-based private equity firm that focuses on aerospace, defense and national security industries.
* General Atomics, a San Diego-based defense contractor specializing in nuclear power for unmanned surveillance aircraft and other technologies.
* TriWest Healthcare Alliance, a Phoenix, Arizona-based manager of health benefits for Department of Defense employees and military families.
* Coins 'N Things, the country's largest gold wholesaler, based in Bridgewater, Massachusetts.
* Refinery Associates of Texas, a New Braunfels, Texas-based petroleum company.
About half of the top 50 contractors also have no rules about discriminating on the basis of gender identity, according to the Williams Institute report released in May. The institute estimates that the executive order will cover about 27.5 million American workers from discrimination based on sexual orientation or gender identity.
It's legal to fire or refuse to hire people on the basis of sexual orientation or gender identity in 29 states, and under the current divisive political climate, with Republican incumbents struggling to keep strict social conservatives from breaking rank, and mid-term elections coming later this year, it's unlikely that Capitol Hill will move to blanket the country with a federal protection for the nation's gay population against the will of state legislators.
Which leaves Obama with his executive power to send a message to Congress by changing what he can from the Oval Office, as he did in February when he ordered companies that do business with the federal government to pay their workers an hourly minimum wage of $10.10 beginning next year.
© Copyright IBTimes 2023. All rights reserved.