This Life-Size 'LEGO Batman Movie' Batmobile Took 1,833 Hours To Build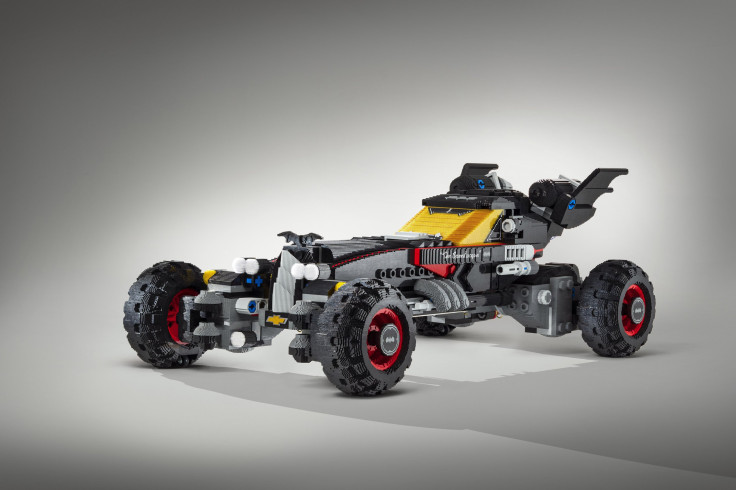 "The LEGO Batman Movie" is inspired by tiny toys, but the journey to the big screen is going to make everything look huge. The Batmobile is going to be bigger than ever, but it isn't just the animated film that will show off Batman's wheels. Chevrolet brought the LEGO design to life.
Chevy unveiled a Batmobile made entirely out of LEGOs at the North American International Auto Show in Detroit Saturday. Like all Batmobiles, it's pretty impressive, and it seems like just the thing a LEGO version of Bruce Wayne would want to track down criminals in Gotham.
Though it isn't a functional car, it is the size of one. It's 17 feet long and just under 7 feet high. The tires alone weigh over 100 pounds each, and the whole car is 1,695.5 pounds. Most importantly, it's made out of LEGOs. While the interior frame contains 86 feet of square tube aluminum (which account for 282.5 pounds of the Batmobile's weight), the car is largely made out of the toy bricks.
The LEGO Master Builders in Enfield, Connecticut, used 344,187 bricks in 17 colors. Obviously, this takes a lot more time than your average play set. After spending over 200 hours designing Batman's ride, they spent 1,833 hours building it.
Chevrolet's mock listing for the vehicle claims that it is equipped with Wi-Fi, has 20,000 horsepower and is available for the reasonable price of $48 million. Special features also include monster truck mode and parallel park mode.
"The LEGO Batman Movie," the first of many 2017 superhero movies, is a sequel to 2014's "The LEGO Movie," but this time, Bruce Wayne (voiced by Will Arnett) is the star. He'll be riding around in his Batmobile in search of the Joker (voiced by Zach Galifianakis), but he realizes he might need help. Batgirl (voiced by Rosario Dawson) and Robin (voiced by Michael Cera) will show him the joys of teamwork. Luckily, the Batmobile already has a dual seat cockpit waiting for Bruce's new sidekick.
Director Chris McKay previously promised that both LEGO and Dark Knight enthusiasts will find Easter eggs in the movie. "I'm a big fan of DVD/Blu-ray freeze-framing of things, so throughout the movie we've hidden all sorts of things for fans of Batman or DC Comics or LEGO," McKay told Empire in November. "There's a deep-dive that you can do in the movie. If you look at the signage in downtown Gotham in the movie, there's a lot of references for fans. People can go real deep."
"The LEGO Batman Movie" is set to hit theaters Feb. 10.
© Copyright IBTimes 2023. All rights reserved.