Logitech G923 Steering Wheel And Pedals Review: Arcade Action At Home
This article uses affiliate links, which means if you purchase products through these links, we may earn a commission. Click here to see our
T&C
. For licensing please click
here
.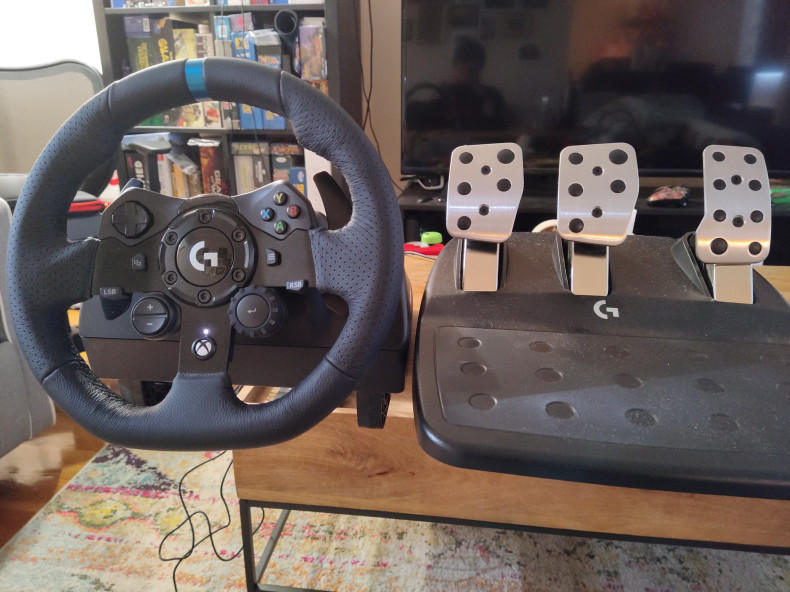 Who Is The Logitech G923 Steering Wheel And Pedals For?
The Logitech G923 steering wheel and pedals are perfect for any racing game fan
The G923 is easy to set up, though may be awkward depending on your furniture
The G923 has excellent build quality, making it a durable peripheral that feels great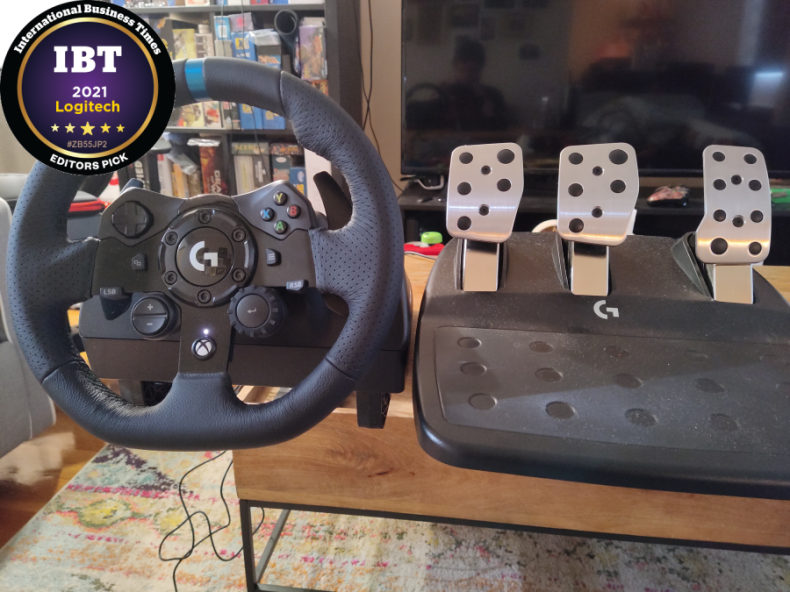 Gamers have been looking to make games more and more immersive since Pong was bouncing back and forth on ancient CRT televisions. This immersion is generally improved by replacing a standard game controller with something a little more fitting for the game, like the classic Nintendo Zapper used for Duck Hunt or the more modern guitar controller for Guitar Hero and Rock Band. Steering wheels have been very popular controllers for decades now, and remain popular thanks to great modern racing games like the Forza and Project CARS franchises.
This intro is getting a little long, so to jump ahead, Logitech has released the G923 steering wheel and pedals controller for PC, PS4/PS5 and Xbox One/Xbox Series X/Xbox Series S. It's the ultimate steering wheel controller, and anyone who wants to take their immersive racing experience to the next level needs to consider making a purchase.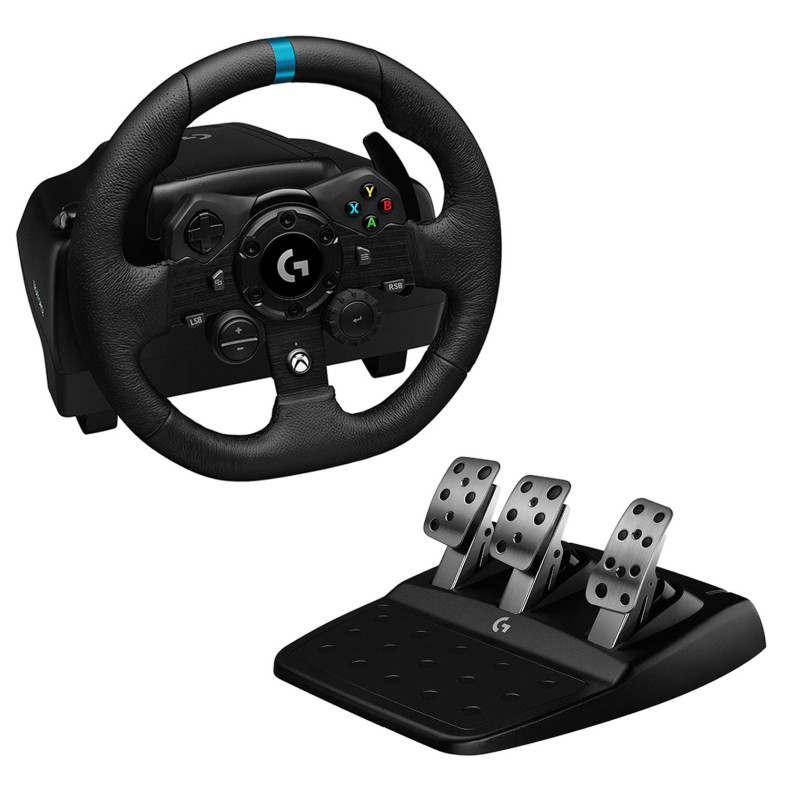 Easy Set Up, If A Little Awkward
The Logitech G923 steering wheel and pedals controller is pretty easy to set up and doesn't require any tools. Most of the set up is plugging cables into the base of the wheel to get the pedals, power cable, and USB cable to a console or PC connected. What's nice is the wheel has a built-in cable management system to help keep all the wires under control.
From there, the G923 wheel just needs to be clamped down on a table or desk edge. The clamp controls are these two little bumps that pop up when they are needed. The bumps can be twisted to loosen or tighten the clamps, and when tightened all the way, the clamps offer a very strong grip on whatever surface they are attached to. The clamps are also coated in rubber, which means they shouldn't leave any marks when clamped to a desk or table.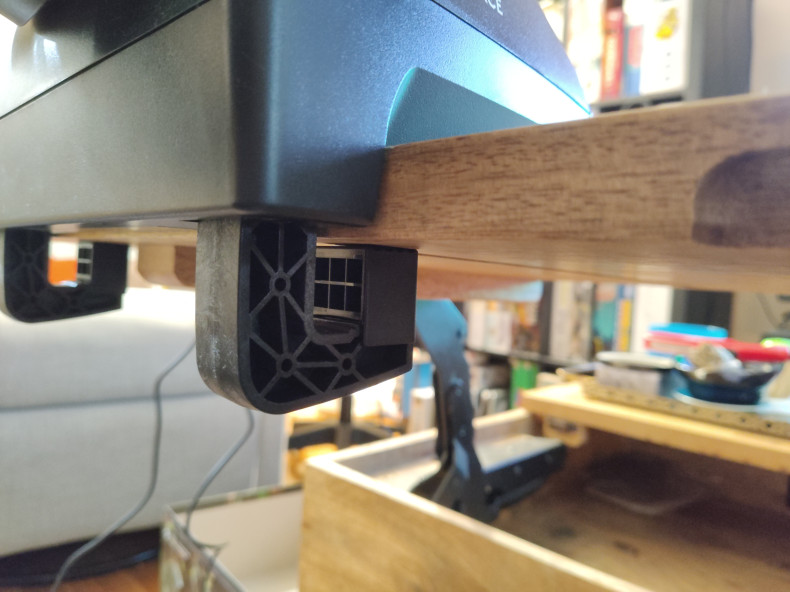 If a more permanent position for the Logitech G923 is desired, there are holes in the bottom of both the wheel and pedal bases to mount the peripherals. This is great for those who have taken their hobby to the extreme and have purchased a simulation racing cockpit or mount for their controllers.
I will say that things can get a little uncomfortable if there isn't a decent space available for the G923. I'm lucky in that my coffee table can extend upwards, which puts the steering wheel in a comfortable position to use while still being in front of my television. Those who don't have a raisable table will need to find another solution, which could prove challenging. If I didn't have this coffee table, I would likely have to bring in a different table to put in front of me while playing, and that table would need floor space to allow for the pedals while being at a comfortable height for the steering wheel.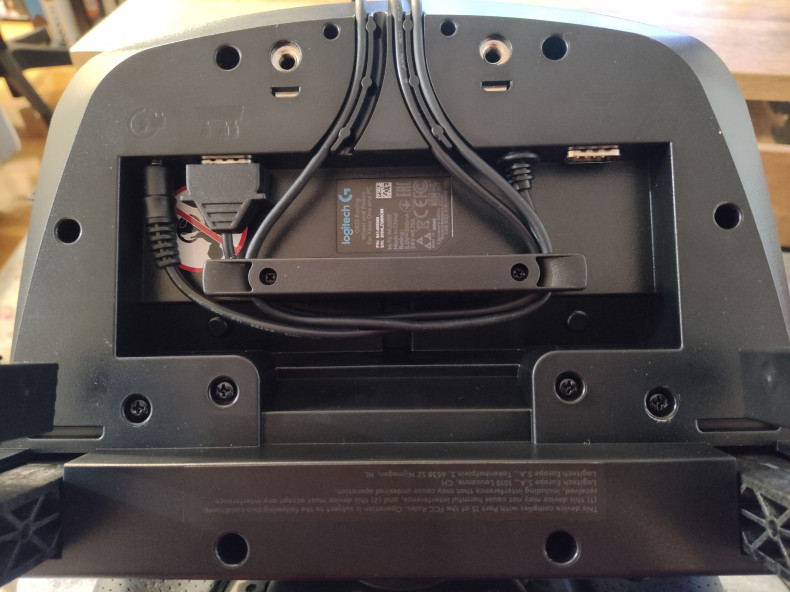 PC gamers have it a little easier, as they typically have an office desk to use. The only issue here is many office chairs have wheels on the bottom, making the pedals more difficult to use without pushing yourself away from the desk every time the brake is pressed. In short, just make sure to have a space to use the G923 comfortably before making any purchases.
Great Looks And Realistic Feel
The Logitech G923 steering wheel and pedals look awesome. They seriously look like they were ripped out of a racecar and wired to work with video games. I particularly like the little touch of blue on the steering wheel to help indicate the top of the wheel.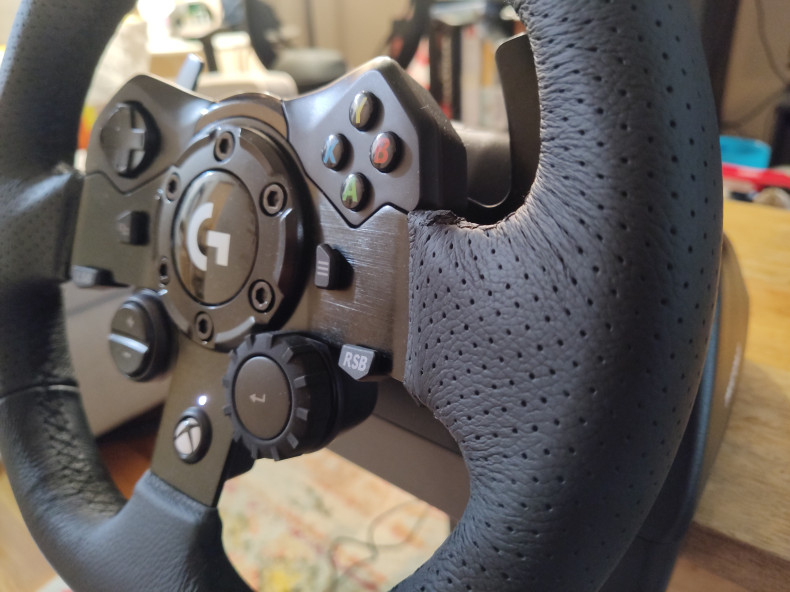 Even better, the G923 feels authentic thanks to the real leather steering wheel cover and all the metal found on the wheel and pedals. The brake pedal in particular feels fantastic thanks to its strong springs. Instead of easily being able to slam the brake down, the pedal has plenty of resistance. This makes those intense moments in races when slamming on the brakes all the more realistic, as the controller pushes back like a real car would.
I didn't get the add-on shifter to review for this article, which means I used the shift toggles on the back of the G923 wheel to control my clutch. These toggles have a very satisfying click to them, making shifting up or down a speedy and enjoyable process.
Powerful Performance
I absolutely love driving with the Logitech G923. It feels so much like sitting behind the wheel of a real car, and as someone who lives in New York City and doesn't have access to a car very often, this really scratches that driving itch.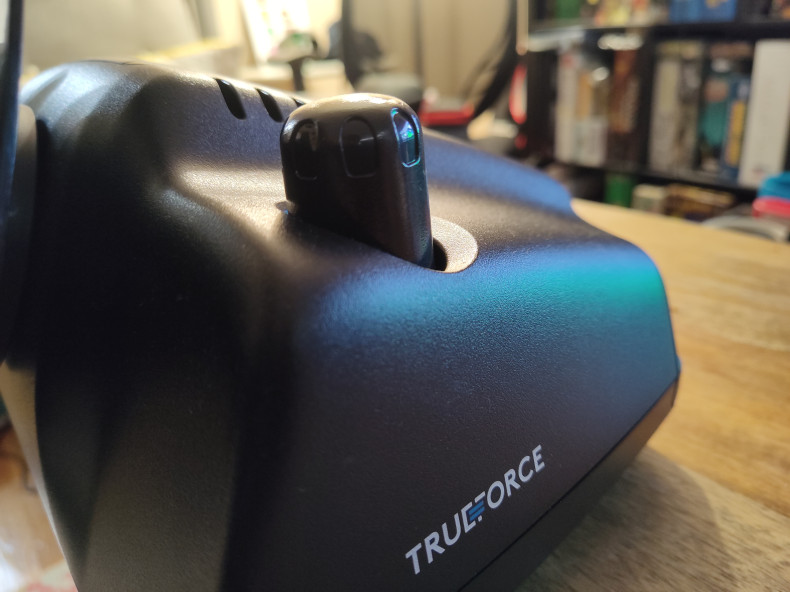 The rumble power of the Logitech G923 is off the charts. When clamped onto my coffee table, I had to take many other things off the table for fear that they would be knocked over. This wheel really vibrates, probably even more so than the wheels found in full-sized arcade cabinets.
The G923 is fairly compatible, and is supported by a number of games. Like with many peripherals, the G923 comes in two versions: one that works with Xbox consoles and PC and one that works with PlayStation consoles and PC. Across those three consoles, the G923 is supported by dozens of games. These include all of the recent Forza games, the F1 games, the Project CARS games, the Farming Simulator games and much more. For PlayStation fans, the controller is also compatible with Gran Turismo Sport. Basically, if there's a modern game that focuses on driving, the G923 is likely compatible with it.
The G923 does behave a little differently from game to game. For example, driving is a fairly smooth process in Forza Motorsport 7, which makes sense as all racing is done on actual race tracks. However, a game like Forza Horizon 4 makes driving a more difficult experience thanks to all the off-roading in the game. Going off-road is a much different experience that really cranks the rumble feedback to the max. Thankfully, the G923 allows for sensitivity customization on a game-by-game basis, so users can dial in their preferences.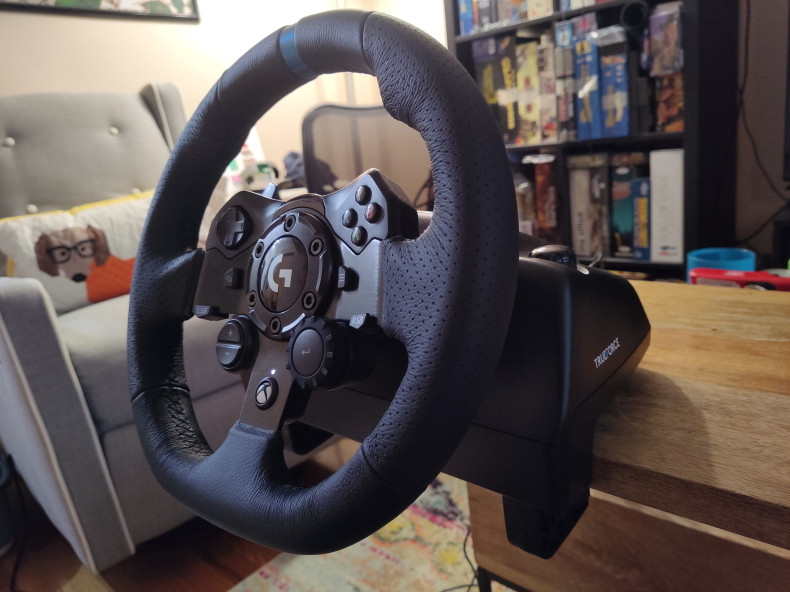 For further customization, players can hook up the G923 to a PC and use the free Logitech G Hub gaming software. This software allows players to fine-tune wheel sensitivity and force feedback levels. The software can also be used to remap the buttons on the controller and create multiple different profiles for any game.
Additionally, a select number of games have access to a bonus feature on the G923 called TRUEFORCE. This is basically just an additional layer of rumble to add more immersion. The list of games that support TRUEFORCE is a little limited, with highlights including GRID, Assetto Corsa Competitzione and Project CARS 3 (except on Xbox consoles for some reason). Hopefully, more games can tap into this feature in the future.
For a full list of games that are compatible with the G923, as well as the games that feature additional TRUEFORCE support, check out the Logitech website.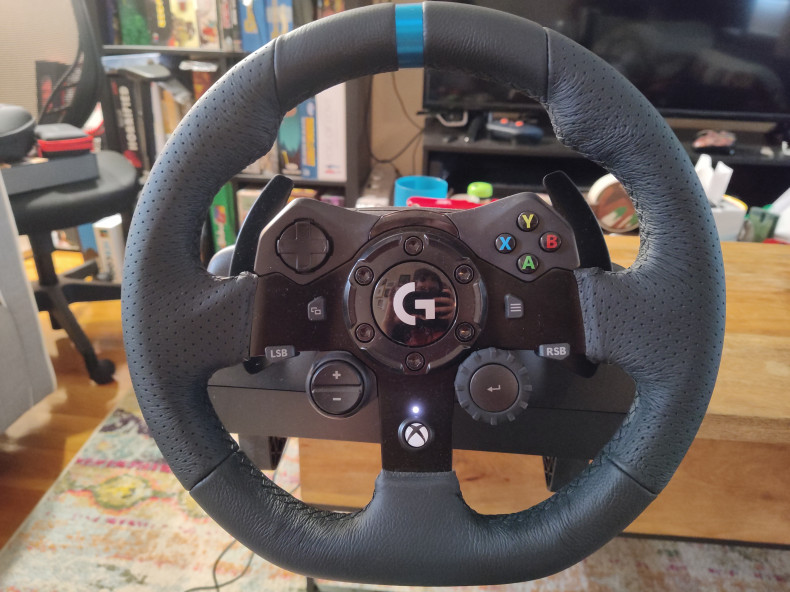 I only have one complaint about the Logitech G923 from a gaming perspective, and it's fairly minor. There is no way to use a wired headset with the G923 on a console. That means headphone users will need to either use a second USB port for a wireless headset dongle, or get a headset that can pair directly with a PC or console. Those who don't like headphones don't need to worry here, but those who prefer headphones, or want to keep their gaming on the quieter side to not annoy others, could have an issue.
Final Thoughts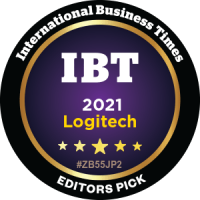 Using the Logitech G923 steering wheel and pedals is so much fun. It does take a little while to set up and get into a good position, but once that light turns green and the flags begin to wave, my heart is pumping and my grip is tightening on the wheel. Those who are really into racing games should look no further if considering making a wheel controller purchase.
I really only have two issues with the Logitech G923, and one is hypothetical. While I didn't have an issue finding a spot to set up my G923 in front of my TV, I could see others not being so lucky without having to resort to dedicated mounts or other furniture. Additionally, those who play while wearing headphones may need to find an alternate way to listen to audio as the G923 doesn't have a headphone jack and takes up an extra USB slot. Other than that, the G923 is pure arcade action right from my couch.
© Copyright IBTimes 2022. All rights reserved.