Losing Jobs To Robots? Virginia Legalizes Delivery Machines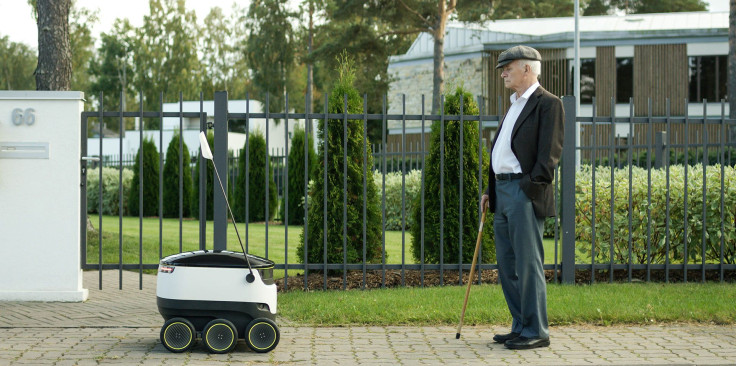 Virginia governor Terry McAuliffe recently signed a law allowing robots to deliver goods in the state, according to Engadget. Starting July 1, Virginia citizens could see robots using the streets to deliver purchases to local residents. The bots are running autonomously, but Virginia is requiring Starship Technologies, the developers, to monitor them remotely. They also must have a max speed of 10mph and cannot weigh more than 50lbs, delivery included. Virginia is allowing local councils to put regulations on the bots as well. If they are causing mishaps, local communities can even ban them completely.
The bots have already been used outside of the United States and will be brought stateside to undergo testing in Redwood City, Calif. and Washington D.C.

Starship Technologies, a company developed by the two founders of Skype, created the delivery bot. It can travel at an average speed of 4pmh when delivering. The bots will be able to carry up to 20lbs of goods and deliver them in 5-30 minutes. The bots can carry items anywhere within in a 3-mile radius. The bot's progress is able to be tracked on your smartphone and will alert you when it has arrived. The cargo compartment is locked throughout the entire journey and once the package has arrived, users will be able to open it with their smartphone. The bots are powered electronically and consume minimal amounts of energy.
A potential problem is the small delivery radius the bots have. There will need to be multiple rendezvous points for the bots throughout any city. According to Engadget, the plan is for companies to ship massive amount of goods to the rendezvous points and when something is ordered, the bots will be loaded and begin the journey to the desired location.
Companies like Amazon Prime and Grubhub are dominant forces in the fast delivery businesses, but are not against this development by Starship Technologies. Amazon already has Prime Now, a delivery service that guarantees packages to arrive at your door in under an hour. However, it is always done by delivery drivers.
Amazon has sent letters to the governor of Virginia supporting the recently passed legislation. Could there be a potential partnership between the companies in the future?
© Copyright IBTimes 2023. All rights reserved.