'Love & Hip Hop: Hollywood' Stars Princess Love And Ray J Almost Didn't Get Married On Season 3 Finale [RECAP]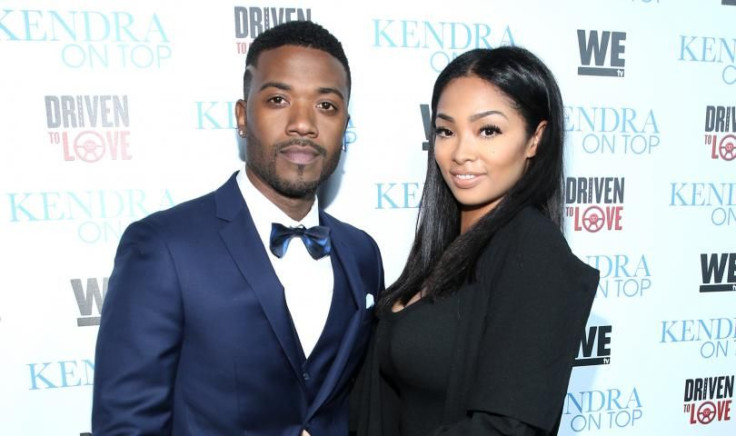 Ray J and Princess Love were dangerously close to not getting married on the Season 3 finale of VH1's "Love & Hip Hop: Hollywood." The episode focused primarily on the pair's road the altar, but things were almost ruined when Princess and her husband-to-be got into a disagreement over a prenup.
The drama for Ray J and Princess started on last week's episode 11 when Princess told Brandi Boyd that she wanted to have a prenup to protect herself in the event that things don't work out with Ray J. Brandi, who is close friends with Ray J and his family, felt like she was caught in the middle of their pre-wedding issues.
In the finale, Brandi is still conflicted about what to do and ends up telling Ray J about Princess' secret prenup. Brandi's revelation almost ruins things between the "One Wish" singer and Princess. Ray J is mad because he didn't want a prenup — although his mom Sonja was trying to convince him to have Princess sign one — and confronts Princess about it during their wedding rehearsal. Princess is mad Brandi told Ray J about the prenup, and she kicks Brandi out of her wedding ceremony. Ray J tells his future wife that things aren't good between them and they need to talk about the prenup before they head down the aisle.
Things get even worse for the future husband and wife at their joint bachelor and bachelorette party. Ray J is still mad about Princess trying to sneak and get a prenup, and she explains that she just wanted to protect herself because of how nasty their breakups have gotten in the past. Ray J admits that he's having doubts about getting married, and leaves the party with his friends.
Princess thinks Ray J went to a strip club, but he says during his confessional that he spent the night at his parents' house thinking and came to the conclusion that Princess is the one for him and he still wants to get married.
On the day of their wedding, however, Princess is still furious at Ray J and doesn't want to talk to him because he didn't come home the night before their wedding. Lyrica Anderson tells Princess that there's no way she and Ray J can get married when they are mad at each other, so they need to make up before the ceremony starts. Princess is still angry, but eventually comes around after having a heart-to-heart talk with Ray J's mom, Sonja. Princess and Sonja are finally starting to get along, so Princess goes and finds Ray J and tells him that she still wants to get married.
After a couple "I love yous," Ray J tells Princess to go down to the courtyard because he has a surprise waiting for her. It's her estranged father who Princess wanted at her wedding, but wasn't sure he would come. Princess starts crying and tells the camera that Ray J getting her father to come to their wedding is more proof that he truly loves her.
As you've probably guessed by now, Ray J and Princess do get married and their ceremony is nothing short of beautiful. Ray J's father officiates the ceremony, and his sister Brandy sings as Ray J and Princess take their first dance as husband and wife.
Also during the finale, Nikki Mudarris and Teairra Mari have a heart-to-heart talk about Teairra's drinking. Throughout the season, the "I Deserve" singer has been dealing with a court case after allegedly getting into a fight with an Uber driver. Nikki breaks down in tears as she tells Teairra that her drinking reminds her of her late brother, Omar. Nikki tells her friend that she's heard that Teairra will take a few shots of alcohol in the morning before getting into the shower and that's a sign that she has a serious drinking problem. Teairra assures Nikki that she can quit drinking cold turkey if she needs to.
Nikki says during her confessional that her brother said the same thing, but he wasn't able to kick his issues. During Teairra's confessional, she starts crying when she realizes that her drinking could be the death of her. Later in the episode, Teairra reveals that she's focusing on her music career and getting herself together.
The episode also reveals that A1, his wife Lyrica Anderson and their moms Pam and Lyrica G are all getting along. Masika Kalysha is still working on co-parenting with Fetty Wap, and Moniece Slaughter is focused on her son and her music. Brandi says she's focused on her family now, and Shanda Denyce says she and Willie Taylor are still living apart because of his cheating scandal. As for Safaree, he's still being Safaree. The episode ends with Nikki saying that she's ready for love and hinting that she's in a relationship with Safaree.
© Copyright IBTimes 2023. All rights reserved.