LSU Football Coach Confirms 'Most' of Team Has Been Infected With COVID-19
KEY POINTS
More players of the LSU Tigers football team have tested positive for COVID-19
This might mean more than half of the team's roster of more than 100 players have contracted the virus
LSU head coach Ed Orgeron is being assailed for downplaying the wide spread of the virus in his team
The defending college football national champion LSU Tigers now have a bigger problem other than losing star quarterback and Heisman Trophy winner Joe Burrow to the NFL.
LSU coach Ed Orgeron confirmed Tuesday that "most" of the players on his team's roster have been infected by COVID-19. The few players that have so far escaped the disease have been told to be careful so they are eligible for the Sept. 26 season opener.
Orgeron said the team has "about three or four guys" currently with COVID-19. However, he said the team doesn't have "a lot of guys in quarantine."
"I think most, not all of our players, but most of our players have caught it," Orgeron told The Advocate. "So hopefully they won't catch it again, and hopefully they're not out for games."
Orgeron didn't reveal exactly how many of the 104 players on the team's current roster had been infected, or if those hit by the virus include new quarterback Myles Brennan and star wide receiver Ja'Marr Chase.
But "most" implies more than half the team has contacted COVID-19. Orgeron said he doesn't know the exact percentage, but based on media reports at least 40 players are either confirmed to have been infected, or have come into contact with infected people.
Despite the raging COVID-19 pandemic, the Southeastern Conference (SEC) begins its 2020 season on Sept. 26. The Tigers start the season this same day with a home game against Mississippi State with limited attendance at the usually packed Death Valley.
It was previously reported the Tigers admitting to a spike in coronavirus cases earlier this summer. The total number of cases came to at least six players, all of whom showed mild symptoms of the disease. No players were hospitalized.
Orgeron has good reason to be worried. One of the enduring after-effects of serious COVID-19 infections is shortness of breath due to damage inflicted on a patient's lungs. Some people recovering from COVID-19 can experience a dry cough or pain when breathing.
Orgeron's stunning update confirms rumors the Tigers' infection numbers are far higher than what was previously made public by the team and the university. He's come under increasing criticism for insisting the school's football program was capable of handling any COVID-19 outbreak among the team.
In early July, Orgeron dismissed news reports saying the number of players who tested positive was too high. Instead, he insisted case numbers among his boys were "way down" from its initial spike.
He repeated the same claim weeks later, saying the football program had controlled the initial spike and that the football season should still proceed.
"I don't think we can take this away from our players, take this away from our state and our country," said Orgeron. "We need football. Football is the lifeblood of our country."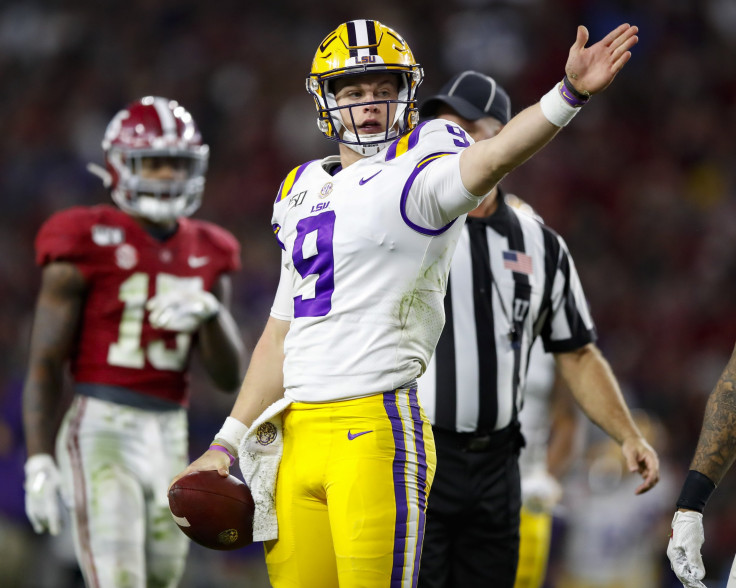 © Copyright IBTimes 2023. All rights reserved.