MacBook Pro With Retina Display Shipping Dates Delayed Again By 3-4 Weeks [Critics Reviews]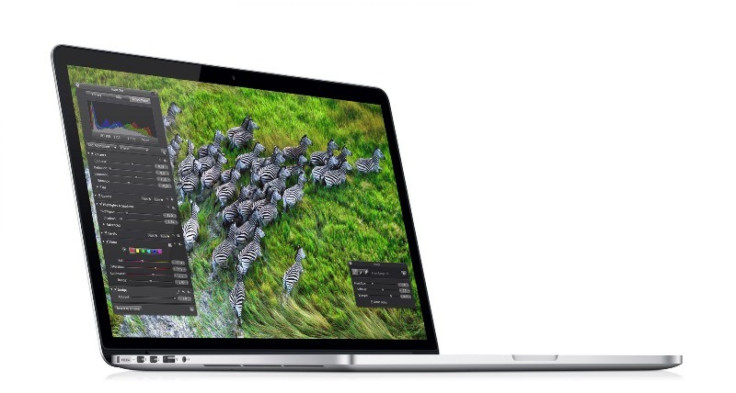 The estimated shipping dates for the new Apple MacBook Pro with Retina display have been pushed back once again for the second time this week.
As showed on the online Apple Store page for the Retina display-equipped MacBook Pro, the shipping dates for both the 2.3 and 2.6GHz models have been changed from 2-to-3 weeks to 3-to-4 weeks. However, there's apparently no shipping delay for the non-Retina MacBook Pros.
Just a couple of days ago, Apple pushed back the delivery times for new orders by 2-to-3 weeks, suggesting that the demand for the device is very high despite its substantial $2,199 and $2,799 base price tags. But the latest delay of shipments does indicate that Apple is indeed struggling to keep stock of the device that has received the biggest refresh in its history so far.
According to The Verge, customers may be able to forego the delay by arranging for an in-store pickup, though the option is dependent on local retail availability.
As noted by Electronista, even the news that the MacBook Pro with Retina display was deemed as the least repairable laptop ever by repair outfit iFixit seems to have had no effect on the device's increasing demand.
iFixit recently conducted a teardown of the Retina version of the MacBook Pro, calling it the least repairable laptop it has ever taken apart. What makes it so difficult to repair are mainly the soldered-in RAM and the glued-in battery.
Let's have a look at the key features and specifications of both the models of MacBook Pro with Retina display:
Display - Retina display; 15.4-inch (diagonal) LED-backlit display with IPS technology; 2880-by-1800 resolution at 220 pixels per inch.
Processor - 2.3GHz quad-core Intel Core i7 processor (Turbo Boost up to 3.3GHz) with 6MB shared L3 cache; 2.6GHz quad-core Intel Core i7 processor (Turbo Boost up to 3.6GHz) with 6MB shared L3 cache, configurable to 2.7GHz quad-core Intel Core i7 (Turbo Boost up to 3.7GHz).
Memory - 8GB of 1600MHz DDR3L onboard memory, configurable to 16GB.
Storage - 256GB; 512GB (Configurable to 768GB flash storage).
Size - Height: 0.71 inch (1.8 cm), width: 14.13 inches (35.89 cm), depth: 9.73 inches (24.71 cm), weight: 4.46 pounds (2.02 kg)3.
Graphics - Intel HD Graphics 4000; NVIDIA GeForce GT 650M with 1GB of GDDR5 memory and automatic graphics switching.
Camera - 720p FaceTime HD camera.
Wireless - 802.11n Wi-Fi wireless networking; 4 IEEE 802.11a/b/g compatible; Bluetooth 4.0.
Battery - Built-in 95-watt-hour lithium-polymer battery. Up to 7 hours wireless web; Up to 30 days standby time.
Meanwhile, the reviews are in for the Retina-equipped MacBook Pro. While many reviewers are thrilled by the ultra-thin, reasonably light device with 2880 x 1880 resolution Retina display, some have also questioned whether the power-packed Apple laptop creates a new product category. Take a look at some of the interesting reviews below:
David Pogue, The New York Times:
That's Apple's term for a screen with such high resolution - so many tiny dots - that you can't make out individual pixels, even if you smash your face against the glass like a loon. Retina displays already distinguish the latest iPhone and iPad models, but this is the first real computer to get one, and it really is eye-popping.
Ross Miller, The Verge:
If you're in the market for a premium OS X laptop right now, it's hard not to recommend the new MacBook Pro with Retina display. If, however, power isn't your ultimate goal, may we suggest shaving a few pounds and specs for the MacBook Air. As for everything in between, those non-Retina standard MacBook Pros, well... the writing's on the wall. And of course, it doesn't hurt to be even a little bit patient and wait for more apps to push Retina-optimized updates - if you get the MacBook Pro with Retina display now, you'll be waiting on the world to change.
Jason Snell, Macworld:
First off, this disclaimer: I've been using an 11-inch MacBook Air for so long now, it's very hard for me to judge a 15-inch laptop. It feels enormous to me. But fans of the current 15-inch MacBook Pro will notice that this new laptop is actually quite a bit thinner than the current model, a bit lighter, and slightly narrower.
Ian Paul, Computerworld:
For the moment, this next-generation laptop is not going to appeal to the current generation of laptop buyers - be it PC or Apple. The base model alone for the new MBP is priced at $2200 for just 256GB of hard drive space and a quad-core 2.3 GHz Core i7 processor. Compare that to the $1500 Asus G75VW gaming laptop featuring the same processor, six times the storage space (hard drive, not flash), and a 17-inch screen with 1920-by-1080 resolution.
Tim Stevens, Engadget:
Viewing angles are expanded compared to Apple's other high-end displays, so the annoying drop in contrast that happens from odd vantage points is all but abolished. Contrast, too, is boosted and, interestingly, glare reduced. Yes, this is still a glossy display and no, there still isn't an option for matte glass. But, Apple promises a reduction in glare here from previous Pros.
© Copyright IBTimes 2023. All rights reserved.