Machine Gun Kelly Once Injured Himself With Knife While Attempting To Impress Megan Fox
Machine Gun Kelly recalled when he tried to impress Megan Fox with a knife and accidentally hurt himself.
The 31-year-old rapper appeared on "The Tonight Show Starring Jimmy Fallon" Wednesday and opened up about the earlier stage of their relationship and how he failed while trying to impress Fox.
"It was just a bad night," Kelly recalled before sharing how he used his friend, musician Travis Barker's gifted knife - which was engraved with Kelly's fifth studio album's title "Tickets to My Downfall."
Kelly further explained how he threw the knife in the air and tried to catch it but unfortunately, it stabbed his left hand. During the show, the rapper showed his scar to host Jimmy Fallon.
"That was from when a knife stuck in [it]. 'Cause, you know how you throw it up and you're supposed to catch it? I looked at [Fox], and I was like, 'Check this out.' And I was like, 'Ugh!'" the rapper added.
Fallon jokingly assumed what Fox must have seen after looking at this failed stunt, "You are the coolest dude I've ever met in my life. Kiss Me." Kelly, whose real name is Colson Baker, noted that as soon as Fox left in the morning, he immediately asked for stitches.
Kelly and Fox first met in March 2020 on the sets of the action thriller movie, "Midnight In The Switchgrass," which dropped on July 23, 2021. Later that year, the couple walked the American Music Awards event's red carpet together in November 2020.
A source told ET in December 2020 that Kelly "totally sees marriage in his future with Megan and friends could 100 percent see them getting engaged within the next year."
"Megan doesn't think about getting engaged [or] married and she doesn't put a timeline in place and it's not something that really crosses her mind," the source added.
On the work front, Kelly will be next seen in movies like "Good News," "Punk" and "Good Mourning with a U." Fox, on the other hand, will feature in movies like "Big Gold Brick," "Johnny & Clyde" and "The Expendables 4."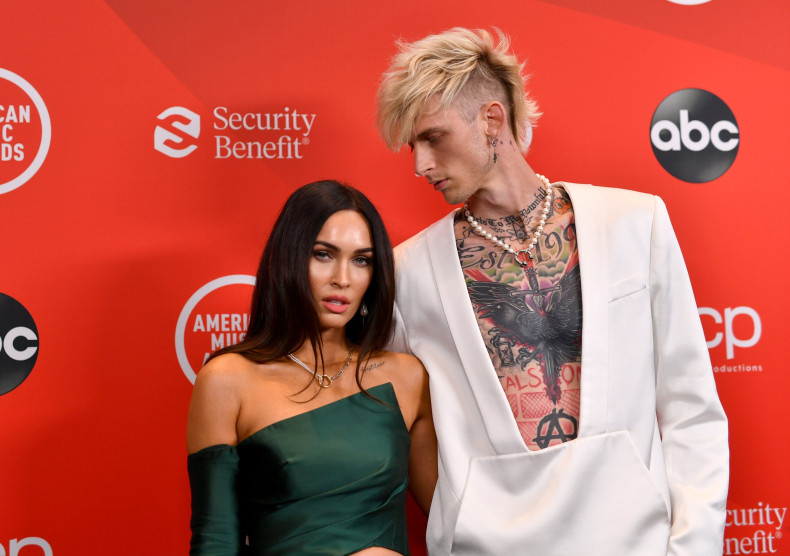 © Copyright IBTimes 2022. All rights reserved.