Malia Obama Instagram Controversy: 5 Other Times First Daughters Were Hounded By The Public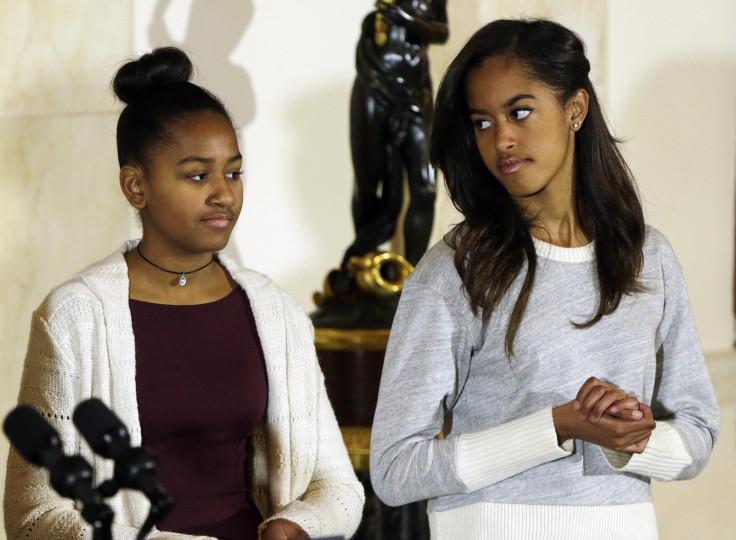 Despite the best efforts of President Barack Obama and first lady Michelle Obama, first daughters Malia and Sasha have faced considerable public scrutiny in recent days, particularly in the wake of a Republican staffer's criticism of their attire at a Thanksgiving event. While GOP aide Elizabeth Lauten resigned after her remarks raised an uproar, she is not the only public figure to go after the first daughters. Arizona Cardinals defensive end Darnell Dockett was criticized this week for sharing a photo of Malia, 16, wearing tight jeans on Instagram. The incidents underscore how the daughters of presidents can sometimes become the subject of unfair public scrutiny, no matter their age. Below is a list of five notable times previous first daughters were hounded by the media and public:
Jenna and Barbara Bush
The Bush twins, daughters of George W., faced a lot of media scrutiny during their time in the White House, particularly following a series of busts for underage drinking. Perhaps the creepiest example of this scrutiny, though, was Maxim magazine's decision to photoshop the twins' heads onto half-naked bodies in its April 2005 issue. The photo illustration of the twins engaged in a pillow fight wearing only lingerie was the men's magazine's version of an April Fool's joke, reported the Houston Chronicle. "We thought there was little chance that we would get in too much trouble because I don't think their father would ever want to talk about this," said James Heindery, Maxim's executive editor at the time, according to the Chronicle.
Chelsea Clinton
Over the past few years, media outlets have compared Chelsea Clinton, now 34, to royalty, particularly during her 2010 wedding to Marc Mezvinsky and recent motherhood, which some outlets hailed as the arrival of "America's royal baby." The media was far less kind to Chelsea during her time in the White House in the '90s, however. The only child of Bill and Hillary Clinton faced frequent media jibes about her appearance, with Rush Limbaugh notably comparing the then-12-year-old to a dog on his television show in 1992.
Amy Carter
Amy Carter's first day of school in Washington was covered as a media event with the Associated Press reporting that the 9-year-old was late to her first class on Jan. 24, 1977. This was the first of many indignities the grade-schooler faced from the press. One German reporter later called the child "a lamentably spoiled, perpetually tired, whining brat with miserable manners," according to New York Magazine.
Margaret Truman
Obama may have opted to stay quiet following the uproar around his daughters' Thanksgiving attire, but former President Harry S. Truman had a harder time containing himself after a Washington Post critic blasted his daughter Margaret's performance at the National Symphony Orchestra in 1950. "Miss Truman is still too much of a beginner to appear in public," the critic said, according to the Washington Post. "She should take a leaf from her teacher's career and remain out of public hearing until she has mastered her chosen field." The blistering review earned the ire of the president, who responded, "I never met you, but if I do you'll need a new nose and plenty of beefsteak."
Alice Roosevelt
The rebellious daughter of former President Teddy Roosevelt was closely watched by the press during her time in the White House. In fact, Alice Roosevelt's antics often overtook her father's accomplishments on the front page of newspapers, according to Politico. The press took to calling her "Princess Alice" and reported bizarre stories about her, including that she'd stood on a train platform with a boa constrictor around her neck. Unlike many other first daughters, Alice reportedly relished press attention and went out of her way to bait reporters.
© Copyright IBTimes 2023. All rights reserved.