Man Accused Of Breaking Into Eminem's House Says He Was There To 'Kill Him'
KEY POINTS
Man who broke into Eminem's house in April wanted to kill him, according to the testimony of a police officer
The officer also stated that when he arrived at the scene, he saw the invader wrestling with the security guard
The invader has been put behind bars following the incident
A stranger who broke into the house of rapper Eminem was there to "kill him," according to the testimony of a police officer who responded to the incident.
Adam Hackstock, a police officer in Clinton Township in Michigan, testified that the "Rap God" hitmaker saw a man standing behind him when he woke up on April 5. At first, he thought it was his nephew, but later he found out that it was an intruder, Variety reported.
"When Mr. Mathers (Eminem) asked him why he was there. He was told by Mr. Hughes that he was there to kill him," Hackstock said during the testimony.
A man named Matthew David Hughes has been accused of breaking into the home of the acclaimed artist. Since then, he has been taken into custody and is currently behind bars.
Apart from that, the officer also noted that Hughes introduced himself to the security guard as one of Eminem's friends living in the same area in Michigan. Hackstock added that when he arrived at the rapper's house, Hughes was wrestling with the security guard on the ground.
The officer cited Eminem's statement and said that the rapper walked Hughes through several rooms before escorting him out of the house. Hackstock also noted that Hughes was not carrying any kind of weapons with him.
The intruder was taken into custody on first-degree home invasion charges, E! News reported. The "Love The Way You Lie" singer was not present at the hearing while his lawyer saw the proceedings through a video call.
Hughes would be taken to Macomb County Circuit Court on Sept. 28 for an arraignment.
Eminem, whose real name is Marshall Mathers, started his professional career in 1988 but tasted success with his second album "The Slim Shady LP." Since then, the rapper has come out with 9 more albums and became one of the most influential musicians of all time.
The artist has 15 Grammy awards to his name, including six Best Rap Album accolades. Apart from that, he has one Academy Award to his name for the song "Lose Yourself" from the movie "8 Mile," 8 American Music Awards, and 16 Billboard Music Awards.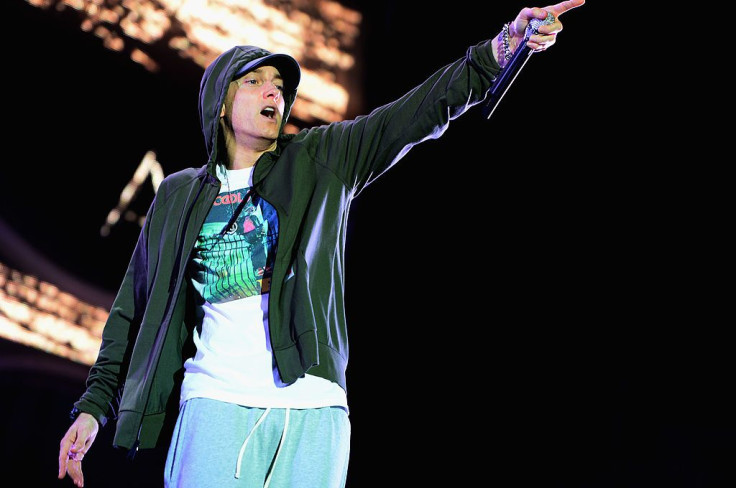 © Copyright IBTimes 2023. All rights reserved.