Mantyhose For Sale: Men In Tights Might Just Be Fashion's Next Big Thing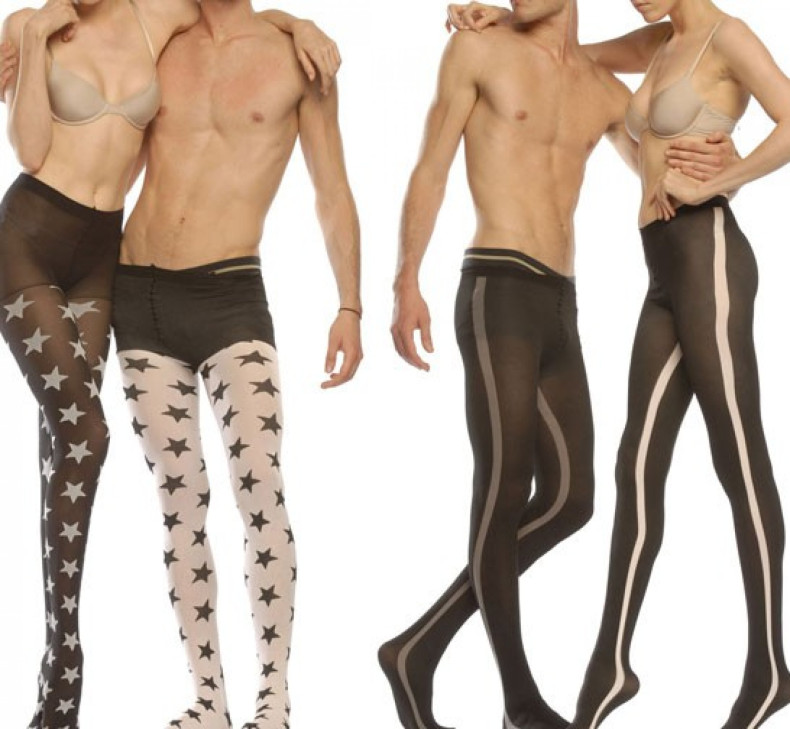 Real men wear mantyhose. If you thought men in tights was a sartorial statement best left to medieval jesters, think again, said The Daily Mail's Daisy Dumas.
Mantyhose go by multiple names these days: brosiery, guylons, hose for bros, unisex hosiery and pantyhose for men.
Whatever you want to call it, though, the fad has really picked up steam. One can thank Women's Wear Daily and Emilio Cavallini for that. The Fashion Bible featured an article on designer Emilio Cavallini's venture into mantyhose and how the hosiery for men might just become the next wardrobe must-have.
Emilio Cavallini, an Italian designer known for his beautiful and sensual undergarments for women, has created a range of mantyhose, or unisex tights, in various styles for his male customers. Men make up two to three percent of the fashion house's consumers, reported The Daily Mail.
Speaking to WWD, the company's VP, Francesco Cavallini said, When we started our online shop we noticed that a lot of tights sized medium-large were being purchased by men... So I did a search on the Internet and discovered there is a cult following for mantyhose.
All of the men at our company, including myself, wear-tested a range of tights to rate the comfort level, and we came up with the concept of creating tights that both men and women could wear, he told WWD.
The mantyhose are most popular with customers from Germany, France, Scandinavia, Canada and the U.S., he added. According to MSNBC European men have been flaunting this trend for several years now, but it is slowly growing moment in the U.S.
Chan Kraemer can attest to that. Kraemer, of e-MANcipate.com, an online hosiery fashion magazine, predicted the mantyhose trend. We believe that pantyhose for men can be an everyday clothing item, and that it can be fashionable as well, he said in a blog post.
Cavallini's mantyhose are manufactured with a knitted fabrication [of cotton and nylon] that has greater elasticity and stretch as well as breathability, which is important since men perspire much more than women do, said Cavallini. His mantyhose come in prints like skulls, stars, hearts, polka dots and checkers. Some are black with a white seam; others are opaque noir. The tights can be purchased at Emilio Cavallini's online shop for $27. But, we warn you, mantyhose are not for the timid.
Cavallini said that men who wear mantyhose will typically wear them under trousers, in other words, safely out of sight beneath their pants as an extra layer during the winter. His top-seller is the solid black pair. But the more fashion forward crowd pairs them with shorts. The unisex tights are mainly black and white, but I believe the men buying these tights want to make a fashion statement, said Lisa Cavallini, Emilio's sister.
Emilio Cavallini is not the only designer to dip into the mantyhose sector. The Paris bouquet Gerbe features sheer nude and black mantyhose. St. Louis-based G Lieberman and Sons makes a wide range of tights for me, designed to benefit sports performance, leg health, work stamina and leisure comfort.
Spanx, a powerhouse undergarment company known for its shaping and slimming pieces for women, has moved towards catering male consumers. Though Spanx has not yet delved into mantyhose, per say, the company does offer multiple boxers and brief styles that cup, support and lift in a way that Spanx for women would.
Though mantyhose are in a league of their own, another noticeable trend popping up in menswear is patterned undergarments overall. Of course, boxers have had silly prints for years; but socks are getting snazzier now as well. Hook + Albert just launched its spring line of dress socks, loafer liners and colored shoelaces. This season, men's dress socks are decidedly brighter and more playful -- with hues of cherry, tangerine and lime; and patterns like anchors, watermelons and polka dots.
Mantyhose have approval from womenswear gurus as well. We don't really care if men wear tights or not. If they can pull it off and feel good about themselves, then no one else should care. We certainly don't think they need a silly name like 'mantyhose,' said The Gloss' Ashley Cardiff.
Will men in tights become fashion's next big thing?