Marco Rubio: A True Friend To Israel
Opinion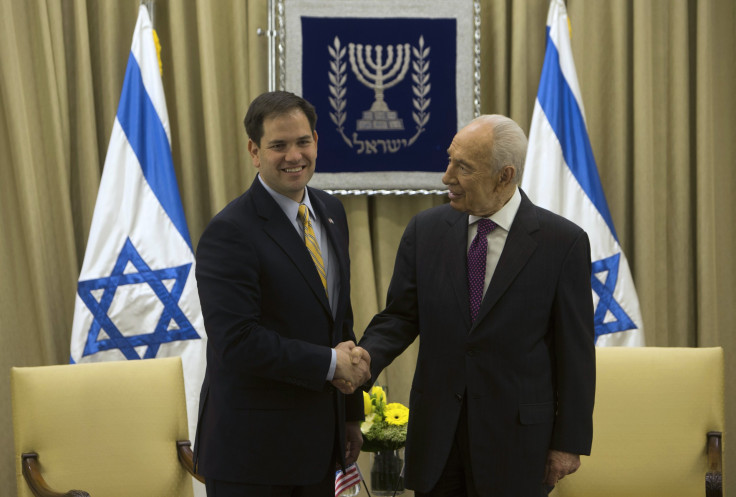 Sen. Marco Rubio, R-Fla., arguably the GOP's front-running presidential candidate for 2016, scored a preemptive strike against President Barack Obama by visiting Israel a few weeks before the chief executive's sojourn.
During his second visit to Israel, Rubio has appeared very presidential, meeting with both Israeli President Shimon Peres and Prime Minister Benjamin Netanyahu. He even had the hutzpah to tell Peres that Jerusalem is, "…of course the capital of your country." Neither that sentiment, nor those words, will escape Obama's mouth next month.
Not wishing to offend America's president, the Israeli government omitted that statement in its official press release of the Rubio/Peres meeting. The nation's newspapers and TV news programs broadcast it, however; most Israelis see Rubio as a true friend.
With Florida's senator in the country, Netanyahu (yet again) warned that a "UN nuclear report" confirmed "Iran has begun installing advanced centrifuges at its main uranium enrichment plant…."
Israel cannot wait forever to strike Iran, although she is holding off because the Obama administration still sees a "window of opportunity" for a diplomatic solution.
The question is, of course, will the Jews wait too long?
The most popular tourist attraction in southern Israel is Masada, the site of the last Jewish resistance against Rome prior to the beginning of the Diaspora in 70 A.D. Visiting Israeli soldiers take an oath there: "Masada will never fall again." At that revered site, the Jewish rebels watched, and watched, and watched as the Romans built a road up to the side of their fortress. Eventually, the Romans breached the wall, but not before all of the Jews had chosen death before surrender. The Masada story is legend throughout Israel.
Will Israel wait too long again?
Rubio has affirmed America's resolve to keep Iran from attaining nuclear weapons, but the hour is late. Quite possibly, it's too late. North Korea's "earthquake" a few days ago may have been its testing of a nuclear device for its Iranian allies.
And Israelis are feeling a growing sense of loneliness, as all of their bordering neighbors grow colder -- even America appears to be distancing herself from the Jews. President Mohamed Morsi's Egypt is openly antagonistic, as is Hezbollah's Lebanon. Syria is on life-support, and there are Muslim Brotherhood rumblings beginning in Jordan. All of Israel's neighbors are again potential foes in some future confrontation just as the revelation of American financial aid being cut becomes front-page news.
Naturally, a warm visit by a high-ranking, influential American politician is a much appreciated breath of fresh air.
In the past few days, the Israeli government has let it be known that during Obama's visit, the president will be honored "on behalf of the American people" and because of Israel and America's long-standing friendship and common goals. How is that for warmth toward Obama?
With Rubio, the nation of Israel sees a genuine friend who just might be able to mend damaged fences. The smiles surrounding Rubio appear genuine. There will also be smiles next month, but they will have a plastic element to them.
Walt Osterman is the author of "Not Home Yet: A Tale Concerning Israel's Rebirth." He served in Vietnam and is a Bronze Star recipient. He lives in Wyoming.
FOR FREE to continue reading
✔️ Unlock the full content of International Business Times UK for free
offer available for a limited time only
✔️ Easily manage your Newsletters subscriptions and save your favourite articles
✔️ No payment method required
Already have an account?
Log in
© Copyright IBTimes 2023. All rights reserved.